Vineyard Views
We've walked out this dirt road every morning for about twenty years…we're up-close and personal with every stick, nest, and bump on it. We play a game while we walk called "Morning Science" — because we are the opposite of scientists, so we think it's funny. Here's a video where Joe finds quicksand …
This is where the road takes us; a strip of land with old fishing shacks overlooking the sound.
September moon on Spring Street.
Fall leaves in our backyard
Winter squirrel feeding — In this video, I'm returning from visiting my girlfriend across the street … to favorite little critter waiting for me… it's true, we bribe her with cookies . . .
A fence in our neighborhood
Summer night band concert at Owen Park overlooking the harbor
The ferry coming in . . . in this video, you'll get a taste of the ferry ride.
Tell Todd (the Captain) and Leah (the Boss) I sent you! These lovely people will take you out on their beautiful sailboat, Magic Carpet . . .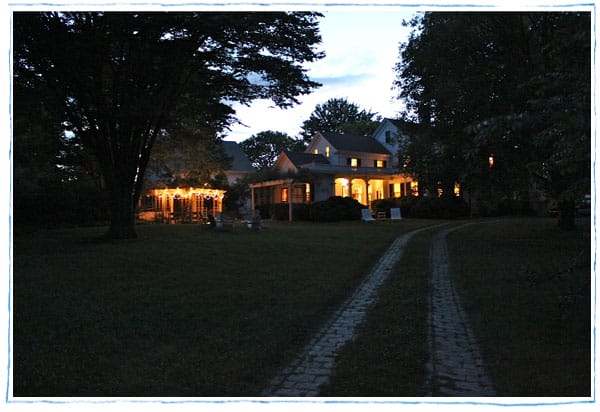 Twinkle lights decorate the arbor for summer eating outdoors
Grand Illumination night happens every August in Oak Bluffs (since 1868); the little gingerbread cottages are decorated with Chinese lanterns . . .
. . . it all lights up just after dark….and the stroll begins.
Light sticks add magic to all the Vineyard night time events.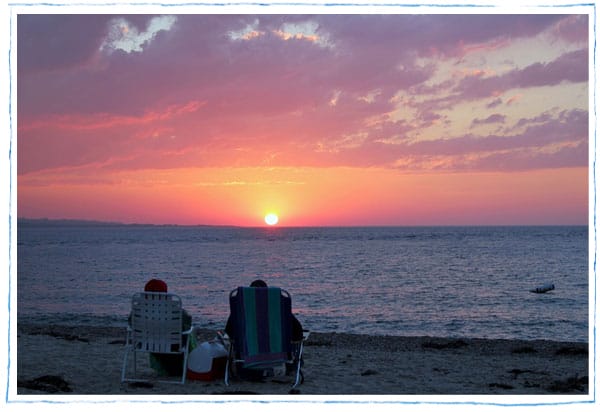 And then, speaking of magic, the sunsets. Impossible to choose just one photo! Check out this video for another one… they're different every night.
Hope you loved seeing the island! We'll know we've really made it in computer world, when I can send you salt air, the hum of bees, the breeze off the harbor, the waves lapping on shore — and one really exciting blizzard for frosting on the cake! But, for now, imagination is everything.