On our last day in England in the spring of 2012, just a few hours before boarding the Queen Mary 2 for our trip home, we stopped to visit Jane Austen's house in a little country town called Chawton. I can't say we saved the best for last, because everything we saw was "best."  But this house was wonderful and better than I ever imagined it could be.  It's in Hampshire, centrally located in the south of  England (very close to Southampton) — you can see it on the map on page six of my book chronicling this magical trip called   A FINE ROMANCE.
First off, you have to know how this quiet neighborhood sounded this day!  The only sound missing is "my-toe-hurts-bet-tee" the nature national anthem of England, but there were wood pigeons cooing liltingly from every branch!
This is the 17th century house where Jane Austen did some of her most important work.  She lived here from 1809 to 1817, and published four novels during that time, Pride and Prejudice, Emma, Sense and Sensibility, and Mansfield Park.
How beautiful!  Let's go find a parking space!
After parking, we walked for a little bit through the leafy old neighborhood and something interesting happened.  I took a picture of this little Jack Russell in a window of the house across the street from Jane's and posted it here on the blog.  Later, after we returned home, I received an email from the owner of this house!  Her name is Mary and the dog's name is Basil!  Mary had just happened upon our blog.  Isn't that amazing? What a small world!  She's actually written a cute children's book about Basil which she sent to me . . .
 Many of the homes in Chawton have thatched roofs like Mary's.  It's a darling town ~ and we only had one afternoon. I wish we'd saved more time for this ~ there's a lot of wonderfulness to see here.  Keep that in mind for when you go and have at least one full day.
There are many rose-covered cottages and lots of old brick . . .
 This is the pub across the street from Jane's house . . . in case you'd like a bite when you get done, or a peah ci-da. In case?  Don't you love the flower boxes?
On the corner, directly across from the house, you can stop for tea in this wonderful tea room called "Cassandra's Cup" — named for both Jane's beloved sister and her mother (Her mother was Cassandra Leigh Austen — gorgeous name).  I've decided if I ever have a lamb in this lifetime, I will name it Cassandra.
So here we go, are you ready?  I was so excited to be here, I had to remind myself not to run someone over, be a calm, quiet, mannerly American which was actually quite easy since that's just how we are.
Run mad as often as you chuse, but do not faint. ♥  Jane Austen
We had to go into the gift shop to get our tickets.  My first question:  "Can I take pictures inside the house?"  (Not every house we visited allows photography. I really didn't expect them to say yes;  but I was hoping and praying.)  And then, I heard the magic words, "Yes, You Can!"  I can?  Oh Boy.  Let's go!
There is no charm equal to tenderness of heart. ♥ Jane Austen
Jane was born in 1775, during the time of King George the III; she was the seventh of eight children in a close family.  Her only sister, Cassandra, was her best friend for life.  She began writing Pride and Prejudice when she was twenty-one, but it was in Chawton House at this shockingly small table that she finished it, here in the breakfast room in front of a sunny window where she wrote and revised her greatest stories.
At this very table.  Her books came right out of her brain, through her hand, onto the paper, one letter at a time. There was no Encyclopedia Britannica at the time, no complete dictionary, no way to do research (no Google!), and very few other novels in existence.  She wrote originally, in the "realistic" style and  made it all up from her own creative, opinionated, witty heart.
"Everything united in her, good understanding, correct opinions, knowledge of the world, and a warm heart." ♥ Jane Austen
We were invited to try writing the way Jane did . . . with a feather quill pen and ink.  They set everything on a table in the kitchen . . . isn't that fun?   And you can see everyone wanted to give it a try.
 I loved it! But it was much more difficult than I thought it would be.  I can't imagine writing a whole book with a feather pen!  I bought a feather and ink in the gift shop so I could write in our journal when I got home.  You can see what I did on page 235 of A FINE ROMANCE (the diary I wrote when we were in England).  How Jane did whole books this way I will never know.  There could not have been much "rewriting," because you have to dip the quill in the ink about every two or three letters or it runs dry!  (That may not be true; we have to take into consideration that I was probably doing it wrong.)  You have to blot it too, or your arm will drag through and smear it.  It's a slow process, but it's what she knew. That's how it is with book writing, no matter what you have to do, you just keep going every day until it's done, and then, voila, one miracle of a day you have a book!  Where there's a will, there's a way, goose feather or not.
Before I give you details of the house, let me show you just how charming this chock-full-of-history cottage is.  This is the bedroom that Jane shared with her sister Cassandra.  I like the wallpaper, the little off-center painted fireplace, the mantle with flowers, the simple cupboards, the beautiful old floors . . .  seeing the same view from the windows that Jane and Cassandra had seen.
And this bed. This is a canopy tent bed of the period. Where they didn't have the exact furniture owned by the Austen family, they used period pieces so we could know what things would have looked like.  Love this bed!  I would like to be twelve years old and have this bed!
 There are bouquets of cut flowers from the garden all over the house; on mantels and window ledges . . . you feel like someone really lives here . . . for some reason, this stairway is the part of the house where I could most feel the presence of Jane Austen.  She must have climbed these stairs thousands of times, her skirts brushing over the wooden steps as she carried her candle up or down them, her shadow would dance on the walls.
From the house you can look across the street to Cassandra's Tea Room, how convenient to have a tea room so close by!
There are fireplaces in every room, some of them very tiny like this one.  Isn't it cute?  Wouldn't you like to warm your feet by this fire? And the wallpaper is perfect.
They've put little cards on or next to everything, so you can know what you're looking at . . .
It's a house to go slow in, you can feel the respect and reverence from the people who are there as they quietly read everything and pull it all into their hearts for the memory.  One girl came bounding into the room I was in, our eyes met, our shoulders went up, we sighed and shook our heads at how happy we were.  Joy swirled around the room, over the wooden floors, up the walls and hovered above us as a presence.  Neither of us said a word, we just moved on, the experience was perfectly shared without speech.
The people who run the Museum have made it so nice for everyone; it's all here for the savoring . . .
There are lots of glass cases with personal things belonging to Jane and to her family.
Gorgeous 200+ year old bracelet owned by Jane . . .Wouldn't you love to have this bracelet?  Look at the detail. ♥  Perfect for a smart, stylish, interesting, funny, flirtatious girl who loved to dance.
She seemed to have the happy gene. ♥
Another adorable fireplace . . . and lovely period dress . . .
This is not the piano belonging to Jane, but it could have been, and so gorgeous, hand-painted.  The music on the piano was Air Suisse. Perfect!
All the wallpaper you see is Laura Ashley which is very appropriate as many of Laura Ashley's designs were inspired by antique papers and fabric she saw while visiting the Victoria and Albert Museum in London, maybe even originals from this house.  Wallpaper, something else that adds warmth and charm to the rooms.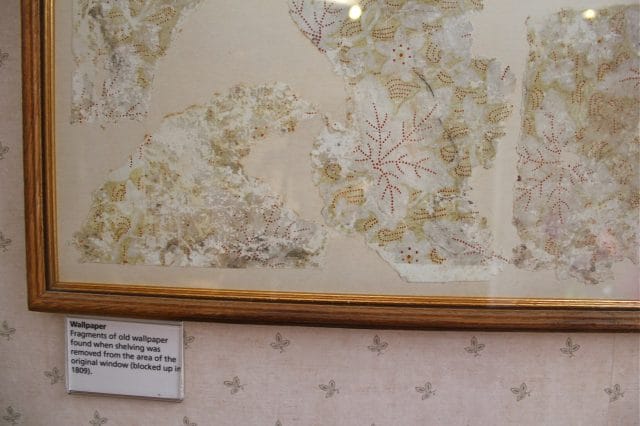 This is a fragment of the original wallpaper they found in the house . . . very pretty too, light and clean just like the ones they've chosen for the rooms.
This quilt was made by Jane, Cassandra and their mother.  Jane Austen's  stories capture the essence of her time.  If you'd like to go back in time, reading Jane Austen is a very easy way to do it.   In the last two centuries, her books have rarely been out of print! She died very young, at age 41, in her beloved sister Cassandra's arms.
The house has lots of homemade touches such as these embroideries…
In every case, Jane said it like she saw it.  This was on the dining table.
Here's the bakehouse … and next to it is their little donkey carriage . . . imagine the smell of a crusty loaf of fresh bread coming from that oven all steamy hot.  Please pass the freshly churned butter.  Jam?  Oh yes, thank you, I would love some. Let's take it to the garden.
The kitchen!  I could feel very at home in here!  If someone would teach me how to work that stove, it would be Hot Milk Cake for everyone!
Little details like this jar of cut herbs from the garden make it feel homey, like you could move right in!
And the garden!  With benches and lawns to sit and stay in, bees buzzing, butterflies floating by, birds singing.  Jane and her family grew everything they needed in their cottage garden, vegetables, herbs, and flowers; Cassandra kept bees so they made their own honey.  I would really love to taste that honey.
Their favorite flowers were "sweet williams, columbines, peonies, pinks and laburnums" … they also grew "gooseberries, raspberries and currants" … they made their own jams and jellies and summer wines, kept a pig and chickens and had two donkeys to pull them in their carriage.  A fresh breeze blew through these flowers as we sat on a bench for a few quiet moments.
The garden smelled like summer and sounded wonderful too; see the blackbird on the garden wall?  He was singing his heart out . . . we took the equivalent of a whole "roll of film" just on him!
 He was a little beauty.  What a perfect last day it was . . .
 Then it was back to the gift shop again, of course . . . I had to buy my quill pen and ink.  And some postcards and some books . . . and this . . .
. . . my irresistible Jane Austen dishtowel, which is now hanging on my stove.  (BTW, a few days ago I received a phone call from Ann at the Jane Austen Gift Shop.  I was thrilled to learn that she wants to carry my new book, A FINE ROMANCE, Falling in Love with the English Countryside in their shop!  In Chawton, England!  I can't even tell you how much that makes my day!)
So much of Jane's true life is obscured by the fact that her letters were destroyed by her family.  Some say they didn't want the world to know the "real" Jane and "protected" her so that the everyone would think she was a retiring spinster, which is hard to imagine when you read her books, but apparently much preferable in those days when women weren't supposed to be anything at all.  This has led to much conjecture as to what her life was really like, spawning an empire of imagination, 
 based on her books more than anything, on bits of truth and lots of hope and romantic thinking.  And the glorious idea of "Why not, it could be!"
One of my favorites of these is the movie Becoming Jane.  And I loved this BBC production, The Real Jane Austen.   There are so many wonderful movies based on her books, one of my favorites is EMMA with Gwyneth Paltrow.  Also funny, cute, and much more modern, CLUELESS, which is also based on the book Emma.   And this old production of Pride and Prejudice with Greer Garson, where the dresses are beyond romantic.  Here's a list of movies based on her books, in case you haven't seen them all, perfect for any rainy day.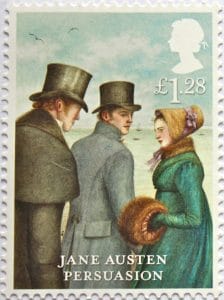 There are lots of websites about Jane Austen, like this one for example.  If you're interested, just Google her name and the list is unending.  You can even take summer courses at Oxford to study Jane Austen.  She's recently been put on a stamp, and now the £10 note will carry her likeness.  So much to know and learn. ♥
Want More? I  wrote a handwritten, watercolored diary of this two-month dream-come-true called A Fine Romance, Falling in Love with the English Countryside…you can find it HERE.
OK, Girlfriends,  I think I should close now, before I hear those immortal words: