I met our Girlfriend Martha Noon at the booksigning in Newburyport at The Best of British.  She brought me this recipe for Kale Salad which I made for dinner last night.  (You can print out her recipe card if you like.)  Lately I'm leaning more and more toward a vegetarian diet, not rigidly, but I like it better, I feel better, so it's easy to do. So when I saw this HEALTHY recipe from Martha, I said, oh yes, please!
Here's how it's done:  You start with a bunch of kale (try to get organic if you can) ~ wash it and let it dry.
Put the zest of one orange into a small bowl . . .
. . . and mix it with a half-cup of fresh orange juice.
Speaking of orange . . . 
Whisk the juice and zest together with the rice vinegar and maple syrup and set aside.
Cut or tear a bunch of Kale into bite-sized pieces . . . removing the stems.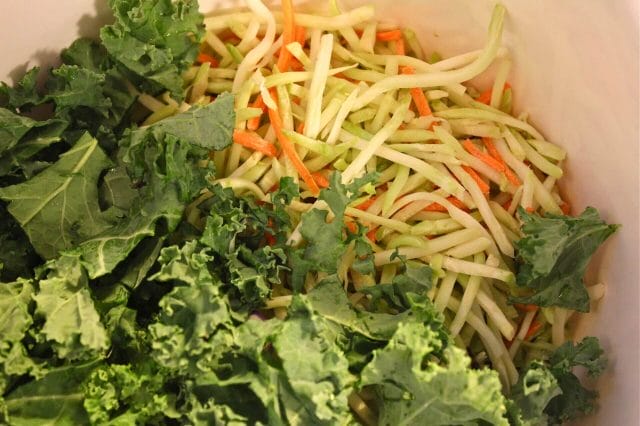 Put the kale in a large bowl, pour the orange dressing over, mix well, and then massage it  ~ (I know, this is a first, massaging greens, but massaging softens kale, takes away the bitterness, and makes it easier to eat) just take each piece of kale between your thumb and first two fingers and give it a good rub. To know if you've done it right, taste it, if it's still bitter, massage some more.  You probably know how GOOD kale is for you? ← Click there if you don't.
Once the kale is ready (you can even see it's softer here), add a bag of broccoli slaw, and a half-cup each of dried cranberries, chopped walnuts and sunflower seeds. (Or instead of cranberries, try adding beets and orange segments, and maybe some creamy goat cheese).
Mix it well and let it marinate for four hours in the fridge, stirring every so often. Give yourself a hug for making such a healthy salad! It keeps in the fridge for four days.
GOOD HEALTH IS THE THING THAT TELLS US THAT NOW THE BEST TIME OF THE YEAR. ♥ Franklin Pierce Adams