Today I'm inspired to talk about How To Write a Good Letter!  Won't that be fun?
One of our girlfriends, Heather, wrote me a couple of days ago . . . she has a daughter named Olivia; they live in California, and Olivia is going away to college in August.  Mom and daughter have decided to correspond "the old-fashioned way," as she put it, with hand-written letters.  They're making a diary of Olivia's college years to last forever.  Which will someday be priceless for them, and even more, for their great-great-grandchildren.  Heather asked for ideas on writing good letters.  I told her I would think of some and jot them down.  So here we go:

This won't be about business letters, there's plenty of that out there on the Internet; I'm more interested in letters between friends, like these planned between Heather and Olivia; moms and daughters, sisters, and best friends; Mother's Day is coming soon; mom's adore hand-written letters from their children. (As a hint, your child could read this post. :-))  
The one thing I remember when my mom first taught me about letter writing was that she said never to use "I" in the first sentence. I don't know where she got that or if it's a real rule, but it stuck in my head and I pretty much can't write a letter any other way; if I start with "I," my mom appears over my shoulder (which is always a good thing).  But I think what it means is that a letter should always begin by making the person you're writing the focus and main subject — just a little thing like, How are you?  
How have you been?  What have you been up to?  Then you can say, "I loved your last letter — you have no idea how you made my day."  Now the receiver is totally in love with you and you can say everything else you like. 

♥
A letter is a gift; so if you think of yourself as "giving," you will make your letters just naturally more interesting to the person receiving them. Ask yourself  "what can I give (my person) that she would like?" Such as the name of a good new book you are reading, a recipe, a detailed description of what was served to you at a restaurant, what
you wore, a movie review, what your new shoes look like, a great web store for clothes, a funny conversation you had; details make a letter come alive. Little inclusions like a page of stickers, a fall leaf, a cartoon from a magazine, an article you think the receiver would be interested in, the name of a website or blog you love to visit, a bookmark, a CD, a dried flower, a photo, or a drawing in the margins can, of course, add a lot to the gift of a letter and make it into a kind of art.  They turn your letters into "keepers."
In front of me on the table while I'm writing, when possible, is always the last letter I received from the person I'm corresponding with.  I take care to answer any questions they may have asked; respond to what stories they have written, comment on their new shoes, their new adventures, their hopes and dreams, to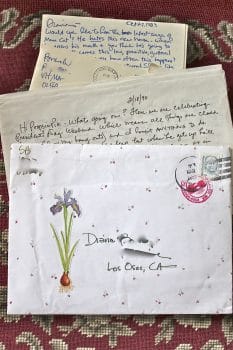 keep the thread going, so they know I'm "listening."  They also spent their time writing to me, and I want them to know I am grateful so they will do it again!  
 Sometimes I have so many things to say I even write the subjects down ahead of time so I can remember to include everything… such as: the bird feeders, what Jack (my kitty) did, tea with the girls (what we ate and wore, who said what), what Joe is doing, a trip we're planning.  I always ask about their own families and friends, moms, and children; their new house, their upcoming party, etc. I don't want the letter to be all about me. The idea is to put a bit of sunshine into an everyday world of vacuuming, ironing, grocery shopping, dinner making, the regular old routine. I want my letters to make someone stop, put the kettle to boil for tea, get a cookie, and put their feet up.
Pretty stationery is fun to write on, but it isn't necessary; lined school paper is fine too . . . and perfect handwriting isn't necessary either; typing is OK, but
everyone does love a handwritten letter; "There ain't (as Thomas Edison said) no rules around here; we're trying to accomplish something!"  Despite all the "rules" I've just given you, your own heart will be the true dictator of what should or shouldn't be included.  A letter should be like your spoken words, imperfect, honest, straightforward and real.  Do your best with spelling and grammar but don't fret about it.  The only thing that matters is the connection, and that happens with flow of words, and sharing of life experiences.
I keep my favorite correspondence in a basket with a lid; as I've always said, a phone call is nice, email is OK too because it's the way of the world and staying connected is the most important thing, but an old-
fashioned letter can truly be a work of art and a voice for the ages.♥

 The story of my life is in that basket!
There actually is one steadfast rule in letter writing: never, ever send a letter in anger.  If there are words you feel you must say, go ahead and write them, as strongly as you choose, get everything out of your system; then put the letter in a drawer for at least a week.  I guarantee that when you read it again you will tear it into a thousand pieces and be so happy you never sent it.  All conversations such as these are best done in person; you will not need a letter like that floating around in the world.  Needless to say, this goes double for email, do not push "send!"
While you're on vacation you often face the extreme letter-writing challenge: how to make postcards interesting with so little space to say anything and no envelope to put anything in!  Usually I choose a card with a picture that tells one story, while I pick a subject of the travel that's different 
and try to be as detailed as possible, expressing the immediacy of a particular moment; such as, "We're sitting in a sidewalk cafe, at a table for two with wire back chairs that are bent into heart shapes; the sun is shining, little breeze is blowing, there are big white clouds, red geraniums in pots are everywhere; the awning over our head is black and white striped; in front of me is a tall double-decker red bus stopped to pick up a gaggle of school kids in their uniforms, and I'm writing YOU. Joe is playing with his camera, we're sharing a plate of "chips," which I'm tearing up and tossing to the little wrens hopping around under the table.  It's a wonderful trip; miss you; wish SO MUCH that you were here, love you, xoxo. "  Something like that.
Well, I guess that's all I can think of about the wonderful world of letters. Hope it's helpful. ♥

And to you Heather and Olivia, enjoy your letter-writing project!
One last thing — this kind of goes along with letters; I keep hearing that Congress is trying to do away with the Post Office (!), and that in fact they have
begun to close some of them.  If you feel, as I do, that this is going too far (since, for one thing, we have the nicest people in the world working at our post office), would you please email your representatives and ask them not to do this?  Remember how quick they can do this kind of thing so that we don't even realize what's happening until it's too late? Now is the time to tell them that we would prefer they keep their rotten little paws off the post office (you probably shouldn't quote me :-)).  They have closed tons of Post Offices in England, so we know it can happen.  It's so sad, and we are the only ones to save ours.  If you don't know who your representatives are, just Google it (like: "

Your state name,

congressmen and senators").  And then, for example, let's say your senator is Mike Smith, just Google "Mike Smith Contact" and you'll get their email address; tell your senator to vote for bill #S1789 to save the Post Offices. I knew you would want to know. ♥

xoxo