So easy to make a charming hurricane lamp . . .
 Next time you go on vacation, bring along a baggie, get some sand from a beach you love, (craft stores have sand too!) gather a few shells, and some beach glass and make yourself a windproof backyard table light or a seasonal centerpiece for your dining room to remind you of carefree walks by the sea.
I cleaned my hurricane lamp yesterday, and rebuilt it with Martha's Vineyard sand as the base for a new candle.  In the photo is everything you need. You might want to sift through and clean the sand a bit before using it.
Find a container that pleases you…put about 2″ of sand in the bottom, make a well for the candle, use tongs to arrange shells around the candle, the way you want them. Plop in a candle, deep enough so the wind can't get it.  And that's it!
It works all year round, as a centerpiece on our dining table. In the fall I add a sprig of pepperberry, some acorns, or bittersweet, little red leaves for a dinner party, whatever fallish things I can find on my walk — at Christmas, everything from small ball ornaments to holly, tiny birds, or little faux apples.  Just don't build the decorations so high up that the flame could come in contact.
Here it is at Christmas, with little apples . . .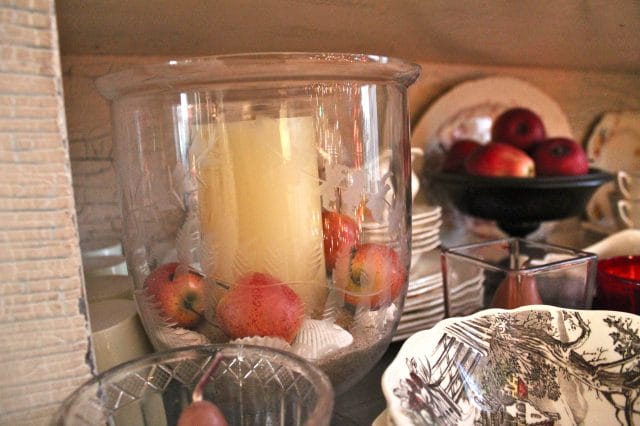 The best thing is you can look at it and say, "I made it myself."  Little things make a difference! They add charm to your house and show you care. ♥