Thought you might enjoy a tour through my linen closet!
Every once in a while I need to wash and iron my dresser scarves and table toppers.  Which I did before my girlfriends came from California to visit last week; there's  nothing like company to get a person going — it's the best way to get a clean house!
I thought this effort might make some good photos.  I can't say that ironing is my favorite thing in life to do, but in this case, with these vintage linens, I do love it; the smell of the hot iron blowing steam as it smooths the cotton, lightly fragranced clean laundry . . . I turn on the radio, and listen to Car Talk (90.1 WCAI radio),  and laugh myself silly, and iron, and it's a nice day.
Really wonderful vintage linens are the hardest thing for me to find when I go antiquing . . . I have to force myself to dig through piles of fabric (refolding as I go!), where 99% of the things in it, I don't want — in order to find the little wonderful thing at the bottom.  Maybe once a year I will go to antique stores or flea markets and focus just on linens, to keep my collection replenished.
As usual, I am not willing to pay a huge amount of money for these things when I know for a fact that if I am patient I will find them at a price that seems SO good, I am proud all day because I waited.
I love them because each piece is totally unique.  Look at the little rick rack on the edge of the red-trimmed cloth.  Embroidery, lace, applique, all so original and special and hardly being made anymore.
Some of the embroidery is just too wonderful for words.
I love the cat, I love the apples, but most of all, I love the . . .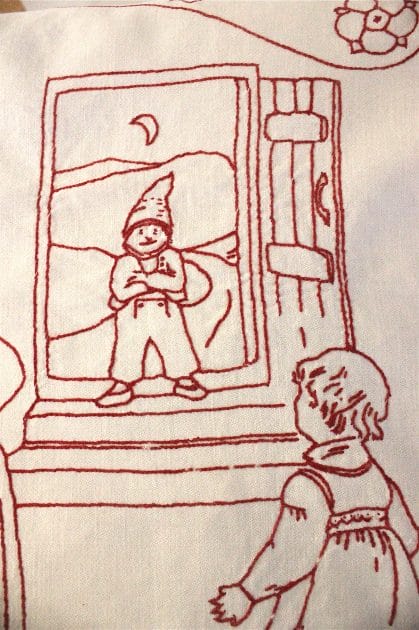 gnome in the window. ♥ And the moon.  And I love the person who made this, whoever she was.  And now, for the bathroom bears . . .
These linens are hanging on a quilt rack — so handy for everything, from quilts, to drying towels in guest rooms, so if you see one, you might want to get it … I found a green one on our last trip through Connecticut for $35.  Oh yes!
This quilt rack sits in our dining room and holds tablecloths and runners.  Hi Girl Kitty!
I love linens so much I even paint them!
They make everything prettier, softer, more civilized, including Joe's breakfast.
They add a certain romantic charm.
When I find the round, linen coasters, I buy them, then use them as jar toppers for my canned things, jams and applesauce.
Of course you all know what a nut I am for dishtowels.  But if you don't, just click on DISHTOWELS, and I will be happy to tell you!
This is my dishtowel display unit . . . did I buy this stove just for the handles?  Maybe.
I wrote and watercolored this card to keep in front of me when I write books, to remind me every day what it is I am trying to do.  But it works just as well for decorating the house.  I don't think I finally figured out the actual meaning of the word "charm" until I was in my early 40's!  Now I might like to write a book about it!
So, then, after finishing the ironing, I wanted to bleach my vintage potholders because they were starting to look like something the cat dragged in.  I put them in a bowl with warm water, a little laundry soap, and about a quarter cup of liquid bleach and let them sit and soak.
And I washed the towels for the guest bathrooms . . . and took everything outside . . .
Something you know I love to do . . .
Towels dried in the open air get scratchy; I never used to dry them on the line, because I didn't think I'd like scratchy towels — but one of the houses we stayed in, when we were in England, had line-dried towels, and I loved it!  My new discovery!  Scratchy towels that smell a little like mown grass are wonderful and invigorating, and they even seem more absorbent.
It took about two seconds after I brought the basket in before my shadow was in it!
Such a decorative kitty!
Little touches with vintage fabrics (just like kitties) add charm, originality, history and individuality to your home sweet home.  xoxo