The best list ever of the best movies ever from
You all know by now how much I love old movies; I've been recommending them in my books and calendars forever.  I know you love them too, so I thought I'd give you a list of
my very favorite movies — wonderful stories guaranteed to make you laugh, cry, swoon, dream, yearn, or think.
Please forgive me if I've left your favorite out.  There's no rhyme nor reason to this list; I didn't include lots of really good movies, like Sound of Music for example, or An American in Paris, Mildred Pierce, Casablanca, Funny Face, or even My Fair Lady . . . and I'm sure there are plenty I've simply forgotten.  But this is still a very good start.  These are films I never tire of. ♥
Many of the movies I love best were made before I was born, and I saw almost all of them on the TV.  Wonderful, romantic, beautiful, magical, touching, funny and charming
movies which, because they're in black and white, lots of people have just never seen. They don't know what they've been missing!  That's why I'm doing this . . . a cozy afternoon on a freezing day, with a cup of hot chocolate and one of these movies is my idea of heaven.  They are soul soothers, inspiration-givers, joy spreaders. And I adore going back in time.
I came by my love for these movies naturally, my mom started me very young.  She's the same age as Shirley Temple; she fell in love with Shirley when she was a little girl.  By the time I was old enough to be propped in a chair, she made sure the Good Ship Lollypop was tap dancing its way into my heart.  She and I know the words to all of Shirley's songs; we sang them while we did dishes.  I still love Shirley.  If there was ever anything cuter or more adorable than Shirley Temple in Baby Take a Bow, I don't know what it is.  All my life, I could be having a bad day, turn on Rebecca of Sunnybrook Farm, hear Shirley sing "Come and Get Your Happiness," see the darling curtains at Aunt Sarah's house and the roses on Tony's Porch, and cheer right up.
From Shirley Temple, it was natural for me to move up to Fred Astaire and Ginger Rogers movies; they were made about the same time.  I think they're sort of the grownup version of Shirley Temple, sweet, innocent and charming; the fabulous genius-inspired dances they did (like this one in Swing Time); the creative visuals their early movies presented in the height of 1930's fantasy fashion, elegant clothes, beautiful furniture and architecture, not to mention the music!  It was magic!  A world of inspiration; a feast for the senses!
By the time I was old enough to live out on my own, I was half-formed about what life was going to be like, and all of it, for better or for worse, was based on books like Pollyanna and Little Women and these wonderful old films, most of which I saw on the Million Dollar Movie on television.
I moved from my parents house into an apartment with my best friend Janet.  Her mom loved old movies too.  I'll never forget us, lying on the floor, watching TV at two in the morning; A
Farewell to Arms had just ended with Jennifer Jones dying, we were both sobbing hysterically. I had to get up and go into the other room.  Oh we loved it!  Janet called me Sue-Sue Applegate after the Ginger Rogers character in The Major and the Minor. (We called her Natasha after Boris' wife.) We would get in her huge old car and go to the drive-in movies, wearing our jammies with big coats over them so we could go to the snack bar for a giant popcorn and coke that would last us the length of the films; we set our hair in big rollers while watching The Umbrellas of Cherbourg, in French with English subtitles, and sobbed all the way home.  We really loved to cry at movies!  Splendor in the Grass almost killed us. (You can tell by these photos, we were already legends in our own minds!) We dyed Janet's hair the same color as Ann Margaret's.
Old movies shaped my dreams:  they showed me what I wanted my house to look like, how I wanted to dress, what kind of a person I wanted to be; those shipboard romances in An Affair to Remember, The Lady Eve, Sabrina, and Shall We Dance; the rose-covered cottages in Father of the Bride and Love Letters; houses with darling curtains and wallpaper like in Dear Ruth; the train rides in The Palm Beach Story, Some Like it Hot, North by Northwest, and Brief Encounter.  I dreamed of fields of bluebells as high as my knee, like the ones I saw in Howard's End, and one day I went to England to see them and they were just as wonderful as I knew they'd be. ♥
You could go around the world, even from a one-bedroom apartment, with The Quiet Man, Roman Holiday, Mrs. Miniver, Ninotchka (prettiest dress in the movies is in Ninotchka), Out of Africa, Two for the Road, and A Room with a View.
I planted flowering trees because of the tree-lined road Anne Shirley (of Green Gable fame) drove through, the petals flying, in the buckboard with Matthew just after she arrived on the train.  Remember?
Miracle on 34th Street made me decide to never grow all the way up.  I could see the fairy-tale life was the life for me.  I knew we lived in a beautiful world full of magic and charm, I saw it in movies such as It's a Wonderful Life, The Bishop's Wife, Margie, and The Secret Garden.
When 9/11 happened I was glued to the TV like everyone else, but after a while, the intensity was too much, the grief, sorrow, anger, pain was unbearable; the real world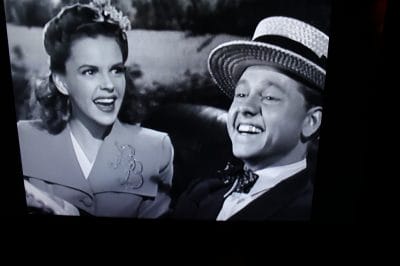 was just too real.  I couldn't sleep, thinking about man's inhumanity to man; the TV news was unrelenting.  I felt like it wasn't healthy to hear it anymore. I finally turned it off, and began feeding my soul with childhood favorites . . . at first it was all Shirley Temple movies. Then, watching Cary Grant, cutie-pie Walter Pigeon, gorgeous Gregory Peck, Jeanne Crain, Barbara Stanwyck, or Myrna Loy — the laughter, beauty, whimsy, and charm made my troubles float away.  It took a few weeks for me to find my equilibrium and remember that the overwhelming majority of people in this world are good; those movies really helped.  One big bad apple had upset the balance.
If you're starting from scratch, trying to learn more about classic movies, it's hard to know where to start. So here is my list of favorites, many times tried and forever true.  I added links to some of the trailers for these movies — I didn't put trailers on all of them, just want you to know that the ones without the links are just as good as the ones that have them!  You'll find many of these movies on Turner Classic Movies. Public Libraries are also a wonderful source! Kanopy is a free service where you can access 30,000 films with a library card from a participating library. You can look them up on Google to learn more about them; some of them are full length and free on Youtube.  This is also a helpful site. So here we go! ♥ Enjoy!  Here's my list of the best of the best:
Hobson's Choice (Hard to find but HEAVEN!)
On Borrowed Time (1939)
Apartment for Peggy
Ball of Fire (Learn how to play Yum-Yum!)
Rear Window
Ninotchka (the prettiest dress in all movieland)
Christmas in Connecticut
Margie
Vertigo
The Seven Year Itch
An Affair to Remember
Laura
State of the Union
Mr. Smith goes to Washington (J. Stewart)
Double Indemnity
The Thin Man (first one first)
Yankee Doodle Dandy
Top Hat
Bell Book and Candle
Meet Me in St. Louis
Wuthering Heights
Pat and Mike
The Heiress
How to Mary a Millionaire
A Stolen Life
Love Letters (for the cottage and neighborhood)
Philadelphia Story, K. Hepburn
Sabrina (w/Audrey Hepburn)
State Fair (Jeanne Crain)
Father of the Bride (Spencer Tracy)
Great Expectations (John Mills)
Holiday Inn
George Washington Slept Here
Harvey
Phffft
Little Women (all of them!)
African Queen
The More the Merrier (this is what they mean when they say "Chemistry.")
Foreign Correspondent
The Canterville Ghost
Miracle on 34th Street (1947 version)
A Room with a View
Meet John Doe
Indiscreet
Cheaper by the Dozen
Yankee Doodle Dandy
Mr. Jordan
Gentlemen Prefer Blondes (just to hear Marilyn Monroe sing Bye Bye Baby)
Gone with the Wind
The Moon's Our Home
Shall We Dance
Camille (hair, dresses, lace, jewels, tufted rooms, for the beauty!)
The Scarlet Pimpernel
Moon Over Miami
Holiday Affair (love the train scene at the end!)
The Glenn Miller Story
The Women (Rosalind Russell; terrible women, great hats!)
Remember the Night
Dear Ruth
The Talk of the Town
Rear Window
The 39 Steps
Young Mr. Lincoln
To Catch a Thief
Test Pilot
Enchantment (David Niven)
A Guy Named Joe (Spencer Tracy)
The Shop Around the Corner
Broadway Melody of 1940 (LOVE this dance!)
In the Good Old Summertime (This is a musical remake of The Shop Around the Corner, later it was made again, called You've Got Mail.)
I Married a Witch
All Fred and Ginger
The Awful Truth
The Teahouse of the August Moon
Casanova Brown
The World of Suzie Wong
Meet Me in St. Louis
The Bishop's Wife
1952 A Christmas Carol
White Christmas
Young Victoria
On Golden Pond
Love Among the Ruins
This is a list of newer movies that I love as much as the old . . .
I Know Where I'm Going (British)
Muriel's Wedding (it has Abba Music!)
Becoming Jane
Enchanted April
All of Me (Steve Martin)
Heaven Can Wait (Warren Beatty)
Thelma and Louise
Emma (w/Gwyneth Paltrow)
Pride and Prejudice (Kiera Knightly)
Jane Eyre (2007 version)
Millions
It's Complicated
The Devil Wears Prada (watch Emily Blunt, so good!)
The King's Speech
Joe vs the Volcano
Greenfingers (if you like Cotswold gardens)
Roots
Back to the Future
Somewhere in Time
Something's Got to Give
This Property is Condemned
Tall Story
Les Miserables (Liam Neeson)
The Parent Trap (with Lindsay Lohan)
Body Heat
E.T.
Don Juan de Marco
Breathless (just to look at Richard Gere in his prime

♥

)
Two Popes
Father of the Bride (Steve Martin)
Splash
First Wives Club
Animal House


Atonement (I can only watch the first half, still worth it)
Like Water for Chocolate
Dirty Dancing
Sleepless in Seattle
Pretty Woman
You've Got Mail
The Color Purple
Clueless
When Harry Met Sally
French Kiss
Young Frankenstein
Baby Boom
The Madness of King George
Out of Africa (the clothes! The airplane ride and music!)
Breakfast at Tiffany's
Miss Potter (Story of Beatrix)
A Christmas Story
Bread and Tulips (subtitles; darling and filmed in Venice!)
The Man Who Invented Christmas (Story of Charles Dickens)