THIS IS THE PAGE WHERE EVERY DAY IS . . .
One of the songs my mom used to sing around the house, perfect MUSICA for Mother's Day. ♥
There she is now, darling little girl, in Sioux City, Iowa where she was born, with her Christmas doll, her two brothers, my Uncles Bob and Dick.  Honestly, that sweet face you see is the one I grew up with.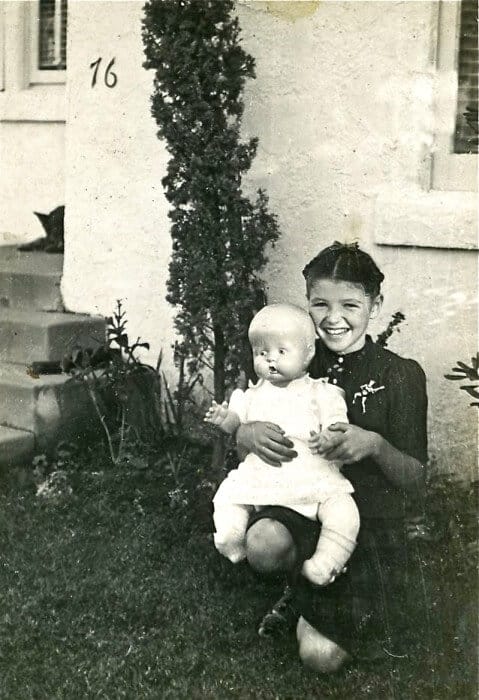 My mom adored dolls, and the very second she had the chance, she got herself a real baby all her own.
Me.  Her own real live doll.  Now she could dress the baby and feed the baby (and comb the baby's hair) and it moved and drooled and cooed.  She had her own Betsy Wetsy.  She was 17 years old.  And I was the lucky girl who got her for a mom.
That's my Frank Sinatra-ish dad (the "blogdaddy" you know so well, on his best behavior in this photo) holding my brother Jim — Jim came thirteen months after me and became one of my very best friends. (I kind of think of him as my first child.)   My beautiful mom is eighteen, Uncle Dick is seventeen, and that's my Grandma on the right.
By now I was my mom's partner in crime, the "other mother."  These were "our" children.  That's Jim and our second boy Stephen with my Uncle Dick.  The outfits, which I am sure Dick just loved, because what twenty-one-year-old boy doesn't want to dress like a four-year-old, were from my great-aunt Josephine.  I thought Dick looked like Elvis Presley.
My mom taught me how to play games on baby faces, and then I drew them into my BABY LOVE book.
This is me and brother number three, Chuckie.  I could knock on the wall of my bedroom and he would climb out of his crib and come sleep with me.  Terrible picture of him because he was truly the cutest of them all, as you will see in the next photo.  He was over ten pounds when he was born and I think he got a little smashed.
Well, maybe not this picture, Stephen is the cutest of them all in this one, but for sure, the next one.
There he is, bottom left.  Isn't he darling, we called him Butterball.  In addition, we now had Brad, the sweet baby at the bottom.  The little girl on the right was my Uncle Bob's little girl, Coral.  Bob was in the Navy and was raising Coral alone, so she came to live with us while Bob was at sea.  Hey, what's one more.
The only time my mother could get us together (apparently) is when we were in our jammies.
Because that's what we're wearing in so many pictures.  By the way, now my first sister is born, Paula.  Finally a girl!
That's Chuck, Brad and Paula in our kitchen which, if a grilled cheese sandwich could turn into a kitchen, this is the kitchen it would be.  My mom and I bathed the babies in a pink rubber basinet in this kitchen. I kissed her goodbye on my way to my Girl Scout meetings while she stood at that stove, sterilizing baby bottles. I learned my right hand from my left standing in front of the silverware drawer on the right of the sink in the back of this photo.  And for the rest of my life, when I need to figure out which is which, I have to orient myself  "in front of the silverware drawer," and then I know.  When I was sixteen and taking my driving test, the examiner asked me to turn on the right blinker and then the left.  My mom was in the car, he was behind the car, and I panicked because I couldn't remember my right from my left, couldn't picture the silverware drawer, and was too nervous and frantic to figure it out fast enough.  I said, "Mom, which is my right?"  She said, waaaay too slowly, "Well, Sue, you know. . ."  That's as far as she got before I cut her off . . . "MOM!" I hissed, my eyes like laser fireballs, "TELL ME."  She understood and told me and I passed my driver's test.  A person needs her silverware drawer.  Is that really asking too much?

My parents would put us all in the station wagon along with sleeping bags, pillows, cornflake boxes, the dog's food, diapers, ice chest and playpen  —  and drive eight hours up to the High Sierras where we would camp in a musty smelling green canvas tent for a week in the forest, under the trees, cook our food over an open fire, hike and fish and try to lure squirrels all day.  I still remember the smell of the sleeping bags, of hot dirt and pine needles, of bacon and coffee in the morning, the hiss of the lantern at night.
Now we have another baby, my second sister, Mary.  I was lucky, for almost the whole time I lived at home, we had a new baby every two years.  It was such a baby world in our house, the whole place smelled like baby powder, clean laundry, and baking brownies.
And here is the "baby-for-life," the last of the eight, my third sister Shelly.  I liked to arrange special hairstyles for the girls when I gave them a bath.  Shelly's been my best friend from the beginning. She's a mom too, she has twin 10-year-old boys.
You notice there aren't a lot of pictures of my mother so far.  That's because she was always on the other side of the camera, and we were too young to take it away from her. Here we are, looking at one of her dozens of photo albums.  What I need to do one day is to scan all her photos so I have them on the computer. So many wonderful memories in her books!
The tables have turned and now we take pictures of her.  This is us in Las Vegas three years ago for a family reunion and her eightieth birthday (I should really call that birthday what she called it — her seventy-tenth).
 One of the things I loved most about my mom is that she was always singing around the house.  She knew some really fun songs . . . and taught them to us.  Here's one of my favorites:
She taught me that song when I was little, I wrote the words for it in one of my calendars, but only now, in the age of the Internet, do I get to give the tune with the words!
She taught us all how to dance . . . this is her with the baby-for-life.
And here we are out on a boat in Vineyard Haven Harbor — Shelly (BFL), me, Mom, and Chuckie.  Joe took the picture.
There was life after children.  My mom actually wanted a baseball team when she began having children, not realizing that managing a baseball team isn't quite the same as playing baseball.  Anyway, she was an outdoor girl, and took up tennis in her forties, and those medals around her neck were just a few of the silvers and golds she won playing in the Senior Olympics. ♥
She ran out of places to put all her trophies!  She gave me two of them, I have them here in my studio.  I'm very proud of my mom.
For more reasons than one.  When I grew up and could really see what all she did for us, the sacrifices she made, how non-judgemental and encouraging she was, I realized
the role moms play in the world.  How important they are. ♥ The most important job in the world.  How they do it with the tiniest things that mean everything to children, a hug, a look, a pat on the head, a kiss goodnight, a picnic in the park.  Wrapping your quartered orange in aluminum foil because waxed paper got all mungy in your lunch bag.  The little things.  I thought it would be wonderful and only right if Moms had more support.  They did what they did, do what they do, with no gold stars, no raises, no one to say, "GOOD JOB."  My mom's gold stars were ← her children's artwork.
I think I saw the loneliness in my mom's face on some of the tough days when the house would fall into chaos (beyond what was normal), and it stayed with me.  I tried to say thank you while writing my first book, not only to her, but to all moms, to help them know that what they do, and did, really does matter.   My mom (and dad) gave me a stable childhood, something every child deserves — I think if everyone had that, the world would be a better place.  That's why moms are so important.  And the more support moms everywhere get raising children, it just follows, the better our world would be.  Because no matter what the circumstances, no matter how much money they have, they are capable of being shelter in a storm, just by being there.  I celebrate Mother's Day deep in my heart, it's another chance to tell my mom what a FABULOUS, WONDERFUL, HEAVENLY MOTHER she's been to me. ♥
Happy Mother's Day to all of you nurturing loving women!  What a difference you have made.   XOXO