If I live to be a hundred, I'll experience about 1,200 wonderful magical full moons in my lifetime.  It sounds like a lot, but I already know, it's not going to be enough.
♣     ♣     ♣
Because I make wishes on everything from lady bugs to dandelions, wishbones and falling stars, eyelashes and pennies I find heads-up; four-leaf clovers and falling leaves I catch in midair, first-star-I-see-tonight, and birthday candles, of course I make wishes on the full moon.  I can't resist; there it is, spreading light on the whole world.  I want my energy in there too! ♥
So I thought I'd show you just a few of the moons you and I have shared this year; I think it's perfectly OK to make wishes on pictures of moons!  And here's a little night music to go with them  . . . (you can click and come right back and listen while you scroll down. ♥)
You may say I'm a dreamer, but I'm not the only one . . .
My favorite is on wintry nights, when the full moon rises down at the end of my street, above Vineyard Haven Harbor, and peeks through the leafless maples and birches into my backyard; it shines a silvery path across the frosted lawn to my kitchen door.  This was taken just the other night from our porch; it's the "Long Night's Moon," as the December full moon was called by Native Americans.
Coming home from a long trip, we crossed the sound at midnight by boat . . . our way was lit by stars and the full Hunter's Moon of October.
Pismo Beach, California; a balmy moonlit night after a walk on the beach.
Overlooking Edgartown harbor and the "on-time" ferry to Chappaquiddick . . . bundled up in layers — hats, scarves, gloves; it's cold out there!
Bella Luna . . . The Harvest Moon comes up right at the end of our street.  I wait for it.  If we're in the car, it feels like we are driving right into it.  It also wakes me up at night, calls me to the window to watch it.
Driving 101, on the Central Coast of California, heading south past Shell Beach in August, and there she was!  Mrs. Green Corn Moon herself. Beautiful, beautiful moon.
In April, we twirl and make wishes on the "Pink Moon."
There are nights when the wolves are silent and only the moon howls. ♥ George Carlin
Woods Hole, on a blustery night just after a storm blew through, and bella luna.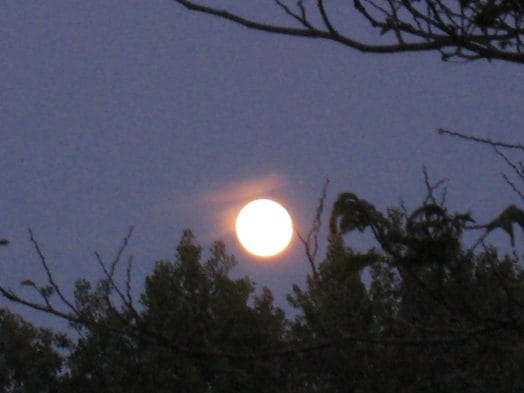 The Strawberry Moon coming up through the cottonwoods at our California house.
No privacy, no where to hide; the moon comes peeping over the barn and lets herself in through our bedroom window.
This is what we see in our "room with a view" when we cross the country by train; from our sleeping car window there are beautiful sunsets and amazing moonrises, like this one, over the New Mexico desert.
No moon?  There's always a full moon at the Griffith Park Observatory in Hollywood where we went last April.
I'm standing out in front of my house looking toward the harbor by way of the moon.  The best things in life are free. ♥
This is where we walk every day, out a dirt road through the woods that opens onto this pond and the sound — in the summer we come down for the sunset and go home with the moon rise.
The stars are just coming out, find one and make a wish!
In 2013, when you look up at the moon, just tell the driver:
Shoot for the moon, even if you miss, you will land among the stars. ♥  Les Brown
And just in case you'd like a little more moon–here you go! 
(If I had a gypsy soul, which this song almost makes me think I do, this would make me want to tie long scarves to my fingers, and dance barefoot to the bella bella moon . . .)
Here's a little S.B. memorabilia for you for 2023. . . It's a bookmark you can print out, with all the dates for all the full moons so you don't miss a thing!  It also includes the Native American names for each month's moon.  If you want one more reminder, we also made a moon wallpaper for your computer. ♥
It's a marvelous night for a moondance . . .