Creativity is really the structuring of Magic. ♥ Anne Kent Rush
The "you-er than you" part of decorating, the creation of a look that's all your own, is easy.  Because you are a unique, one of a kind person, the way you choose and arrange the things you love, will just naturally be like you, unique! ♥  That's why decorating is an art, because it comes straight from the unerring genius of your very own essential nature.  That doesn't mean you can't look at different styles and learn more about what possibilities there are; like any art, it's a skill you can hone. I copied the "teen-age" bedrooms in my Seventeen Magazines when I first started; it gave me confidence until I was brave enough to do it on my own.
The best common-sense advice I ever read about homemaking came from the famous fabric and wallpaper designer William Morris, who said,
"Ahh!" I thought, brow unfurrowed,  confusion gone; it was so clear: is it beautiful (encompassing funny and cute, whimsical and charming)?  Is it useful? How about both?  Can it be both?  Hmm.  Such a nice day, let me put on some music and think that over  . . . .  Well, everyone needs a can-opener don't they? Must it look like every other can opener?  Couldn't it have yellow handles or something?  We have to eat off plates don't we?  Do they have to be white?  Could we have flowers too?  We need napkins for dinner parties, why shouldn't they be yard-wide monogramed linen that might make our guests feel like children at the Thanksgiving table when they drape them on their laps?  (We're going to play music anyway, why can't it be Fred Astaire and Ginger Rogers?)  It doesn't cost any more, often it costs much less, but what a difference!
The secret to all this fresh and exciting individuality?  Yard Sales, Flea Markets, Antique stores, Junk Shops, and Thrift Shops.  Originality lurks in every corner, stacked on tables, mounded on chairs, folded inside drawers, piled in cupboards, draped over open cupboard doors, gleaming under glass countertops, hanging on pegboards, there just waiting for you. Recycling at it's most useful meaningful best. Who needs new when there is all this!
♣ ♣ ♣
I discovered antique stores when I was in my early twenties. The first thing I ever bought was a shawl with little embroidered flowers along the edge for 25 cents. The next was a huge cowboy coffee pot I bought for a dollar.  I was hooked.  Then I got a job in a record store where it was my responsibility to take the deposit to the bank every day.  The bank was only three blocks away so I would walk there, but between it and the record store was the shop that sold the Beatrix Potter figurines and an antique store.  Uh-oh. Yes, I stopped in everyday.  My dresser came from there, the head and footboards for my bed; I found quilts there, dishes I loved, and little things, like sweet old books, tea cups, vintage jars with red lids, crocheted potholders, and old cookie cutters, and it was all done on layaway (the record store's cash remained separate and intact!)  All beautiful and all useful, thank you William Morris. And all, so much cheaper than new, so many handmade, high quality things, and so much more interesting! ♣ 
Joe and I have made a hobby out of it.  We put cucumber and roast beef sandwiches into an ice chest, pack jeans and sweaters, climb into our old red van, and wander the back roads of
New England, staying off freeways, and just going where the wind takes us. We treasure-hunt along the way, blowing up leaves in our wake, past rivers and lakes in the woodsy countryside; visiting old-fashioned Main Streets, 19th century barns, guys' work shops, group shops; the backer the road, the happier we are.  We eat in little restaurants in old houses with American flags out front and have clam chowder, chicken and cranberry sauce, or Indian Pudding bathed in cream; one place we stayed had a cribbage game in the bar in front of the fire.  We sat there for hours one rainy afternoon-into-evening. ♥  This is an excellent hobby, I highly recommend it.  There are huge flea market events all over the country . . .below is a picture of a very famous show we go to called Brimfield.
Brimfield takes place three times a year in western MA; here we are, September of last year, and even though this was a good day, it almost always rains when we're there. Because the show takes place in open fields, over acres and acres of farmland, it's often muddy. 
 Pack your Wellies if you go, the local stores run out of them immediately! Just a word to the wise from the world of experience. 🙂 Alameda Antiques Faire in the East Bay of San Francisco is also one of our favorites and takes place the first Sunday of every month.  Besides boots, another handy thing to have if you make this your hobby, is a collapsable shopping cart on wheels… this kind → (which also works anytime you have to walk a long way, carrying lots of stuff, like a little wheelbarrow; this is Joe loading it up to take to the fireworks).
And we come home with treasures, like this pink lemonade pitcher, the elephant creamer, and my new favorite bowl in the entire world that I have now painted for the cover of my 2013 calendar!  I've been painting these things in my books for years; this is the only way I know to get one of these bowls to you too!  I know you want one!
Do I care if my "antiques" have a "name" on them, no I do not, I only care about one thing, useful or beautiful.  Or both. And, "Is this a good deal?"  I want to be a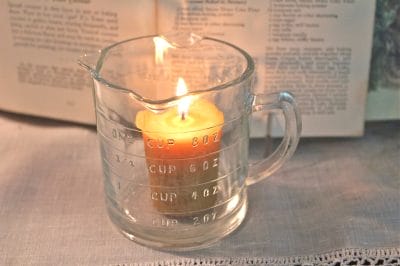 smart shopper.  You don't have to use vintage things as they might have been intended … for example,these sugars and creamers make wonderful votive candle holders, spreading interesting patterns of light on the tablecloth when the candles are lit.  When I find something I love, the first thing I ask myself is, "How can I use this?"  If I couldn't use these as candle holders, I probably wouldn't have bought them, I have sugar bowls and measuring cups already, so they wouldn't have been necessary. But now, thank goodness, they are!  Whew!
And don't think all they have is the "country look!"  No, you can choose your own poison, from 1950's modern to every imaginable (and unimaginable) style under the rainbow.  Plenty there for men too, every tool and screw since the beginning of time. Old prints, fishing equipment, cameras, vintage ties; everything a heart desires.
And, if the beauty and charm is somehow not enough?    Which I'm sure it would be, knowing you the way I do, there are other fine qualities attributed to yard sale shopping and flea market browsing: it gets you out of the house, you are recycling and helping to save the planet.  You are supporting local businesses. ♥  You have preserved a piece of the past, the history of the world, because in your hands is 1836 or 1942. Your house becomes 100% original, just like you, in a really wonderful, creative way that puts the heart in the heart of the home.