If your house is really a mess and a stranger comes to the door, greet her with, "who could have done this? We have no enemies."
♥ Phyllis Diller
It started with the sugar spoon at breakfast, I noticed how tarnished it looked.  We had company coming to stay with us, and really, all the silverware looked bad . . . it made me remember, just the other day, a girlfriend told me about this method she has of cleaning silver that she says definitely works, and gave me her recipe for it.
I'd heard of doing it like this before; I never really thought it would work, so I never tried it. But all my silver looked so terrible; what did I have to lose? What if it really works?  Way better than polishing every piece, one at a time.  Which I didn't have time to do anyway. Then I thought, Maybe the girlfriends would like to see this scientific experiment! So out came the camera and here we are. Let's see if it works!
I did what my friend suggested: I lined the sink with aluminum foil, the bottom and up on all sides.
Then I poured a half-cup of ordinary table salt and a half-cup of baking soda into the sink; filled it with really hot water, and dropped in the silverware.
You can see, if you look close, that I also dropped my wand in there.  Even though the wand is brass and not silver, I thought I'd give it a try. Joe came in, peered into the sink, and said, "what's that?"  "It's my wand," I said.  He looked at me, rolled eyes, and said, "Why didn't you just wave it over the silverware and forget all this?"
So, how did it work? It worked pretty good!   I left it in the water for about a half hour.  Here are the before and after photos:  "Before" is on the left, and "after" is on the right.  There's definitely a big difference. I think you get more of a polish when you do it by hand; however, for speed-cleaning, and getting so many pieces done at once, this is my new, go-to way to do it.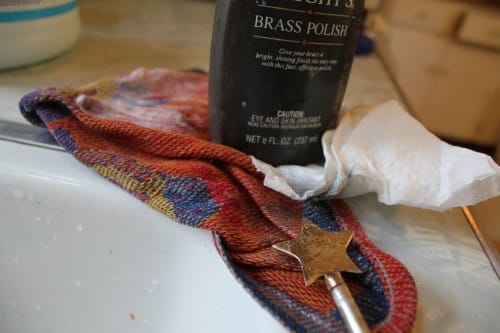 Then I polished my wand the old-fashioned way.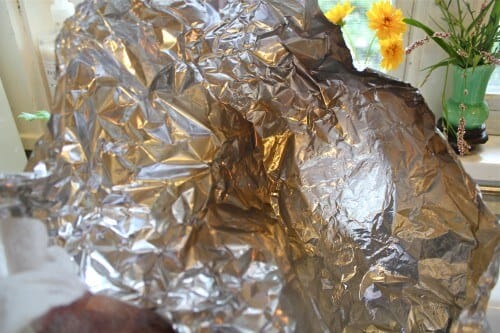 But here's the real magic…I went to clean up, and look at this…the tarnish is all over the aluminum foil. Some sort of transference has occurred. Must have been the wand!
 ♥
For this, I give myself the Good Housekeeping Seal of Approval…