"You want something to drink?" I called to Joe, heading in to clean up from being in the garden.  "Yeah, he said, "How 'bout one of those lime things."  I knew what he meant.   He loves my homemade limeade; deliciously refreshing on a hot day; this isn't just any limeade; this uses whole limes, it's thickened and sweetened with condensed milk.  I make it with basil which adds a little spark to it.  This recipe makes 1 1/2 quarts.
We had limes, I grabbed some basil leaves from the garden . . .
First thing to do is make a basil simple syrup — boil together 1 c. water with ½ c. sugar and four whole basil leaves. Leave it in the pan and put it in the fridge to chill.
When it's cold (ish) you pour the basil syrup into a blender.
Then add four quartered limes (peel and all) and 1/4c. of sweetened condensed milk . . .
And then, 2 cups of cold water . . .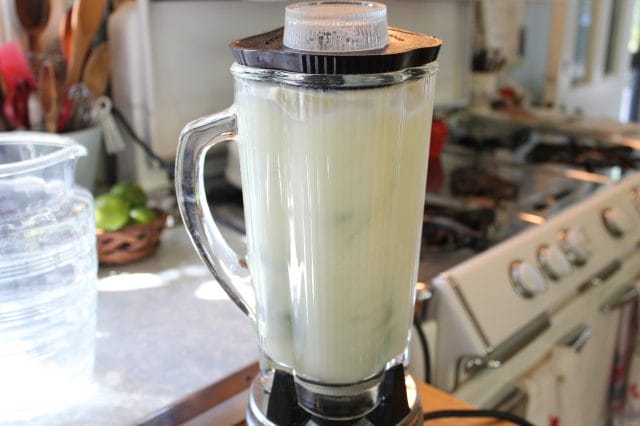 Put the lid on tight, and blend on high for four seconds, just until the limes are roughly chopped.  This is so easy.
Strain it all into a large pitcher. Rinse the blender with two more cups of cold water and pour it over the limes to get all the juices . . .
Mash into the strainer with a big spoon.  Get that limey goodness . . .
And voila!  Pour it into tall glasses over crushed ice.  Garnish it with basil or mint, or a turquoise straw and . . .
Then of course, you have no choice…you drop Joe's off to Joe, and you take yours, to the chair to the garden with the book.  ♥  Yes, you get the picture, I'm trying to be a bad influence.  It's my job.
Here's the recipe, all in one place; you will love it!
B A S I L    L E M O N A D E
1/2 c. sugar + 1 c. water in small saucepan
4 whole fresh basil leaves
4 limes quartered
1/4 c. sweetened condensed milk
2 + 2 cups of water, divided
Boil sugar and water together, remove from heat and stir in basil leaves.  Chill.  When it's fairly cold, pour the syrup into a blender; add limes, condensed milk and 2c. cold water. Blend, on high, for four seconds, just until limes are roughly chopped.  Strain into pitcher. Put 2 more cups of water into blender, whirl it around to rinse it, and pour through limes and strainer into pitcher (to get the rest of the juices from the limes.  Serve over crushed ice, garnish with basil or mint if you like.  Makes 1 1/2 quarts.
 S  W  E  E  T    D  R  E  A  M  S