This beautiful salad is a feast for the senses, it's pretty, smells like heaven, tastes delicious, and goes well with everything. ♥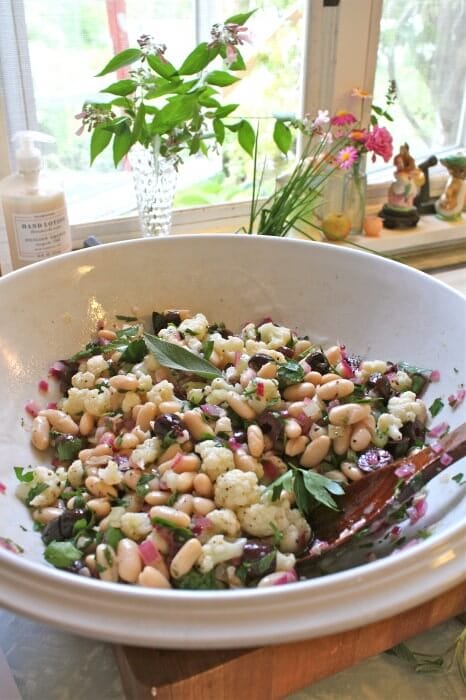 Redolent (a word I love as it rolls off the tongue) of fresh herbs, sweet red onion, kalamata olives, garlicky oil and balsamic vinegar.
To make it, the first thing you do is break cauliflower florets into bite-sized pieces and cook them until tender-crisp.
"Bite sized pieces" reminds me; some know about this, some are just starting out in cooking world, like my Daring Girls, so ignore me if this is old news.  I want to talk about the cutting up of things.
Most of you know how much better food is if there's attention to the descriptive words every recipe uses: chop, or coarsely chop, mince, dice, or cut in "bite sized pieces." The dish will taste, look, and feel different in your mouth depending upon how you cut things up!  For example, let's say you're eating this salad.  If the cauliflower isn't bite-sized, you might have to cut it to eat it. That would be bad. Much too disruptive in the quest of getting food to mouth.  And the best bite of this salad is when at least two or three of the ingredients fit on the fork at the same time. You wouldn't, however, want to mince everything either; the salad wouldn't be as pretty; it would lose its character.  This is why I hardly ever use the food processor, never to be exact, to cut up vegetables.  I want my diced red pepper to be little squares, not raggedy bits of vegetable. OK, end of this edition of Cooking 101. ♥
Back to the bean salad. . . While the cauliflower was cooking, I emptied canned cannellini beans into a colander, rinsed them well and let them drain while I did everything else.
Does it matter if the beans are canned or made from scratch?  Honestly, everything matters. Homemade beans can be cooked "tender crisp" so they keep their shape and their "bite" — they won't be quite as mushy as a canned bean is.  But it's not imperative in this recipe.
What's more important is that you get to the playing part of this day. ♥
So, after I diced the celery and red onion — I scooped it into a large skillet with some extra virgin olive oil and a couple of cloves of crushed garlic and then sauteed everything very quickly until it was wilted and fragrant.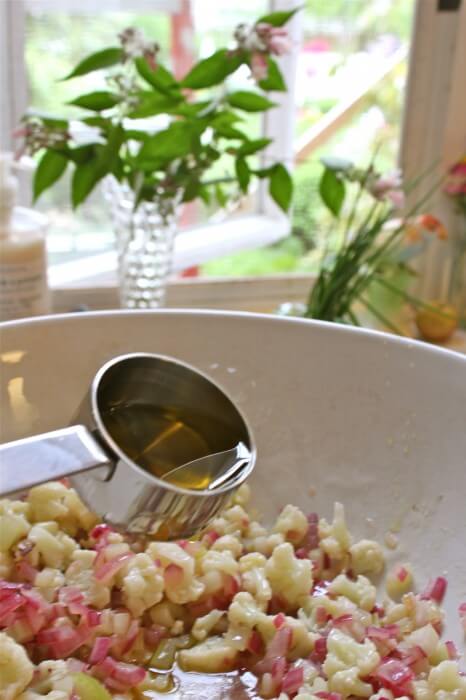 Then I put the cute little cauliflower florets and sauteed vegetables in a large serving bowl with a little more olive oil and added the rinsed and drained beans.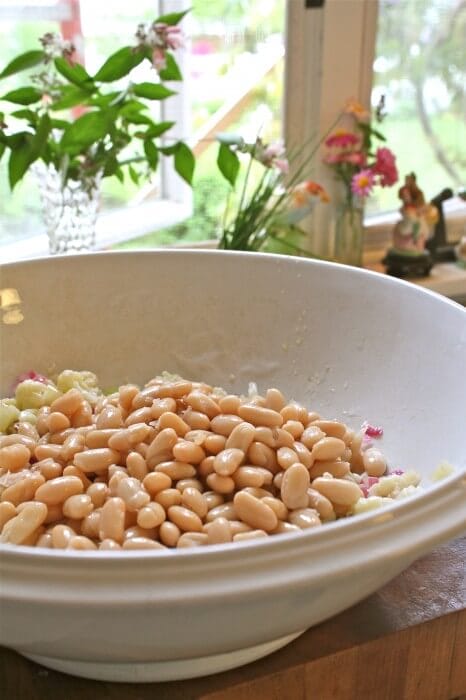 Next came the chopped olives, fresh flat-leaf parsley, and fresh sage; it adds prettiness if you want to save a few whole leaves of fresh herbs to decorate.
The olives are roughly chopped, a little smaller than bite-sized, but not finely chopped or minced. 🙂
This is exactly what's nice about having a garden; time out from cooking and out to the garden I go to get the parsley and sage; fresh air, sunshine, nose-in-rose, back to kitchen with bounty which gets roughly chopped. Almost done!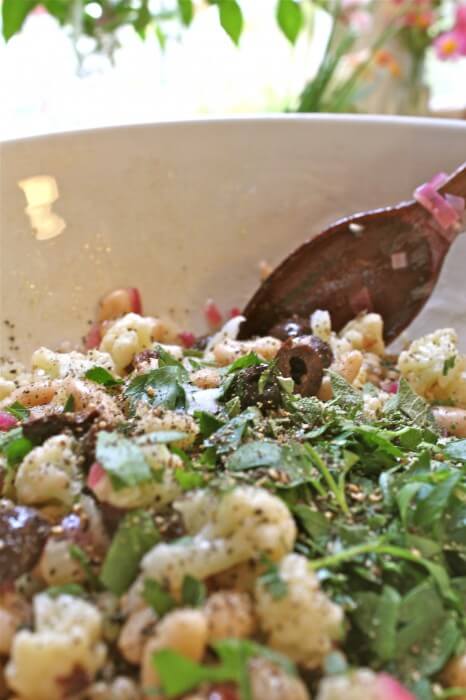 Some freshly ground pepper, some grinds of sea salt, and stir gently.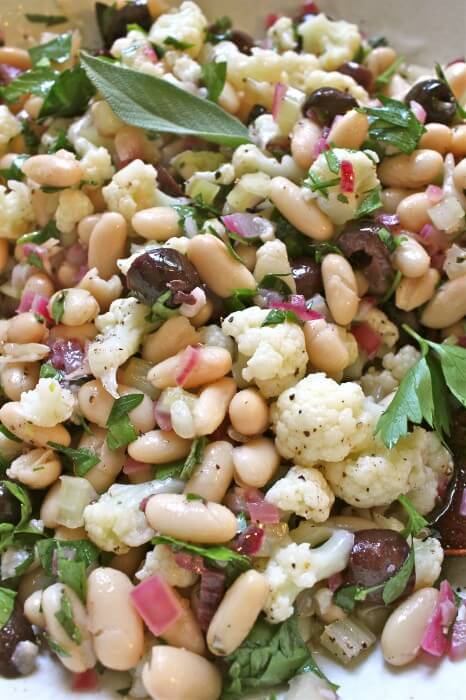 V O I L A !
Aren't the colors beautiful?  It was delicious! Can you not reach right into that for a bite?  Get a spoon!  See how many of the little bits and pieces will fit on your spoon at the same time.
We had it with a watercress salad and grilled, island-caught swordfish from our favorite fish market.
And Joe made his garlic bread….
♥
Melted butter & parsley, wrapped in foil, and put in 350 degrees for 20 minutes.
And that's it… hope you enjoyed this little trip through our kitchen. The recipe is at the bottom of this page.
 WHITE BEAN SALAD
2 – 15 oz. cans cannellini beans, rinsed and drained
2 c. cauliflower florets in bite-sized pieces
¼ c. + ¼ c. olive oil
1 c. diced red onion
1 c. diced celery
2 crushed garlic cloves
1/3 c. white wine vinegar
½ c. roughly chopped kalamata olives
2 Tbsp. chopped fresh flat-leaf parsley (keep a few leaves whole)
6 leaves fresh sage, keep 2 or 3 whole, chop the others finely
Salt and freshly ground pepper to taste
Rinse and drain beans well.  Put cauliflower in small saucepan, add water just to cover, and cook until tender-crisp. Rinse in cold water and drain.  In a large skillet, heat first quarter cup of olive oil; add onion and celery, stir, cooking for 2 min; add garlic, cook and stir another minute.  Pour into large salad bowl along with cauliflower and stir in vinegar. Add the beans, the other quarter cup of olive oil, the olives, parsley, and sage.  Salt and pepper to taste; stir gently until well combined.  Add the whole leaves of herb.  Serve at room temperature. ♥