Hi Girls!  I'm thinking St. Patrick's Day this morning and no St. Patricks Day Celebration should happen without one of the prettiest Irish Songs I know.
Five leaf clovers are even rarer than the 4-leaf variety which make them the luckiest of all!  So girls, Happy St. Patrick's Day, good luck to you!!  Close your eyes and make a wish!  If you want to take a moment and gaze over the Irish countryside, it's so beautiful, and goes so well with the music; it's so Green!  So appropriate!  
And when you make this delicious health drink, the best thing you can do is settle down in front of the TV and watch The Quiet Man, one of the most beautiful, wonderful movies I've ever seen; it's John Ford's love letter to Ireland; the song Isle of Innisfree that we're  listening to is the theme song for the movie.
In case you haven't seen enough green yet, but on a far different subject; one I couldn't allow to go by without celebrating . . .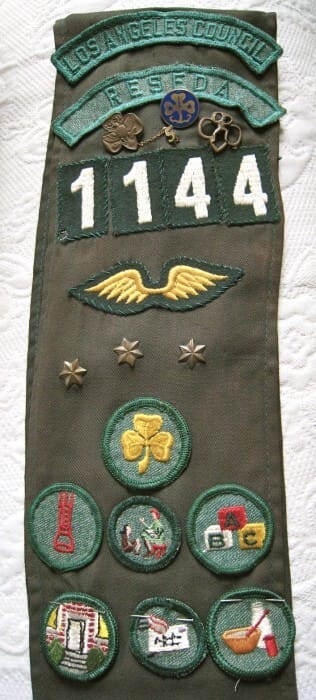 HAPPY BIRTHDAY GIRL SCOUTS!
It's the One Hundredth Anniversary of the Girl Scouts this week.  I could write a whole book about how much I loved being one.  I started out in the Brownies when I was seven (that's me in my uniform with my Princess Leah/Toni permed hair at the top right of this page); I got those wings when we "flew up" from the Brownies to the Girl Scouts.  Our troop celebrated by taking a trip on the "Great White Steamship" to Catalina. I felt as if I was traveling the world. I loved the troop leaders we had over the years, they taught us so much; they were like "other mothers." I loved making stew in a can, doing a collage with broken-up watercolored eggshells, making a summer top out of a bandana, camping and singing around the fire, marking trails with rocks in case we got lost, and learning to fold the flag.  They also taught us how to put on a pillow case without using your teeth.  All the little necessities of life.
My badges, all except for one, tell the story of my future.  Some are still pinned where my mother put them until she "found time" to sew them on!  The horse riding badge was something our troop did as a group, we took lessons.  That one didn't stick; the horses were always smarter than me!  But the others are for Storytelling, Childcare, Homemaking, Pen pal, and of course, Cooking.  All the things I loved. All the things I was doing around the house anyway, as the oldest of eight children. The missing star came off in High School to go on a coat; there should be four. The Girl Scouts meant so much to me and to so many others!!!
And Now . . .
BADA-BOOM!
OK Girls, I'm doing something special today, so I have to go!  I just wanted to send you that little recipe and some ideas for Saturday, the wearin' o' the green; next post we'll let Vanna draw the winner of our last drawing — until then, you can still enter by leaving a comment at the bottom of this post —  and when I get back, I'll also show you what I did today!  OK? One more thing, in case someone around you can use a little magic in their life . . .
For   ♣  Love    ♣   and   ♣   Luck
Have a wonderful Day!  ♥