No one is born with their future written in stone; it took me years to find my own path.  Looking back I can see now what I couldn't see then, that the tiniest inspiration, if you love it enough, can be the gateway to a future. For instance, don't laugh, (and most of you probably already know) but I always got an A in handwriting.  At the time, no one got very excited about that (although, when I was around fifteen, my dad did take something I wrote to work to show his co-workers, something the daughter will never forget ♥), but really, how much more insignificant could an "achievement" be?  Would you ever imagine there could be a life in handwriting?  Me, either.
But yes, it can happen.  Which, by the way, means anything can happen! This is the top of my calendar page for March.  Musica?  Oui!  It's a celebration of good old-fashioned letter writing.  I love my grandma's old letters that all start with "Sue Darling;" my old boyfriend's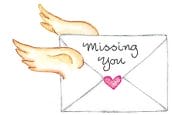 letters; all the letters from my best friend Diana when I left California to move to Martha's Vineyard. Our letters flew back and forth and now they're like little diaries.  They never get old; their details capture and hold on to a moment in time like almost nothing else.  Except for the photos, everything on that calendar page was either written or painted by hand. The old letter in the upper left was one written by a beau to Joe's great, great grandmother in 1881.  On the right, is the front, inside, and back of a card I wrote to my grandmother when I was eight.  As you can see, I was so excited to get to the p.s., I almost forgot to sign my name first!  I've always been a P.S. Person!
Goodbye cursive? Get outta here!  They've been talking about taking cursive out of schools.  I saw this newspaper in a gas station while traveling last fall and practically cried before I ran to get the camera!  My sister says the school her eight-year-old twins go to is no longer teaching cursive!  Luckily my little nephews are amazing artists; they want to know how to do cursive and Shelly teaches them.
 I think learning cursive was the first connection between my brain, a pencil, and whatever artistic talent I had; moving the pencil just so to form letters, to make a little curl on an E, to bend the top of a T.  I don't know if it happened that way for other artists — but what if it was the same thing for some of  the most talented artists, for example, like Monet, or DaVinci (who taught himself to write cursive backwards!), or John Singer Sargent?  What if it was???  No pencil, no connection = just maybe, no art.
And for sure, two out of these three books could never have been written if it wasn't for cursive.  Not to mention the Declaration of Independence, which wouldn't have been half so interesting or informative if it had been written perfectly, on a computer, all mistakes and cross-outs deleted.
I have nothing against a printed book, love love love them in fact, but
♥     ♥      ♥     ♥     ♥
this kind of book makes me feel history more than any printed book could ever do.  Rachel (we met as pen pals and now we are dear friends for twenty years; go say hello if you have time!) sent me this old diary she found for sale in an antiquarian bookstore in England where she lives; she knew it would be my cup of tea, and she was so right!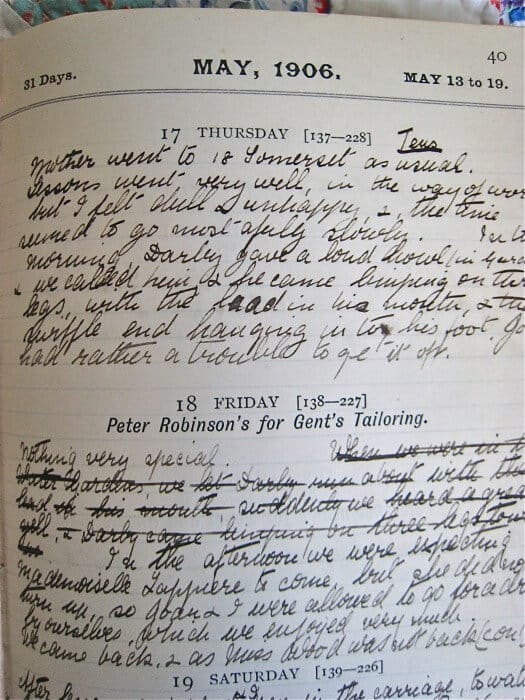 This diary was written by a twelve-year-old British girl named Alice.  She writes about her lessons with "mademoiselle," about her dog, about teatime and what she ate; and about how much she whistles, which is practically every night.  She really loves to whistle!  "Dec. 4, 1906 Nothing special today, whistled in the evening."  It's a little treasure; she might have thought it was "nothing special" but it is to me.  I wonder what she was like as a grown woman?
♥          ♥          ♥ 
I would love to have known Margaret Cavendish!  And, just imagine, no this:
I have no doubt at all that Nancy Luce's writings and little books were inspired by her simple everyday school life here on the island, learning to make her letters.  Despite her illness and loneliness, she still managed, through her handwriting (and her heart), to become the most famous person on Martha's Vineyard in the late 1800's.
And for sure, this would look very different if it wasn't handwritten; my favorite book I ever wrote; the diary of our adventure in England.  Sure it could be typed, but I love all the mess in this diary, it's real, with crossed out lines and misspellings and lots of exclamation points!!!! I tried to make this first page neat, within reason, I didn't have a ruler, but inside it looks more like my other diaries:
This was part of my diary entry for January 19, 1978; the first time I broached the question of how "real" writing was done.  Sometimes people tell me they don't want to use their handwriting in their scrapbooks and on recipe cards because they think it's so bad.  Could it be any worse than this?  Would it really matter?  Wouldn't a great, great, great grandchild love seeing any kind of handwriting at all, as long as it belonged to you?
I've been keeping a diary on and off since I was nine, and constantly since I was thirty.  These are probably the most embarrassing items I own.  They're bare bones, pathetically truthful, "scream of consciousness;" running the gamut of emotional health from A to B and will all have to be burned one day.  They know too much.  I never thought about "writing" when I wrote them, which is too bad; I would have liked to see myself wax poetic!  I left out lots of details and told things that no sane person would ever tell.  Because I wasn't thinking!!!  This is the truth, there was no thinking going on!!!
I was a gut-spiller in my diaries, and yet, they are part of me and my life, for better or for worse, for richer or for poorer, I am married to them.  I bought my House of Creativity inside those pages!  Our Christmases are there. My kitty, Pooh, died there.  I moved to Martha's Vineyard inside those books, wrote my first cookbook and met Joe.  And without cursive, all that important stuff would be lost!
And you know what else?  Without cursive, here would be no more of these!!
So I'm declaring this day, March 10th, "I Love Cursive Day," and in honor of the celebration I am giving away not one, but three, things that will exercise your cursivity and leave a little herstory for the folks in 3012, who are apparently going to need it.
 First off, I'll send the winner of our drawing a package of these How to Be Happy Notecards.  So she can send a little note to someone she loves, and put it on paper to last forever. ♥
In addition, the package will contain a signed copy of my new Grandma, Tell Me Your Story book.  I wish so much I had one of these when my Grandma was alive; there are lots of family memories lost forever.  I would have loved to know more details of her childhood.  I never did hear about her favorite dress.  ♥
 The book is lined, and filled with good questions for a Grandma to answer, the ones I would have liked to ask; "real" ones, such as "Did you ever leave school without permission?" And, "Did you like to dance; did your dances have names? Who taught you the steps?" (That's where I would write that my first dance partner was our refrigerator door handle!)  When finished, this book will be something a family will cherish forever.  If the winner isn't a Grandma, I'm sure she will know one or have one and it will make a wonderful gift!
♥            ♥            ♥
And last but not least, this.  It's my newest recipe keeper, and I'll be signing this one too.  It's smaller than our three-ring-binder-recipe-keepers which means it would be a quicker project to put together; the letter stickers come with it so you can add a name on the cover; you just fill in the recipe pages with your favorite family recipes, gathered in one place, to save forever, perfect for a newly wed daughter or son.
To enter the drawing for all three items, you have to be actually on my website, which most of you are (some people have the blog emailed to them via subscription, which means there is no comment button; if that's you, just go to www.162.240.10.175/~susanbs3/susanbranch/) and leave a comment by clicking the word "comment" at the bottom of this post.  That's all, and in a few days, charmingly talented "Vanna," our in-house random number generator, will choose a winner.  Join my quest to save the cursive!  And have a wonderful weekend girlfriends!
X O X O X O