Happy Saint Patrick's Day!  If you're not wearing green, run, get something, save yourself. I found out in grammar school that a pocketful of green grass was better than nothing!
Hi girls, this one's long, get tea, get comfy!  Well, yesterday, I was thwarted.  Came to the computer early to update the blog and show you what we were up to on Thursday and found out "the server is down."  Grrr.  #$@%*$# I do not like to be thwarted by my machines!  And it stayed down until noon!  By that time, all the magical morning juice (the stuff that's manufactured while I sleep) had burnt off me; I was no longer the creative blogger I so wish to be, so I cleaned the studio instead.  Which makes me very happy this morning, because here I am, all juiced up from dreamland, in a clean studio, with a full cup of tea, a kitty on my lap, ready to go.
So what I have for you today is a bit of a travel log.  We went off island and because this is New England, because there is so much history here, whenever we have errands to do, we try to do them in a cute little town so we can eat in cute little restaurants, and see wonderful old houses.  We needed to go to an  Apple Store (to put more memory into my computer!).  Luckily Apple has lots of stores, so we picked the one in beautiful, downtown, Hingham, Massachusetts.   So here we go… arm chair travel!
Guess what year Hingham was incorporated and recorded as the twelfth town in the Massachusetts Bay Colony?  Yes! 1635!  The first courageous settlers of this town came
across the cold gray sea in a wooden boat from Hingham, England.  I guess to make themselves feel more "at home" they named their new settlement after the town they'd come from, which is pretty much what all the settlers did.  That's why it's called "New" England.  That's why there's a Plymouth, a Boston, a Woodstock, a Tisbury, an Andover, and so many other towns, both here and in England.  But this isn't a history lesson, this is a house tour.  Because, one of the things this town is famous for
is that Eleanor Roosevelt said it had "the most beautiful Main Street in America."
I thought you'd like to see some of it because so many of the original houses are still there!  And although Eleanor Roosevelt and Hingham don't have much more in common than perhaps belonging to a mutual admiration society, I thought I would take advantage of the situation and pepper some of the wisdom of Eleanor Roosevelt amongst the photos; she is one of my heroes, her words resonate in my heart.  The world was and is better off because she was in it; I like her to be remembered.  So here we go, not in any particular order . . . here's Hingham!
All of these wonderful old houses are either right on Main Street or just off; we walked up the street taking pictures as we went.  I would have liked hearing this music come from the windows of this house when the song was brand new!
Remember, Spring has not yet sprung here in New England; the bushes and trees are leafless and gray.  You have to look very close to see the buds; you have to imagine the green that is still to come.  But this robin's egg blue house is very cheerful anyway.
Here's the only fixer-upper I saw; anyone in the mood for a project?  It's a beautiful old crumbling early American house.  The bathtub is right there, waiting to be reinstalled.  Most likely will need the floor to go under it too!  Some new glass panes, a little paint, and voila!  That was easy!
No one can make you feel inferior without your consent.       ♥ Eleanor Roosevelt
Huge old trees line the neighborhood streets.  It must be stunning in the summer and fall.  I would like to take a nap under a tree like these.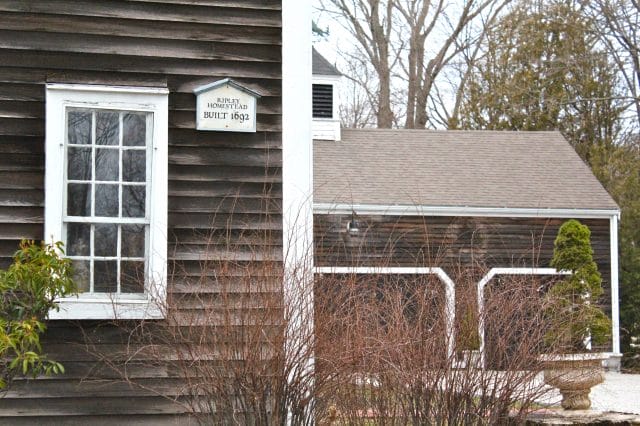 This house was built in 1692!  That's old!  Many of the houses had plaques with historical information on them.
Great minds discuss ideas, average minds discuss events; small minds discuss people.   ♥ Eleanor Roosevelt
This is that same 1692 house, of the "First Period" style of architecture . . . you can see that over the years, they kept adding on, and one day, they no longer had to walk through the snow to get to the barn!
Here's a close up of the front door with a heart wreath.  I already like the people who live here!
How can you not fall in love with a whole antique village filled with stately homes, ancient trees, gambrel roofs, picket fences, shutters, old fireplaces; they speak of our whole history!  There's definitely been knitting going on in this house!  And if you look real close  . . .
The lawn is full of springtime blossoms.
This is the Old Ship Church, built in 1630 — I'll let the sign tell you the rest . . .
It is written that Abigail Adams took a sleigh ride over to Hingham from her home in nearby Quincy.  Can't you just picture it:  A horse-drawn sled, bells ringing through the snow, horse's breath visible in the cold air, furs layered on to keep the people warm?
It takes as much energy to plan as it does to wish. ♥ Eleanor Roosevelt
Here's another wonderful old house and barn, but what is that in the upstairs window?
I think it's a person.
A baby! A baby, peering out and he waved to me!  How many babies have done that over the last 300+ years since this house was born?  Waved, to daddy, back from the Revolutionary War, to people on horseback, to people in Model T's?  Now, to us!
Faith and Begorrah, more MUSICA?
 So then we'd walked far enough; we were hungry so we took a vote and decided we would pop in, to what else, an Irish Pub, for lunch!
Too often the great decisions are originated and given form in bodies made up wholly of men, or so completely dominated by them that whatever of special value women have to offer is shunted aside without expression. ♥ Eleanor Roosevelt
We had delicious Shepherd's Pie with mashed potatoes and gravy, hot and steamy and fragrant and toasted Soda Bread and we listened to the Irish music that was playing there and decided, when we got done, we'd go to the old burying ground.  I hope you still feel like traveling, because there's more!
So we started out, stopping at this beautiful green Georgian style house for a photo … could I really drive by without showing you this one?
Continued up the street and saw this beauty with the double gambrel roof . . .
To the gate of the old burying ground; New England churchyards are so beautiful, so full of history, they are wonderful to walk through, they set the imagination on fire.
You gain strength, courage, and confidence by every experience in which you look fear in the face.  You are able to say to yourself, 'I lived through this horror; I can take the next thing that comes along.' ♥ Eleanor Roosevelt
This graveyard was filled with old trees; keeping watch as they have for centuries.  Double graves of moms with babies are so sad.  The elements had blown some of the markers clean of any engraving at all.
The history of our country is right here.  Gone but never forgotten.
The future belongs to those who believe in the beauty of their dreams. ♥ Eleanor Roosevelt
 Twigs and yellow grass crackled under our feet; it was too dreary a day for a graveyard, gray and chilly; but it was filled with austere beauty and memory and truly, love.
These headstones look like they are leaning back in their chairs about to put their feet up.
 As for accomplishments, I just did what I had to do as things came along.             ♥Eleanor Roosevelt

Time out for coffee . . . off to the local bakery to get a brewed awakening!
How cute!  Giant bakery-made cupcakes with cream on the inside that look just like Hostess Cupcakes!
Trays full of delights, but we were good, still full of mashed potatoes and didn't even get one of these checkerboard cookies!
We're beginning to head out of town, but my camera won't stop clicking — this large Georgian-style house caught my attention, but it's the beautiful old gate that became the subject.
With my imagination, I remove the car in front of this Federal-style house (that I would like to move into in my next life); insert horses and wagon; let chickens run loose in the yard.
I think there may be more American flags per capita in this town than in any I have ever seen.  Look at those porches.  Make some lemonade, put a pillow in one of those rocking chairs, and call me when the sun comes out! ♥
Friendship with ones self is all important, because without it one cannot be friends with anyone else in the world.  ♥ Eleanor Roosevelt
So many beautiful old churches with bells and weather vanes.  They take such good care of everything.  It must be a monumental job to keep this painted and beautiful.
Right about here Joe mentioned that if we go any further I will probably use up all the new memory I just had inserted into my computer!!!  Time to go home . . .
About 1 ½ hours later, we're back on the boat and heading across the sound for home; we have kitties waiting!  I go to the snack bar for tea and when I come back . . .
Sitting on our table, was this!  And Joe, with a catbird expression on his face.  A little worse for wear, having been tucked into a shopping bag, but still recognizable from the bakery; Joe got us a Hostess Cupcake when I wasn't looking.  Starvation is not imminent. Dinner is served!  A haunch of cupcake.  You'd think, after all these years, I would know Joe always has something up his sleeve!
Just delicious!
A woman is like a tea bag; you can't tell how strong she is until you put her in hot water.  ♥  Eleanor Roosevelt
And that, my darlings is all.  I hope you enjoyed your trip!
*winner*winner*winner*winner*winner*winner*winner*winner*
What shall we talk about now?
Oh!  OK! I guess you have been the most patient people in the world, waiting for me to go to Apple, waiting for the server, and then this story that would never end —  and you would like to know who the winner is of our last giveaway?  Am I right?
OK, here we go, in honor of all of us who Love Cursive, the winner will receive signed copies of our new Home Cooking Recipe Keeper, my new book, Grandma Tell Me Your Story, and a set of notecards called 'How to Be Happy.'  It will be going off to one lucky winner via snail mail just as soon as I hear back from the email I sent her.  Who? You ask?  Her:
KRISTINA MOORE from GEORGETOWN TEXAS
On behalf of all the girlfriends, I want to say it couldn't have happened to a sweeter more deserving person!  Right girls?  Congratulations Kristina!
Byeeeee Girlfriends.  Thank you all for sticking with me through thick and thin; your comments are just wonderful — you make me cry!  Just better and more interesting every day. ♥ Thanks for entering into these drawings; they're always fun because of YOU!!  Have a wonderful St. Patrick's Day weekend!  Willard starts going out on Tuesday, watch for it in your email box.  Sign your moms and best friends up for it if they aren't already! XOXO!