Time out from all that cleaning and grocery shopping!  Let's get to the good stuff, the decorating!  ♥  When I was young I would pour over my decorating magazines gleaning every teeny scrap of inspiration about homemaking and decorating.  Of course nothing has changed; I still do it.♥
(But we need music for the rest of this story, don't we . . . us dreamers? Yes, we do, click there, and come right back.)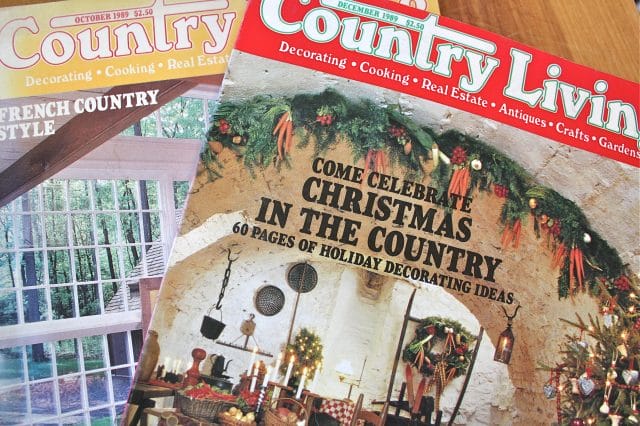 There was nothing I loved more than going to a restaurant by myself, taking my newest issue of Country Living Magazine, finding a cozy table, and ordering lunch.  I would lay my knife across the pages to hold them flat, and slowly go through the whole magazine, absorbed, lost in dreamland, reading every bit of it, while stuffing my face with a BLT, or dipping  French Fries in tartar sauce.
 My favorite
restaurant had a tall open fireplace and old, scruffy wooden floors.  Snowy afternoons in front of the popping fire were the best. From the silver-rimmed windows that ran across the harbor-side of the room, I could see the ferry coming into view through the snow and mist and the choppy grey sea.  Because it was winter and freezing outside, I would often have the whole restaurant to myself.  I would wrap my green-plaid shawl around my shoulders and burrow in for an afternoon of uninterrupted home-born happiness. ♥
The magazines were full of crochet-edged pillow cases, rose-covered picket fences, old hutches with tea cups hanging in a row over baskets filled with apples, and snowy scenes streaming in from what I called "cris-cross" windows.  I dreamed of old stoves and homemade noodles; I learned to tie up fresh herbs and hang them to dry and polish brass candlesticks; I would go home, inspired to try a new recipe, embroider a dishtowel, make curtains, stencil my walls.
There seemed to be a lot more rules about decorating in those days, and one of them was that it was gauche to use faux flowers or fruit.  That's over now, anything goes, it's all mix and match, and I'm so happy to finally admit, I love fake fruit!
I love my little faux lady apples in the tiny Longaberger basket, on my miniature chair in the little scene on my stove shelf!  I love the little red pear in the Love creamer my girlfriend Rachel gave me (she's coming from England for Thanksgiving!), and I love that perfectly wonderful fake little pumpkin!
Over the years I've collected fake fruits in pottery, paper, clay, glass, wood, wax, and marble, whenever I run into one, which isn't that often.
There's a lot of good things I can say about fake fruit, first off, it doesn't rot! It doesn't attract fruit flies; it's not expensive, and you only pay for it once; and if you get tired of it, you put it away in a bag until you want it again.  A bowl or basketful livens up a dark corner. . . (I just found out, we have a few boxes of pears and crabapples left in our web store, if you need some!)
. . . adding a bit color and whimsy.
It's fun to mix fresh and fake . . . the pinecones, the little pumpkin, and the sweet-smelling tangerine poked with cloves are real; the rest isn't.
This marble apple had a hole in the top.  I went out to the driveway and found this little stick, so now the apple has a stem. Mixed media.
This miniature mixing bowl is going to be part of our Thanksgiving tablescape.  And my fakery does not stop at fruit . . . oh noooooo  . . .
I like fake birds too, on a fake tree!  This is my favorite holiday decoration — I started putting this on our kitchen table during the holidays about ten years ago.  Jack the kitten helped me put it up yesterday.
Here it is several years ago, when my sister Shelly lived on the island and had her little Lovebird "Grace" here with her. Gracie gave the tree some serious je ne sais quoi. ♥
I've collected birds forever, some of paper, some with feathers (Jack particularly likes the ones with feathers).  One day, I went around the house gathering all my birds from their perches, from book shelves and bedside tables and when I saw them all together, I realized I had enough for a tree full!  My Bird Tree was born. ♥
While decorating for Thanksgiving, I'm also planning ahead, so that the Christmas decor will slide right in as the Thanksgiving guests go out the door!
And speaking of decorating and speaking of kitties:  Girl Kitty has been very helpful; jumped right up to help me put on the Thanksgiving tablecloth.  Such a big help! BTW, Girl and Jack touched noses for the first time this morning.♥ 
 But mostly, when he isn't knocking jars full of paintbrushes and pens off my desk, or climbing up Joe's pantleg, Jack's playing with his ball!
One last thing: here's one reason I love REAL fruit, in particular, the delicious juiciness, beauty and versatility of a red pear.  If you need a little color for your Thanksgiving dinner, ripe red pears are perfect!  Top any green salad with chopped up red pears; or make a sparkly fruit salad with them: Mix together chopped red pears, pomegranate seeds, green grapes, thin slices of red onion, sheepmilk feta cheese (or blue cheese crumbles), and a sprinkle of walnuts or toasted pecans.   Make an orange dressing from 3/4 c. fresh orange juice, 1 Tbsp. orange juice concentrate, and 1 Tbsp. orange zest — simmer together and reduce to 1/2 c.  Chill and pour over cold fruit.  Serve ice cold.
Or have pears for a healthy breakfast; chop them and put them in a bowl along with blueberries, over creamy plain yogurt, and then sprinkle everything with good granola. Yum!
OK, so I think we covered it all, fake fruit, fake birds, real fruit, one real bird, salad, and breakfast.  xoxo
This weekend, I'll announce the win-win-winner of the book-book-book!
 This, by the way, is what 95% of the photos I've taken of Jack look like, he is a blur.  This moment as we speak, he has just reached up out of my lap and has the island-shaped pendant on my necklace his mouth!  Help!!  I gotta go now! ♥ TGIF Girlfriends!!