La-de-da, la-de-da, another day ♫, and here comes the weekend!  No snow for us, but I know lots of you are socked in!  Perfect!  It's cake baking weather!  Cake baking, with this music, and soon, a pair of darling green salt and pepper birds winging their way to one of you lucky girls. ♥  What a day!
Just in case anyone forgot how truly darling these birds are, here's the photo again!  You can almost hear them tweeting a song about spring! ♣
Also, I wanted to show you another item I designed for Wedgwood that I really wish I had today!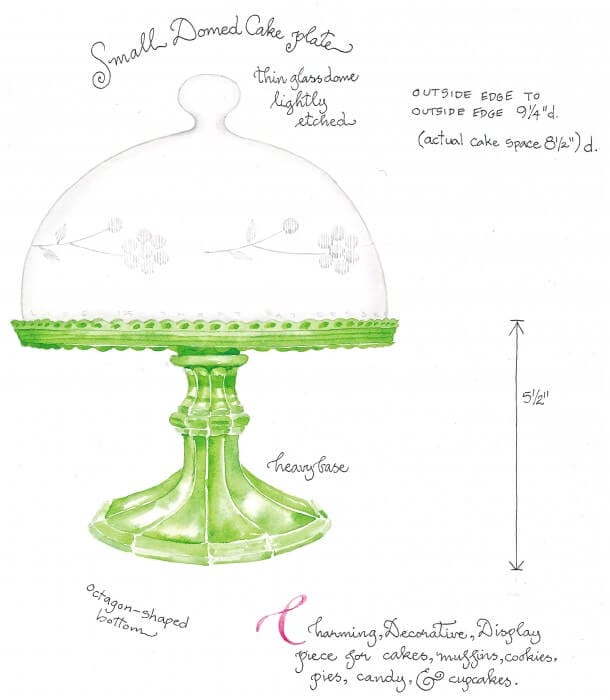 It would have had the thinnest glass top, etched lightly with flowers, and would have been perfect to cover and keep our delicious  M I L K  C A K E fresh!
So!  I found this "old Vineyard recipe" for Hot Milk Cake in our local paper.  I'm always attracted to interesting old recipes that say, "This is plain food, simply prepared, and absolutely delicious."  What's not to like?  Thought it could be perfect for a tea party; had to try it.  ♥
Here's the original recipe as printed, although I finished up the directions with suggestions for things such as what size pan to use, what is "a little salt," and what temperature to bake it at. I'll rewrite the recipe and put it at the end of this post so you can print it out.  I broke the rule and "thought" about frosting it, but didn't; and since I was "fresh out" of yellow tomato conserve, I made a sauce to puddle in the bottom of a bowl full of  cake. Y U M !  It's still not fancy, never fear . . .
So here's what you do:
Set the temperature for 325 degrees.  See how easy it is?  Piece of cake!
T H E   C A K E
First you get yourself a "rounded teaspoon" of butter (love the way old recipes are written — this was much easier than one that reads add a "knob" of butter!); drop the butter into a half cup of whole milk and heat it on top of the stove until hot.
♣
Whisk a couple of eggs within an inch of their lives.
♣
Gradually whisk in the sugar . . . beat well.
♣
In goes the first half cup of flour, the baking powder, salt, and vanilla.
♣
Stir well . . . then add the other half cup of flour and the hot milk with butter . . .
♣
And that's all there is to it!  Pour the cake batter into a buttered 8″ square (or round) cake pan.  Bake 40-45 min.
♣
Pull it out of the oven when the edges start to pull away from pan, or check it with a toothpick in the center . . . allow your kitty to watch . . .
♣
Let the charmingly plain little cake cool while you make the sauce . . . (There's Jocelyn's two Love books, all ready to send to her!  Remember?  She was the winner of our last drawing!)
♣
So, for the sauce, which is also really easy, scrape the seeds from a 1″ piece of vanilla bean, put it in a small pan with heavy cream and sugar, bring to a boil, stir and cool.  Chill.
I tried the cake, as suggested, plain and unadorned, and it was wonderful.  I have to say I would like to bite off all the chewy edges first (like corn on the cob), so good!  BUT . . .
. . .  then I added the sauce and this is when the heaven's parted and this cake melted in my mouth becoming God's Gift to the World; I was proud to be human and able to cook.  The sauce turns it into a kind of pudding cake.  Just delicious.
♣
You could also add the zest of either one orange or one lemon to the cake batter if you wanted.  Probably currants too and even mini chocolate chips if you were so inclined.  It's a plain cake — and if it would be good with yellow tomato conserve, as the original recipe says, I think you could put it with anything.  Mmmm, strawberries and whipped cream! ♥
OK, I guess that should keep you busy — that, and then of course, you have to leave a comment at the bottom of this post if you're interested in the birds!  We'll let our Random Number Generator choose a winner for this drawing in a few days.  See how the bottoms twist off for easy filling?  Pretty wonderful!
OK girls, off I go.  Scroll down to get the recipe if you want it.
♣
Also, btw, not sure if you know, but I moved the list of my Favorite Movies up to the top of the blog, under where it says, "All About Me" — click there, you'll see the movies in the drop-down.  In case you're looking for them!
♣
Had to toss in a photo of this cheerful little cupcake.  I bought the cupcake pan with the deep narrow pockets and the cupcake papers to go with it a while back at Ikea. I just found them on their website — the cupcake pan is red and only $10, and that's the cupcake papers in the upper right hand corner of their page; aren't they cute?  I love mine and thought you might like them too. I bet you could make plain cupcakes from the milk cake recipe!  I forget what recipe I used here; it was last winter, there were no flowers, so I stole this one from my African violet!  I think I was thinking "spring" then too!  Have a wonderful weekend girlfriends! XOXO
  S A U C E   for  H O T  M I L K   C A K E
1″ piece vanilla bean
2 c. heavy cream
1/4 c. sugar
Slit vanilla bean in half lengthwise and scrape seeds into small saucepan.  Stir in cream and bring to a boil.  Add sugar, stir well, let it cool. Chill well.
H O T   M I L K   C A K E
1/2 c. hot milk with 1 rounded tsp. butter melted into it
2 eggs
1 c. sugar
1 c. flour, divided
1 tsp. baking powder
pinch salt
1 tsp vanilla
Butter an 8″ square or round cake pan.  Prepare milk and butter.  Whisk eggs well in a med. bowl.  Gradually whisk in sugar and beat well.  Stir in 1/2 c. flour, the baking powder, salt, and vanilla.  Stir in other 1/2 c. flour, then the hot milk/butter.  Pour into cake pan; bake 40-45 min.  Pour the chilled sauce into a dish and put a slice of cake on top.  Enjoy.