Today it's a travel blog!  And we have music!
First move in any off-island adventure is a trip on the ferry.  We're traveling, as we always do, the slow way; meandering through four states, Massachusetts to Rhode Island, through Connecticut, into New York City, America's Hometown.
As you can see, it was a perfect day for a sea voyage across the sound.  Cold and windy, around 38°, and clear. We parked our car downstairs on the freight deck, and came up to sit by a sunny window, drink coffee and read the paper.
Forty-five minutes later, we docked in Woods Hole.  We climbed back in to the van . . . Joe took this photo through the windshield, of me digging through by bag to find the phone.  We have everything with us, chocolate, apples, homemade granola; plus, an electric tea kettle and an ice chest for the milk for the tea–which I am happily drinking now.
About a half hour from Woods Hole, we leave Cape Cod via the Bourne Bridge . . .
On to 195, through Fall River, Rhode Island . . .
. . . and over the bridge . . .  tons of coastline in Rhode Island, so there are lots of bridges!
Into Providence.  My photos don't do justice to this darling city . . . so many wonderful buildings, such a cute downtown . . . here are just a few I took through the car window . . . see the wind whipping the flags? Chilly!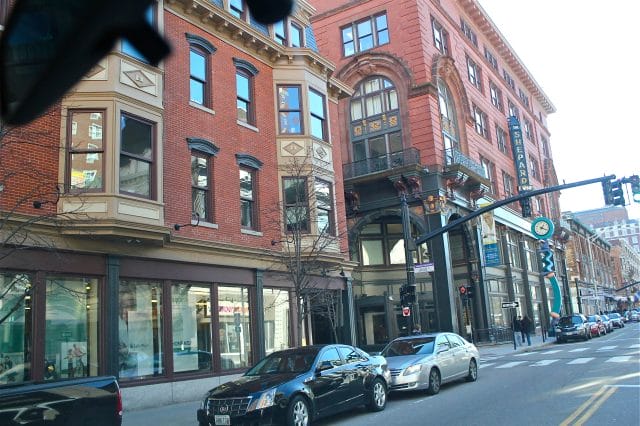 More wonderful old buildings . . . New England cities are filled with them.
And a mix of old and new . . . gorgeous day, look at that sky!  We parked here and blew down a couple of blocks to the Providence Mall to SHOP.  People who live on Martha's Vineyard (at least the ones I know) crave a good Mall (no chain stores on the island), but then when we get inside, we are like kids in candy stores, overwhelmed and don't know what to buy.  It's all so big and sparkly and there's so much of it!
After shopping (tried on cute shoes, they didn't have them in my size; found a sweater in "my color") and mocha coffees, we drove into the most amazing Connecticut sunset that seemed to go on and on . . . heading west — and thinking, hmmm, where should we have dinner?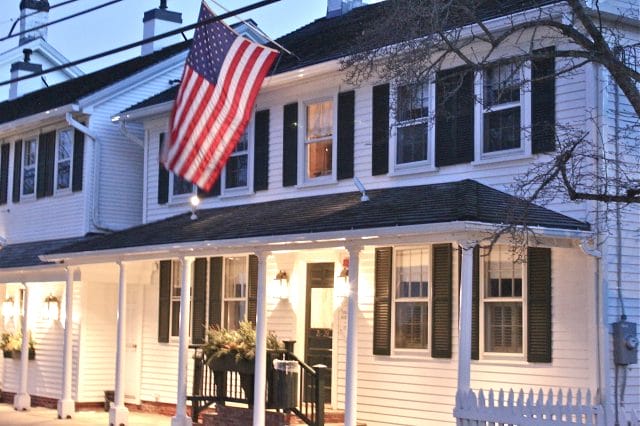 We choose a destination dear to our hearts, the Griswold Inn, where we stopped the very first time we went to New York together, all those years ago.
We love it because it's filled with history!
It's in the quintessential New England town of Essex, Connecticut — another extremely American town as all New England towns seem to be . . . this one, maybe even more so.  The moon was beautiful, horns up, smiling; it looks full here, but that's just the trick the camera is playing . . .
I think they keep their paint colors simple on the old houses just so the flag looks good against them!
Even the lines on the road were red white and blue!  How can you not love this exuberance?  So we found a parking place . . .
And went in through the green door . . .
To this welcoming lobby . . .
And then . . . I hardly know where to start with the photos, the restaurant is so full of interesting things and cozy nooks . . .
Here's the bar, very cozy, publike, and neighborhoody . . . With a fire in the fireplace and a twinkly Christmas tree taking center stage.
And who doesn't love a well marked ladies room?  In all its two centuries of existence, the Griswold Inn has never met a sign or a picture of a boat it didn't love.
And they have a Library Room, full of old books, where you can eat!
The walls are crowded with historical artifacts, everything labeled as to who, what, where, why, and when.
Like eating in a museum!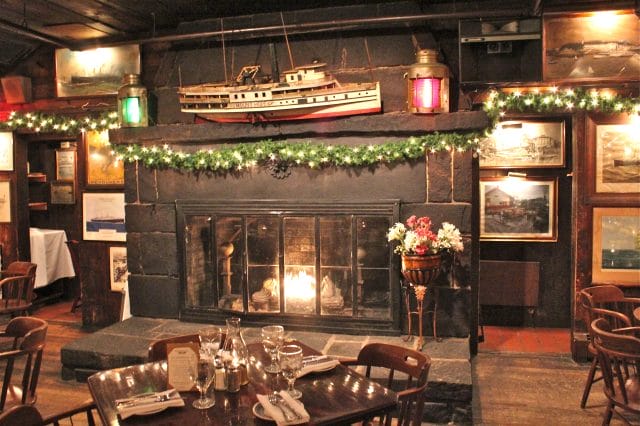 Loved the ship models — especially this one over the fireplace in the main dining room.  Guess which table we chose for the first of what will probably be a month of Anniversary Dinners?
Oh yes, the one in front of the fireplace.  A toast to 25 years of luckiness and Just the Right Guy for Me. ♥  The softest kindest heart I've ever met.
But, we have to get serious, enough of this mushy stuff, down to business . . . Mmmm, hot rolls with maple butter.
I had the white bean and tomato soup made with chicken stock and a green salad with bacon and tomatoes; Joe had a juicy steak with a gorgozola sauce and steamed broccoli which we lingered over, analyzing and enjoying every bite.  When Joe and I go out to dinner we do two things — 1. First, we mentally redecorate the entire restaurant — which wasn't necessary in this case; and 2. We try to figure out what's in everything, how it's made; if we want to make it at home, we write everything down in the little red book I carry in my purse.  If it needs cayenne or more garlic, we make note of it.  This was simple and delicious and just right.
We shared this bad boy for dessert, because we can, because it's our Anniversary.  Shut up.  You're parked in a judgefree zone.
And that was it, back into hats, coats, scarves, gloves, and outside for more photos, this one is of the gift shop across the street — then into the car for another hour of driving, and then, last night, a hotel . . . and here we are, it's morning, barely light out; almost time for me to make Joe his Anniversary Cup of Tea!  We head into the city this
morning, New York, New York (a city so wonderful, as someone mentioned the other day, they named it twice!); we'll be at the New York International Gift Fair for most of today . . . in case you're looking for us!
With my iPhone I'm able to send photos and videos directly to Twitter . . . in case you'd like to check in today and see how it's going.  Also, if you read that your comment is "waiting for moderation," it's because I'm away from the computer and haven't been able to "moderate!"  (You wouldn't believe the huge amount of spam that comes into this blog . . . I have to "moderate" in order to remove it before your comments can go up.)  I promise, it will come asap.  I do so hope you have enjoyed your Slow Boat to China today . . . Love showing you our little corner of the world . . . Have a wonderful day!