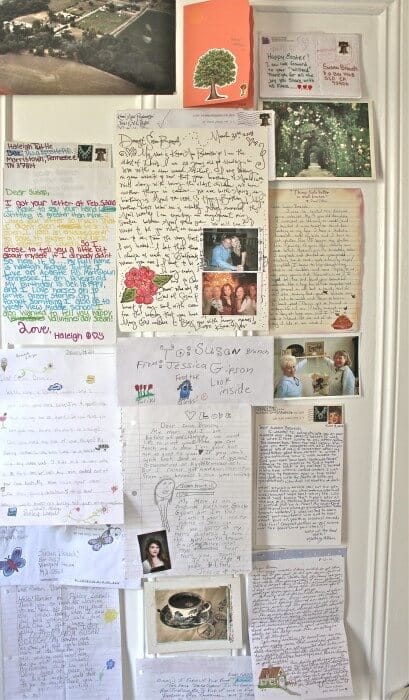 This is one big reason I love my job.  The wonderful letters I get!  I pin them up on the door of my studio so I'm reminded all the time of why I'm here.
Every letter is important; some of them make me cry; some are short and sweet; some come with family recipes; there are drawings and paintings; many have stickers; almost all are hand-written; they come with photos; some have poems; all are keepers.
I get letters from all over the country, big and little towns; plus girlfriends in Japan, South America, Canada, New Zealand and Europe. Letters so full of goodness that, despite our troubles, give me total faith in the world.  But the ones I treasure the most are from children. ♥
These are a few of the letters . . . Kids say the best things…
A few months ago I received a large envelope with four letters in it, from four girls who are best friends.
Two of them are ten years old and two of them are twelve; they're in the fifth and sixth grades; two of them are sisters.  They were writing to tell me they're starting a club called the Daring Girls Club.  I couldn't have chosen a better name for it myself!  One of their moms must have given them one of my books because they decided I should be their "role model" and told me they'd be reading from my book at every meeting.  (See me die of joy.)  The Daring Girls Club, they wrote, is "about saving the earth, art, and gardening."  I feel like a teacher, like Robin Williams says in Dead Poet's Society, "Carpe diem, seize the day boys (girls), make your lives extraordinary!" I wrote them back and thanked them, and today this came in the mail.
This long wonderful handwritten banner … My cup runneth over.  It's got quotes on it from my Girlfriends Book; they wrote to tell me they're hosting a "Pink of Perfection Party" like the one I talk about on p. 29 of Girlfriends Forever, using that menu with all pink food.
D.A.R.I.N.G.  as Mikayla wrote, stands for Definitely awesome, Amazing, Really fun, Indestructible, Never give up, and Girly!
Maybe you need a pink food menu?  Maybe you are feeling girly and daring?  Maybe you want to save the earth? Is that so much to ask?
Maybe pink perfection is not enough all by itself to save the earth, but if it stands for Never giving up, love, friendship, creativity, courage, and hope, then it can't hurt! ♥