Now I made you think this posting was going to be something extra special when really, this is probably the most inconsequential thing anyone ever blogged about in the history of blogging!  I just didn't want you to think I'd forgotten you!  Anyway, our in depth analysis today is all about dishtowels. (Is she kidding?) No, I just have a thing for dishtowels.  I love 'em.  I find 'em, I paint 'em, and I make 'em.  To me, they're kitchen art.  Here's probably the reason why:
My great grandma made this dishtowel (the only one of hers we still have). Every year at Christmastime my mom would pull apart the tissue on a boxful of hand-embroidered (and ironed) flour-sack dishtowels that her grandma made for her, and get tears in her eyes, and show everyone who would look  (we weren't quite as into dish towels at the time as she was!).  My mom hung them over the oven-door handles, so they were always there in the kitchen where we grew up.
So the minute I figured out what things made me happiest, I found an old 1950's O'Keefe and Merrit stove just like my mom's, had it refurbished, brought it home and that's where I hang my dishtowels, on the handles, just like she did. I probably wouldn't have been complete until I did that.  The pieces falling together and all that. ♥
And ever since my stove became a "gallery," I've been on a hunt.
To find the funnest most interesting dishtowels to hang there. Here's one Joe found for me.
I bought this darling  Mary Engelbreit towel ages ago and take good care of it.  I don't want it to ever wear out!
They don't make 'em like they used to!
♥
Then there's my Beatrix Potter dishtowel . . .
…sent to me by my English girlfriend Rachel (half of you know her already because of her sweet blog http://www.mozartsgirl.blogspot.com/).  She went up to the Lake District to Beatrix Potter's house and got it for me there . . . so it's a treasure! ♥
And I really don't mind if some of my dishtowels are strange.  Someone made this, see the tiny stitches? There cannot be another one like it on the face of the earth; and it has Christmas colors!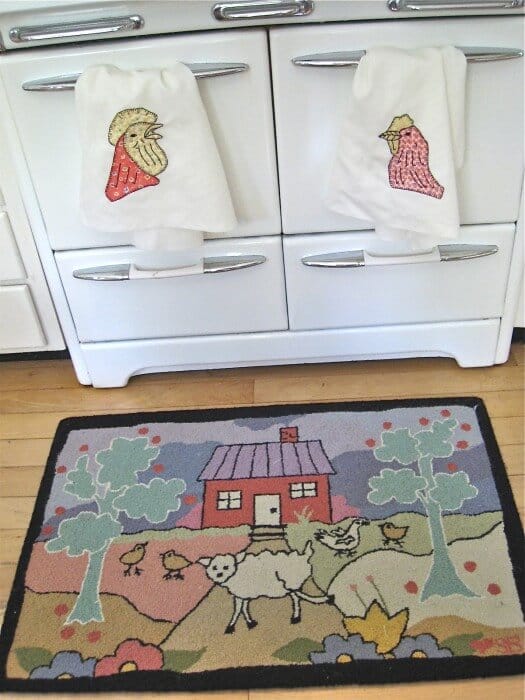 I made these chicken dishtowels to go with the "Island Farm" rug I designed… and if, by any chance you are in the mood to make some dishtowels, the pattern is here on this web site … just click on Shopping, and then in the menu on the left, click on "Love to Sew," and scroll to where it says, "Patterns and Quilt designs." (We have cupcakes too!)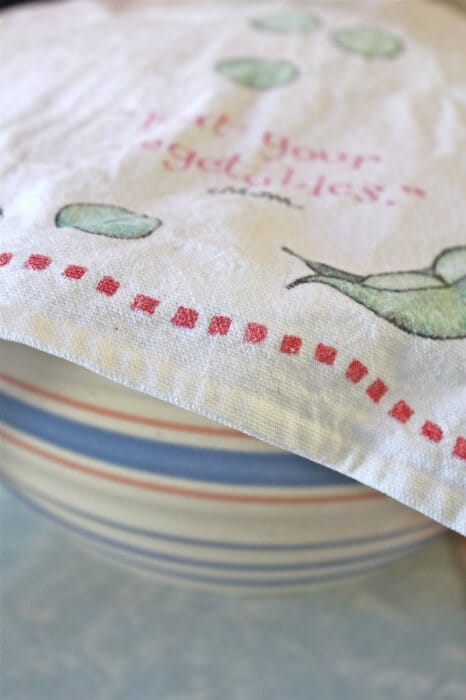 Another good reason to be a dishtowel collector: bread dough rises better under an old dishtowel.
Scones really do taste better wrapped in a vintage towel with crocheted edging.
Biscuits stay warmer in a basket, wrapped in an old embroidered dishtowel.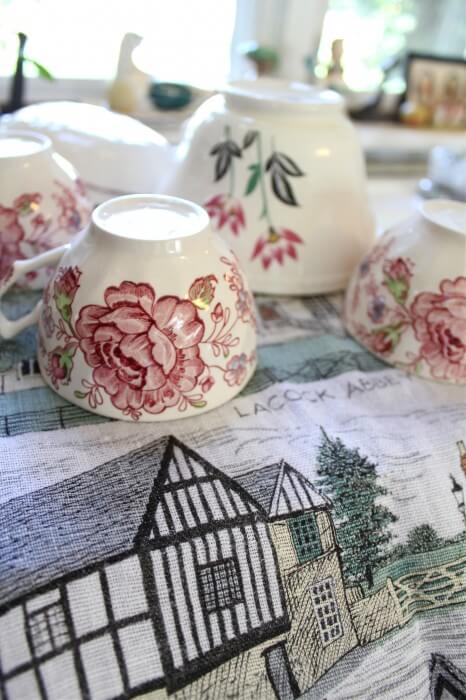 Dishes dry better on the Irish linen dishtowel we bought when traveling. Nothing like dishtowels from a trip!  Memories!
Our refrigerator door handle looks much better draped in old dishtowels.
Even the clothesline looks better decked out in dishtowels.
Lobster tastes better when you have a thick and thirsty dishtowel for a bib/napkin.
And every change of season is just better with dishtowels
Oh yes, I am crazy about dishtowels.  For just a little money, they are decorating bang for the buck.
OK, hope it was worth it!  Kellee at the studio put some photos for you to use as screen savers under "Free" in "Shopping". . . Happy August!