Remember,  you're  all  alone  in  the  kitchen  and  no  one  can see  you. ♥  Julia Child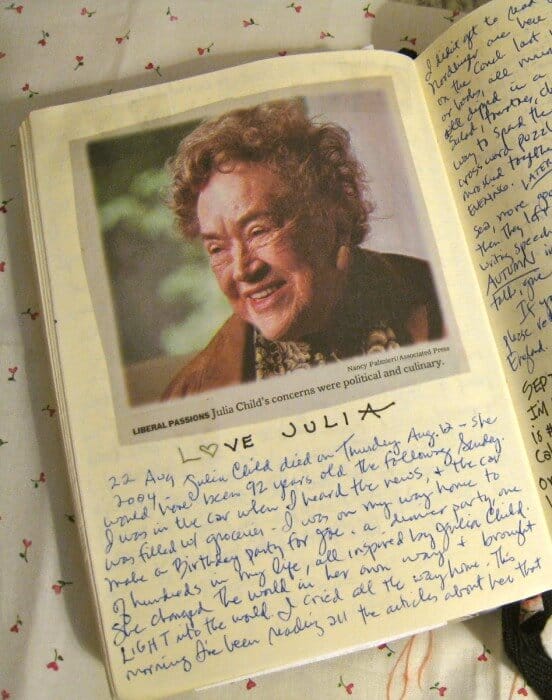 Tomorrow is Julia's birthday!  She would be 99 years old.  I wrote about her in my diary in 2004 a few days after she passed.  It was just before my Autumn Book came out, where I finally thanked her properly, on paper: ♥ I made a heart with lettering that said, "I wonder if Julia Child can hear the echoes of the laughter at the millions of dinner parties that she inspired?  She taught me and all my friends to cook which gave us so much in life. She changed the world and she is loved."  But she never read it.  I was too late.  Not that she didn't hear plenty of it while she was alive; she was loved by so many. ♥
I did get to thank Julia in person once.  Joe and I met her at a small dinner in Boston, when she was in her late eighties. She was very bent, even when sitting down; I had to get down on my knees and look up into her face to see her bright eyes and wonderful strong face.  Perfectly fitting as there is worship in me for her. That's how it is when someone changes your life. ♥
I'm sure you all saw the wonderful movie Julie Julia?  But if not, you would love it!  Meryl Streep was brilliant as Julia Child!
When the movie first starts and the old 50's station wagon pulls up in front of Julia and Paul's apartment in Paris, I knew I was in for it.  Joe, pass the hankie please.  Might as well get ready.
I was a young bride when I bought Julia's first book —  I learned to cook, fall in love with cooking, and see it as an art because of Julia.  Just like Julie in the movie (only without the blogging!), I tied on an apron and cooked my way through her book, turning out one fabulous French thing after another, (and only burning up two stoves in the process).  My friends and family would ooooh and aaaah when I walked in with a roasted crispy chicken cooked Julia's way, which helped me realize that cooking could be another word for love.  It gave me self esteem. She taught me to do something wonderful that let me do something wonderful for others! That's what Julia Child did for me.  And for so many others.  That's why I love her.
There's no end to the imagination in the kitchen.  ♥ Julia Child
♪ Happy Birthday dear Julia. ♫ ♥  She was an original, the real deal.  Makes me think of the quote by John Shedd: "When there is an original sound in the world, it makes a hundred echoes." Julia changed the lives of cooks and eaters all over the world.  Took it up a level, never to return to canned asparagus again in this lifetime. Hooray!  Do you have a Julia story?  Love to hear it . . . xoxo