I  L  L  U  M  I  N  A  T  I  O  N     N  I  G  H  T
This was last night…. but first I have to give you a little history:  On Martha's Vineyard, there's a neighborhood called The Campground.  It began around 1840 as a Methodist meeting place; they came with their families every summer for years, camping out, setting up their tents in this location about a block from the sea.  After a while, they started building tiny cottages, with almost no space between them, where their tents used to be.  The Tabernacle (above) was constructed in the 1870's, and is the center of the Campground; the cottages go all around it, with narrow walkways and "roads" just the right size for a horse and buggy, but not so good for cars.
The little houses are dripping with history (and gingerbread!).  Illumination Night started in the 1870's when they began lighting up the Campground; the cottages are decorated with paper lanterns; the evening begins with a community sing in the Tabernacle and picnic dinners on the lawn; then the street lights go out; the cottages light up; and everyone strolls down the lanes to oooh and aah at the colors.  And that was last night! I took a million photos….thought you'd like to see some of them . . . Ready?  We're going to get there early and get a good parking space.
I almost don't know where to start with the photos!  The cottages are painted in the most imaginative ways, and they all have porches.  Look at that little detail on the screen!  And the curtains!  Someone loves this house.
Porches, paint, rocking chairs, and gingerbread . . .
  I really wouldn't want to see Joe's face if I came up with this paint scheme for our house.  Death ray eyes.  But I sure do love it when someone else does it!
Peeks at simple elegant cottage life.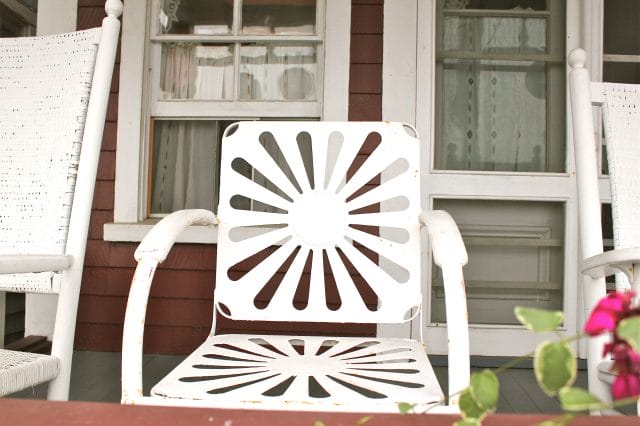 The furniture, like the cottages, very big on charm.  Where less is more.
And more is fun.  But you ain't seen nothin' yet.
This is where the truly festive people live!  Makes you feel normal doesn't it?  So let's go to the Tabernacle and sing!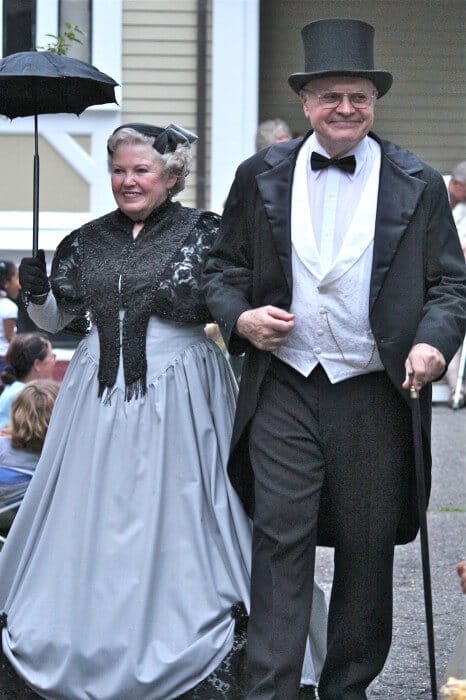 On our way there, these two adorable people.  And now it begins . . . small town life at its best.  ♥
Just so you know where you are now . . .
You're in there, under the tabernacle…or you're outside, playing on the lawn, throwing lightsticks around.  You're singing I've Been Working on the Railroad, Someone's in the Kitchen with Dinah, Yankee Doodle Dandy; you sing B – I – N – G – O,  and you're doing stand-up-sit-down songs with the leader of the band.
I think I see you!  And then . . . . . . the lights go off!  Everyone out of their chairs for the promenade.
Can you hear the crickets?  Listen, the dog's name is Rupert and someone's going to say Hi to him . . .  🙂 It was a beautiful summer night.  Up and down the narrow winding streets everyone goes . . .
The people on the porches love it as much as we do.  They get to people watch; we are the animals in their ever revolving zoo!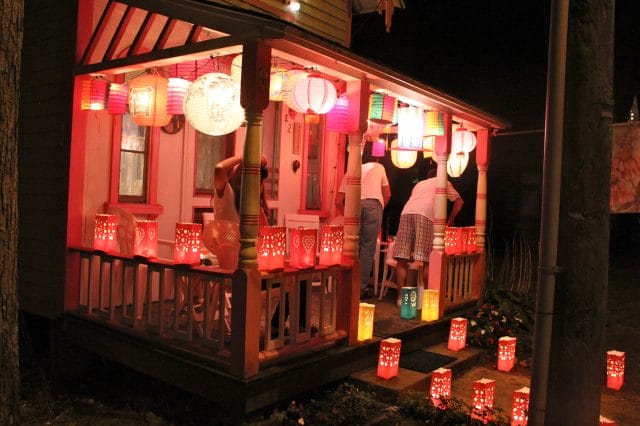 People go all out, it's a gift! And we love them for it! ♥
Do you believe in magic?
On and on it goes, and then there are the little details . . .
Porches and pillows, screen doors and candlelight, lace curtains and wine glasses. Glimpses into lamplit living rooms and kitchens, cooking smells and clattering dishes.
And I will close with that.  I'd do more, but a.) you need to get back to work, and b.) I'm a little worried.  How many photos and videos can one post handle?  I don't know.  How is this loading for you?  Do you have to wait forever?  Let me know. Hope you enjoyed Illumination Night, pretty soon you'll have the whole picture of life on Martha's Vineyard! Where the elves run ahead setting up little scenes just for your enjoyment, and the BIG elf, comes along behind and takes pictures of it.  xoxo