F A L L    D E C O R A T I N G
There's a hurricane threatening the south, we might be getting rain next week, but this morning at 9am, it's clear, no humidity and a beautiful 65 degrees!  We've been very productive lately, getting ready to head out to Minnesota and points west.  We're putting the house in order before we go, so I thought I'd show what we were up to this weekend. First thing, in any case of house cleaning, of course, is to preheat the oven to 325°.  Rewards for hard work are going to be necessary.
♥                     ♥                    ♥
While Joe went out front to work on the house, I went upstairs to begin bringing down the quilts that have been folded all summer in heat and humidity to hang them outside on this beautiful breezy day (which I'm going to show you in just a moment) to give them a breath of fresh air.  (I could watch quilts flap on the line all day, I could sit, drink tea, and watch them blow, glide, dance in the wind.) Pure poetry in motion.
Such a perfect day, I also brought down the feather pillows to wash (with Woolite, on gentle cycle, in cold water 🙂 ), figuring they would like an airing on the clothesline also.  So into the washing machine went the first two.
Back to the kitchen to start preparing the reward . . . baking brownies (because I am thinking fall!).  Got out my trusty recipe book (the one that works every time 🙂 ) and buttered up my "Bake King" pan.
I melted the chocolate with the butter . . .
Then, turned off the flame and beat in the egg and the sugar.  What I love about this recipe is that it's all made in one pan!  It comes together so fast, in case someone is outside on a windy day, climbing tall ladders and putting the newly painted shutters back on the house, he might come in to chocolate baking in the oven and feel that it is all worth it after all.
See all those walnuts?  Just part of the reason I think this brownie recipe is the BEST.  Not that I would have distain for any brownie anybody wanted to set in front of me.  To me brownies say Back to School, but I still like them the way my mom made them, chewy, bendy, chocolaty and very walnuty!
♥                ♥               ♥
So then you do what comes naturally, you pour the batter into the pan, spreading it with a spatula, and pop them in the oven for a half hour.
While they're baking, it's back to the laundry, time for the pillows to go into the dryer with a couple of tennis balls to help get them back to "fluff stage" — they don't look so good right now!
Then I had to go outside "to see what the quilts are doing" (we substitute procrastination for cleaning kitchen); must run back to get the camera because the quilts were doing this:
(One of my very short 20 second videos of the wind in action.) The creative mind can always figure out ways to procrastinate further.  So next, I go check on Joe and tell him how wonderful he is.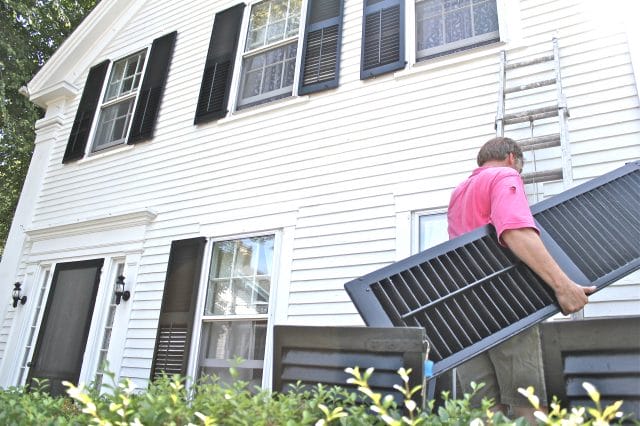 Look at that good boy!  Up and down that ladder!  He took them off last fall to paint the house; we sort of liked the house all white and plain, didn't hurry on getting them painted and back up . . . but we began to miss them (they've been on the house since 1849!), so now they're back! House is saying "thank you!"
Love coming back into the kitchen full of Brownie smells!  Five more minutes until they come out of the oven — I get the pillows out of the dryer, because they now look like this….
All plumped and fat and fresh and ready to get some good windy-day air into them . . . make them smell like the ocean . . .
Out to the line they went to finish drying — another quilt added to the line . . .
While the brownies cool, I put down my hooked rugs, pull out fall dishtowels, start cleaning out some cupboards, getting my kitchen in order so that when we get home in the middle of October, we can slide right into fall, and not miss one beat of this wonderful time of year.  The brownies get cut into squares when they are completely cooled . . .
Finally, they're ready (because they're much chewier when they're cool!) to go on the cake stand . . . A doily gives the whole scene that "professional" look, and of course we do want this to look professional!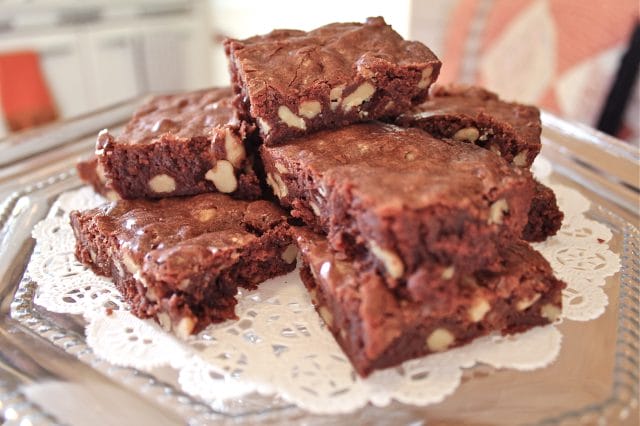 Although at this point do we really care about professional?  No, we do not, we care about yum! ♥
Voila!  Kitchen looks like fall, brownies are ready for my guy, I'm feeling all happy because even though it's August (rude reminder), my kitchen is ready for Autumn leaves.♥  I hope I've made you as excited as I am about fall and the change of seasons.  It would only be fair, I'd hate to be in this alone.  But just in case you need more decorating enticement (which, knowing you, I don't think you really do!) . . . We're having not one, but two new drawings!  Your Willards started going out this morning; that's where I told you all about them. You have until midnight Sept. 11 to enter by going to the top of this page and signing up where it says "subscribe, click here" (that's where there's a "random chooser" that makes all the decisions about who wins the prizes!) If you've already done that, you're automatically entered!  Here's what we're giving away . . .
This print of my original watercolor (you can read more here) called Grandma's Bowl (because it was!) — comes unframed or matted, so you can pick out something that matches your own decorating, but it's on very thick watercolor paper, you'll love it!  I hope you win!  The other drawing will be for this …
One of my (100% wool, hand-hooked) rugs . . . ♥
Just a small token of my great affection for all of you and the very kind comments you have been leaving for me.♥ I read every single one of them!  It's my favorite thing about having this blog!  I can't quite express my gratitude, it's been a bit overwhelming, but you've made me think that blogging is perhaps the best possible thing a person could ever do for fun and relaxation! When I started, I was afraid I would feel like I was talking to myself, but it hasn't worked out that way at all!  Thank you! ♥