I bet you're wondering, where is she?
Well, this is where I was about an hour ago, 4:44 am to be exact on Sept. 13.  Having my first cup of tea, writing in my diary (I brought a leaf from our walk), trying not to wake Joe (asleep in the upper bunk) watching the lights of some dark city (I think it was Cleveland) go by the train window in my room with a view.  And now I'm writing you!
If you've been following along on Twitter ('cause I've been doing my "Twitter from the Twain," kind of a blow-by-blow of the trip with photos and video from my phone) you know that we left from Boston yesterday and traveled west through Massachusetts into the Berkshires . . .
…on the Lake Shore Limited, through upstate New York, into Pennsylvania, Ohio, Indiana, to our destination at around 10 am this morning, Chicago.  We brought everything needed for civilized travel.  We have the teapot of course, it's electric, and cookies to go with it.  I have my pillow from home.  Three cameras, two computers, six books, knitting, magazines, and my green plaid shawl which has been on every train trip I've ever taken for the last 20 years when I first started traveling this (wonderful) way.  We just passed the runway at an airport, still dark, and all lit up, two rows of parallel lights.  The room with the view is highly entertaining, and very quiet as the train with all the sleeping passengers creaks and rocks through neighborhoods where no one's up yet, crossing roads where there are no cars out.
Sometimes the train speeds along at what seems like 100 mph, sometimes it goes very slow, around bends where you can see the engine and the back of the train at the same time, and sometimes, like right this moment, it stops, and waits for another train to go whooshing by, the train whistle blowing loud and instantly becoming distant as it passes in a flash.  It's a big adventure. ♥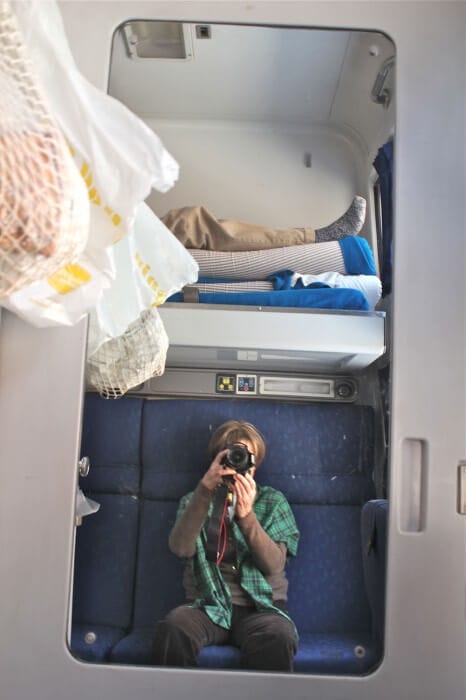 Oh yes, we have our string bag with Chilmark Chocolates, apples, peanut butter and crackers!  We take no chances with danger of starvation.  We're on our way to the Creative Connection Event in St. Paul Minnesota.  We're getting a car in Chicago so we can drive up and see some of the sights along the way, more commonly known as "antique stores" if we can find any.  We'll be in St. Paul until the 17th, then we head back to Chicago, to the Southwest Chief, that's the train to Flagstaff, Arizona, to my dad's house, then into LA, to my mom's, and then to the Central Coast to my California house and to the Remnants of the Past Show.  And then back on the train for the three-day trip back home, to Autumn, and kitty.  That's the itinerary…so you won't get confused as in "what the heck is she doing?!"  Right now, I can dimly see Lake Erie!  Still dark at 6:25 am. Whew! I did it! Thought sure I'd get about here and this whole post would disappear!
♣    ♣    ♣    ♣
Have a wonderful day!  I'll try to keep up  — hope to take you along for the whole trip!  If you have any questions about the wonderful world of train travel, I will be happy to try to answer. xoxo
XXXXXXXXXX