Welp, we're our way home to Martha's Vineyard!  We're on the train; crossing the dark  desert this very moment, with the thinnest line of hot pink sunrise outlining the black-silhouetted skyline of buttes and hills — I welcome you to my blog in a squashy sort of way . . .
 Having pictures like this one I took at Judy's show is almost as nice as the real thing, especially if you are swaying through Arizona on a train somewhere east of Flagstaff!  We really don't need a big ole squash in our "room with the gorgeous view," although we sure do have everything else in here!  I'm drinking my first cup of tea, made in our room with the electric tea kettle we bring on every cross-country trip. The train horn is wailing out to the dark sky; we're going through a little town, lights of the houses and streets are all I can see.
Yesterday morning at dawn, we were packing for our drive down to the train station, when I looked outside and had no choice but to stop everything, grab my camera and run across the wet lawn to take this webby photo of our farm fence over the foggy back forty.  If it wasn't so pretty with the morning dew, it could be seen as a bit halloween spooky, especially when paired with this:
 . . . . which, I admit, did take me back a bit; there was a moment's pause before reaching to turn the doorknob at the Tea Cozy in Cambria a couple of days ago, where my girlfriend Diana and I went for our goodbye tea and lunch.
But of course it wasn't scary at all on the other side of that door; it was a delicious lavender tea and pumpkin soup lunch, lots of girl talk, laughter and hugs to last us until we meet again.  (It's hard to love people so much on both sides of the country!  Goodbye is not my favorite word!)  The photo of the soup made me think that you might like to see how easy it is to dress up split pea or black bean soup for your Halloween dinner — or maybe chili . . . (the recipe, in case you missed it, is just a bit further down this page!)
Joe is still mooshed into his pillows, kept asleep by the rocking of the train; the sky has turned to gold above the pink now; soon it will be time for breakfast in the dining car, and later we get to have a nice long walk while the train stops to get its windows washed in Albuquerque, land of primary colors, red rock, white clouds, blue sky.
 We've been in a time warp this last month, crossing the country and back; we never know what day it is!  It was a mere September-something when we left home!  Someone mentioned November to me the other day, and I thought "Why is she talking about November — that's not for three more months!"
But here's proof, the full Hunter (that's October) moon, shining in on us last night in our room as we pulled out of Los Angeles.  (See those two other little lights in the sky?  There were actually four; the other two didn't show up in the picture; they weren't stars; they were airplanes in line, coming in to land at LAX!)
Yes, there've been lots of goodbyes this month, hellos, then goodbyes.  It inspires many opportunities for kisses. This one is to my  sister Shelly; she's the youngest of the eight children in our family and the mom of twin boys who are eight-years-old.  I was in the 8th grade when I told my mom I wanted to name our new baby after the most popular girl in my Junior High School who's name was, of course, Shelly Stewart.  I wob her. ♥
On our last day, we took Judy and Kellee to Ventana Grill in Pismo Beach, to feed them delicious food, and to say goodbye to them (and to California!).
P.S. My life would probably always be out of focus without Judy and Kellee! ♥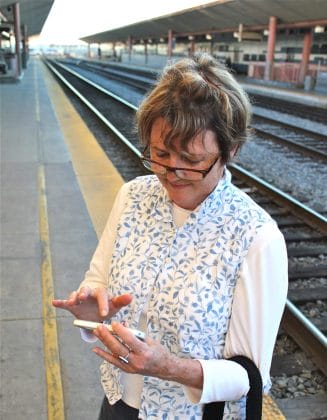 I tweeted the ride down Pacific Coast Highway, in the moving car, as we traveled along Trancas, Zuma, then Malibu Beach. There was no problem sending photos and videos from my iPhone, of boarding the train and watching Beatle Youtubes on the computer; all magic and working like a charm.  But today, this post has disappeared from view twice, taking most of my brain cells with it.  I would have tweeted to let you know, but of course the phone didn't work either! A smarter person would have not fought city hall and given up the first time. Apparently, the desert, moving trains, and technology are not, how you say, "as one?"  I almost gave up, but here it is in all its glory.  My question is this  . . . what do you want to see next?  I could show you the inside of the famous Madonna Inn where everything is pink–I took many 
photos in there.  Or maybe you would like a posting with lots of sparkly pictures titled "I ♥ Vintage Glass" — or I could show you how to keep wooden spoons and cutting boards beautiful; or I could just kill two birds with one stone and make us a list of what I have to do when I get home.  That would be a thrill.  What would you like my darlings?  . . .
♥    ♥    ♥