Did you say you "really love pink?"  Then you've come to the right place! ♥
Driving up to the Madonna Inn in San Luis Obispo California, you can only be vaguely aware of the pinkdom that lurks within.  Maybe the streetlight or gingerbread trim on the hotel might alert you, but unless you know what to expect, you would never guess.  This hotel was built by Alex and Phyllis Madonna and opened with twelve rooms in 1958, all of them different.  It's like the Disneyland of the Central Coast with no rides and no Mickey, but still fun. ♥
I'm going to go easy on you, get you used to it gradually, by taking you in through the coffee shop, where we went for breakfast the day of Judy's show.  We're not even inside and it's cute already, isn't it?  Don't you just want to click your little wooden shoes together and make a wish? ♥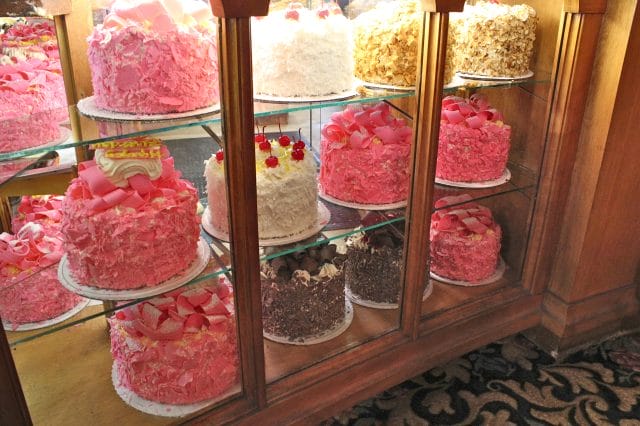 You have to pass the bakery to get to your booth in the coffee shop.  Those are Pink Champagne Cakes they make right on the premises!   The Madonna Inn is famous for their cakes; see the Black Forest Chocolate Cakes on the bottom shelf . . . ? OMG with capital letters; I chose that for one of my wedding cakes (in my long and checkered career); I could eat the entire thing alone it is so delicious!!! A concoction of equal parts whipped cream and fudge cake with dark cherries inside.  ♥
Pink sugar on the counter, cute Disneyesque uniforms on the wait-staff, pink leather on the counter seats . . . pink leather on the booths too.
Everything is carved, and swirly with pattern.  You're humming the music to Danke Schoen aren't you?
♫ . . .  How he tore your dress, what a mess, I confess, that's not all . . . ♪
There are little booths in alcoves around the counter, we're in one of them; there are tables too, and there is a fireplace.
"Be Forever Happy" is the message carved in the wood over the counter.  Mr. Madonna made the whole thing pink because he thought Mrs. Madonna "looked good in pink."
This is the hand-painted wall in our booth.  What I love is that the decorating was done totally by the Madonnas; the Inn is a complete reflection of their own personal style, one of a kind.  Whether it's your style or not, it is what it is; I love the exuberance and generosity of spirit it shows!  When you drive by their own house, it looks like a part of this!  Phyllis Madonna loves to sing, she often sings at hotel events; Alex Madonna passed away a four years ago at age 85, but when he was alive he looked on, beaming, while Phyllis sang her favorite song, "I have a dream."
Here's my breakfast, thin crisp waffles with hot maple syrup and thick-cut bacon, and of course, pink sugar for the coffee!  You are probably saying, "come on, get to the really pink part!"  OK,  here it comes . . .
Now we have walked from the coffee shop into the dining room.  If you were running for Miss America and needed a dress, you would find just the thing at the top of these stairs …. princess-like ball gowns and tuxedoes are for sale in the shops up there. I bought a strapless gown to-the-floor, with embroidered pink flowers on a see-through overskirt for our first trip on the QEII.  That's how excited I was. ♥ I wanted to be Audrey Hepburn.
Just past the bannister is a trellis of roses (no, not real, but very pink!), behind us and over our heads is a four-foot doll dressed all in pink full skirts swinging back and forth on a trapeze; around the other side of the trellis is . . .
. . .  what we've been waiting for; the formal dining room!  We had Joe's 50th birthday here, and all our guests wore pink of course and we had pink champagne.  I also had a Valentine's Party here for my best girlfriends; same thing, all of us in pink.
Here's the food service station in the dining room.  I can't begin to imagine where they got this!  They have 110 guest rooms in the hotel now and they're all themed; there's "The Caveman Room," "Canary Cottage," and "Paris Violets."  Kellee loved the "What's Left Room," where everything was leftover from decorating the rest of the hotel; squares of carpeting, mis-matched sheets, all different tiles on the walls of the bathroom. There's ballroom dancing and a live band some nights, and the men's room downstairs is so interesting, there's always a line of women waiting to get in to see it!
"Moons and Junes and ferris wheels, the dizzy dancing way you feel, as every fairy tale comes real, I've looked at love that way  . . . " 
These are the words I think of when I think of the Madonnas; I love pink too, we are kindred spirits  . . . people who love pink are fairytale people.
♥