There's a snow storm heading up the east coast.  In celebration, I just made myself a bowl of my favorite winter breakfast, steel cut Irish oats, blueberries, cinnamon, walnuts, and milk.  My tummy is happy and warm, although I could use another pair of socks right now!  We are getting ready for Halloween and all that it entails!  Time, once again, to
Time for Practical Magic, homemade style.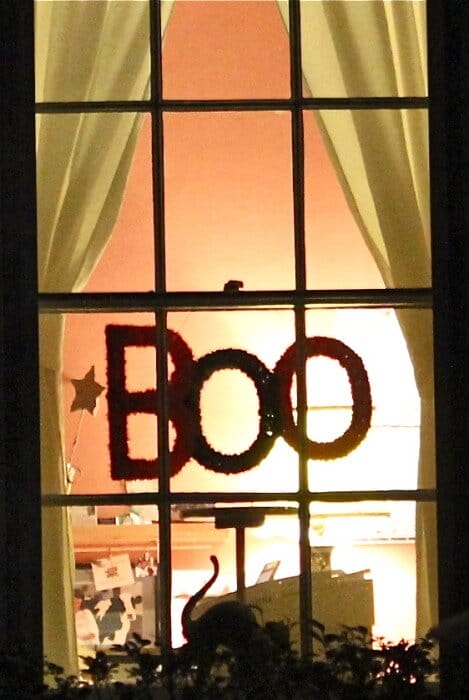 Halloween is really big in our neighborhood!  That's because we have one of the very few actual neighborhoods around here!  Most people on the island live out in the country, so at Halloween, they pack up their cars with their goblins, mummies, pirates, Harry Potters, Darth Vaders, Batmen, Spidermen, princesses, and vampires, and head toward the more densely-populated island towns, to go door-to-door where the houses aren't three miles of dark dirt road apart.
So, our neighborhood is like the Candy Cane Lane of Halloween.  And everybody, up and down the street, does their part; we decorate our porches, carve pumpkins, light candles, and play creepy music.  And Mother Nature does her part by supplying the necessary outdoor ambience. ♥
In the cold dark night, woodsmoke blowing in the wind, sparks flying high into the black sky; our neighborhood of old houses with deep shadows that leap from tall hedges, huge overhanging trees, and leaves rustling ominously in every corner, is very scary — flashlight beams bounce off walkways and curbs, landing for a moment on something, omg, while mommies and daddies stand nearby as islands of safety for big-eyed babies in bunny suits.  It's pure childhood-imagination gone wild.
We're the house with the ghost in the upstairs window.  I found this guy years ago, and he's there, lit up like a beacon at the end of our street, year after year, hopefully throwing a little tradition into the mix.  He's there now; upstairs in the bedroom over my head, shining out into the street, alerting all the children that pass by our house, "it's almost time!" (Part of the "working-them-into-a-frenzy" promotion that I like to do to encourage the true spirit of Halloween.  A frenzied child is a happy child.♥)
With so many children in our family, when I was little, Halloween was something we looked forward to all year. By the time it arrived, the anticipation was almost too much to bear; planning our costumes, digging through our closets and "the costume box" we could easily get ourselves worked into a dither . . . just thinking about being out after dark, anything could happen.  Free Candy!  The scavenger huntishness of the thing; oh booooyyyyy!!!!  We swallowed our grilled cheese sandwiches almost whole so we could get our makeup on and get out there!
Halloween isn't as simple as it once was, but the kids don't know that, all they know is how much fun it is.  It's their time.  Something universal that seems to have been invented just for them. ♥
   We know so many of these people, it's fun to see them on our porch!
We carve three pumpkins with stars, a really big one, a large one, and a medium one.
I draw the stars on with a pencil, then use a small sharp knife to do the cuts.  I sprinkle cinnamon on the inside of the tops, and pop in a votive candle. They light our front porch and look pretty darn cute if I do say so myself.
Windfall in the yard, branches that come down during storms, get recycled!
Joe got the pumpkins up above the door yesterday.
We make up a crock of steaming hot cider, and serve it in hand-warming cups-to-go to all the good moms and dads going patiently door-to-door with their children. ♥ If we add spiced rum to it, it becomes an "Undertaker."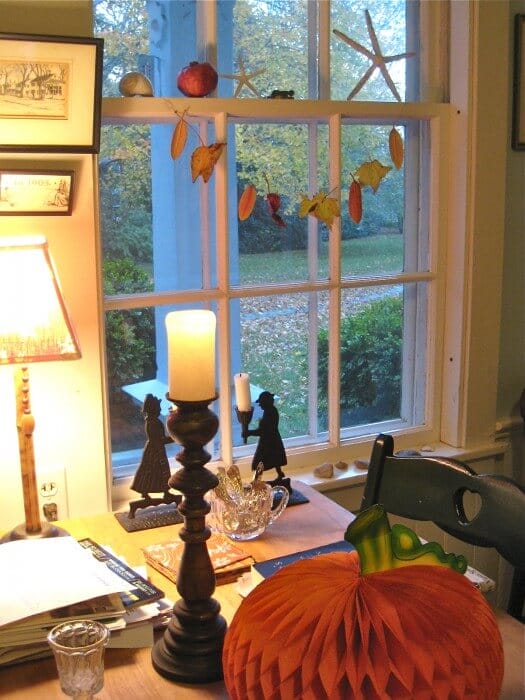 It gets dark by 5 ish, but our littlest ones start coming at dusk, so by 7 pm on Halloween, it's pretty much all over.  And that's when our friends come by for Texas Chili, Corn Pudding with Maple Syrup (in one of those darling leaf bottles), and homemade marshmallows we put on long forks and roast in the fireplace. We're getting ready; this weekend we will cook up a storm.
And if that other storm, the one with the snow in it, should work it's way over to us, we are ready for that too.
Because we are cozy here in the Heart of the Home and wishing you the very same. ♥
And because inquiring minds want to know . . .  we HAVE a winner for our darling cut-glass banana dish!!!  And suddenly, again, I'm wishing I had 1,740 of them!!! I sent the lucky person an email and will let you know when I hear back.  What I really loved was all of your comments!  Fabulous homemaking tips! I took notes! I already tried the one where you rub your onion-smelling hands on stainless steel and it takes away the smell — it works! Thank you so much girlfriends!  Happy Friday and have a wonderful weekend!   ♥  xoxo