Good Morning!  I'm up!  My pumpkin is lit!  And so, for all practical purposes, am I.  But this is just normal.
As several of you have guessed, I'm a morning person.  I don't set my alarm, I just wake up, with my tail wagging, wanting to get downstairs and start the day!  I always wake before the sun, when the house is quiet, creaking a bit like old houses do; Joe is still in his warm bed, just where I want him to be, because I love this time to myself.  It's cold this morning, a perfectly fall morning, the thermometer outside our kitchen window says it's not quite 40°.
On goes the furnace, on goes the kettle . . . the furnace hums and I stand by the register that blows over the wood floor to warm my feet and wait for the water to boil.  I could get an electric kettle and it would boil faster, but I get a little tired of doing everything the fastest possible way!  I'll just wait.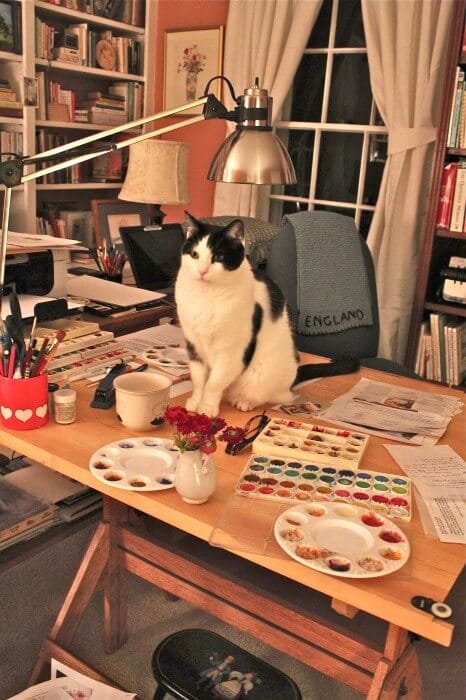 I take my tea through the dark house, flip on a little morning music (click on this for background music if you like it, & come right back to keep reading), turning on lamps as I go through the house, and look who waits for me in my studio.  Of course she refused eye contact, she's a cat!  With her, I'm never really alone, but fur is quiet; a purr is not noise.  Kitty-turning-over-on-pillow is never a disturbance. I click on the computer and here I am, saying Good Morning to YOU!
It was gorgeous yesterday; we went out and changed our Halloween decorations just slightly, and now they have a new name, "Thanksgiving decorations!"
We took the skeleton from the front door, and put up the wreath, and voila, it's fall, harvest, autumn, Thanksgiving!
Hmmm you might ask at this point, where is she going with this! This can't be breakfast!  🙂 Well, during our walk out to the water yesterday, we decided we need to go on a little health kick.  With all the grilled cheese sandwiches and corn pudding lately, not to mention the M & M Peanuts and Almond Joys we were forced to clean up after Halloween, we have personally taken on some of the texture of corn pudding!  There are about three weeks before we have to start eating again in earnest!  So we're taking advantage of this lull in the action — and started yesterday with this really different, but very delicious Stuffed Sweet Potato recipe I thought you might like to try.
Here's how it's done . . . One big sweet potato was all we needed for the two of us.  Preheat the oven to 400°. Put a tray on the bottom rack of the oven to catch those pesky sweet potato juices (keeps the oven clean). Pierce the potato a couple of times with a knife.  Then smear the skin with soft butter and salt it well (we get organic potatoes so we can eat the skin!).  Put the potato in the oven to roast for one hour and fifteen minutes, until it's easily pierced with fork.
While it's baking (and making your kitchen warm and fragrant and homey smelling), chop 1/2 c. fresh cilantro (and/or basil) and about 1/3 c. salted peanuts.
You will need to have these two items in the house also . . . Chili Puree with Garlic, and Soy Sauce.
When the potato is tender, pull it from the oven; cut it in half, and fluff it up with a fork.  (You might want to put on your sunglasses for these next photos, but remember, the brighter color of the vegetable, the more good beta carotene that lurks within!)
Yeow!  Extreeeemly healthy potato!  Split one Tbsp. of Chili Puree with Garlic between the two halves.
Split the 1/2 tsp. of soy sauce between the two halves as well, and carefully mix the sauces into the mashed potato.
Sprinkle over the chopped nuts.
Top them with the cilantro (and/or basil).  Roughly chop about 3/4 c. fresh cold bean sprouts and divide them between the two halves, squeeze over the juice of one lime, and serve . . .
And to keep the color/health thing going, I served it with this.  Roasted chicken salad with apples and steamed beets, chopped red onion and cherry tomatoes.  And we bravely had it with no dressing, because there was so much flavor, we figured we could get away with it, and we did!
Aha, the sun is peeking into the living room, and look at Mrs. Suddenly Interested.  I'm going out to get a breath of morning air and look at the sunrise, and to hang Halloween Party dishtowels on the line . . . want to come with me?  Of course you do!
What a beautiful morning, the sun is coming through the trees, landing here and there, and the birds are singing.
 So here is that recipe, all in one place, for:  STUFFED SWEET POTATO
1 lg. sweet dark orange sweet potato
softened butter and salt
1/3 c. chopped salted nuts
1/2 c. chopped fresh cilantro or basil or both
3/4 c. roughly chopped bean sprouts
1 Tbsp. Chili Puree with Garlic
1/2 tsp. soy sauce
juice of one lime
Preheat oven to 400° and put a tray on the bottom rack of the oven to catch juices from the potato.  Pierce the potato several times with a knife.  Smear butter all over the skin and salt it well.  Bake 1 hour 15 min.  While it's baking, chop the nuts, herbs, and bean sprouts.  When a fork easily pierces the roasted potato, pull it out of the oven, cut it in half, and fluff it up with a fork. Split all the rest of the ingredients between the two halves; drizzle over the chili puree and the soy sauce and gently mix them into the potato.  Sprinkle on the nuts, herbs and sprouts, squeeze over the lime juice, and serve!  ♥ 
One more thing . . . we planted a dogwood tree this spring, and this garnet fall color is just one reason why; so beautiful in the morning sun. ♥ In the spring, I'll show you the other reason why!
Before I go, I have to tell you how really hard it is not to answer every one of your comments! (!!!)  You can probably tell I have a hard time.  I wish I could, but I think you want me to write a book!  But never think for a moment I don't read every one of them, because I do!  It's the support you give with your comments that makes me love doing this so much.  And it's also great how you're all getting to know each other.  So have a wonderful day, Girlfriends!
BYEEEEEEEEE!