We've been decking the halls, girlfriends, in the Most wonderful time of year!
You know I love my bird trees . . . this is the white feather tree I did for the guest room. (We have the larger 24″ tree in our store now, in case you're looking for one! Ignore the photo of it in the web store, that was the 12″ one — double it in your mind!  So darling!)
And, in case you missed it, here's Jack helping me decorate the bird tree for the kitchen table.  Without knowing it, slowly, over the years, I bought little paper and feather birds whenever I saw them, and they ended up being a collection that was perfect for a small table tree.  My absolutely favorite holiday decoration! I put it out usually before Thanksgiving, because it represents my favorite thing no matter what time of year, nature. ♥
And speaking of trees, we brought in the big one last night!  Had turkey soup for dinner, turned on the Christmas music and brought in the tree.  When we first saw our house, we knew this corner of the living room was the spot for the tree, in front of those windows!  Figuring out where the Christmas tree will go is just a natural part of home buying! Out to the barn goes the dining table and chairs that are usually in this space — in comes the little box Joe made to stand the tree on.
Beautiful Christmasy night — under a cold moon shining through thin clouds we went past the barn to where the tree has been soaking and drying . . . don't have photos of the next part, couldn't handle the camera while carrying my end of the tree (the top) in the dark, singing Oh Come All Ye Faithful down the driveway, out to the front of the house, following Joe up the steps, through the front door, squishing past the piano in the front hall, into the living room, lifting it over the sofa, "fit it in the hole, back, back, no, too far, lift higher, there!" and viola!  Like buttah.
She's in!  The first thing we did is tie her to the wall!  Taking no chances with you-know-who.
Then Joe unleashes the ropes and Pop goes the Magnificence! O Christmas Tree! We turned it to get the best side, "Is it straight? How about now?" . . . Girl Kitty came in to help.
 The tree was cold from being outside, you could feel little clouds of coldness when you were close to it . . . and it filled the room with that wonderful woodsy piney smell.  Heaven.  This morning I came downstairs and now the whole house smells of it.
And then Nightmare on Elm Street, all wrapped up in fuzzy cute ball of adorableness, shows up.  Asks Joe "Could you please explain this to me?  Please?  What is it what is it what is it.  Can I have it?  Please?  can i can i can i?"
 We had to pull him out of it twice, although the tree was still standing this morning, so I think we're doing pretty good.  Today we'll put the lights on, drape it with garlands, and make a true kitty toy out of it. ♥
Before I wrote any books, I used to have a list I kept in my recipe box.  My mom wrote it for me; it was a list of all the traditional foods we made for holiday dinners. I didn't
want to forget anything.  Which gave me the idea when I wrote my Christmas Book, to put together a list of every single thing I could think of about decorating for Christmas so that all I had to do is read it every year.  I still just pull out that book, run my eyes down the list for inspiration!  Lots of ideas for decking the halls!  Another handy perk of book writing . . . permanent lists!  For the most wonderful time of the year! ♥ In case you don't have a list of your own, here's mine: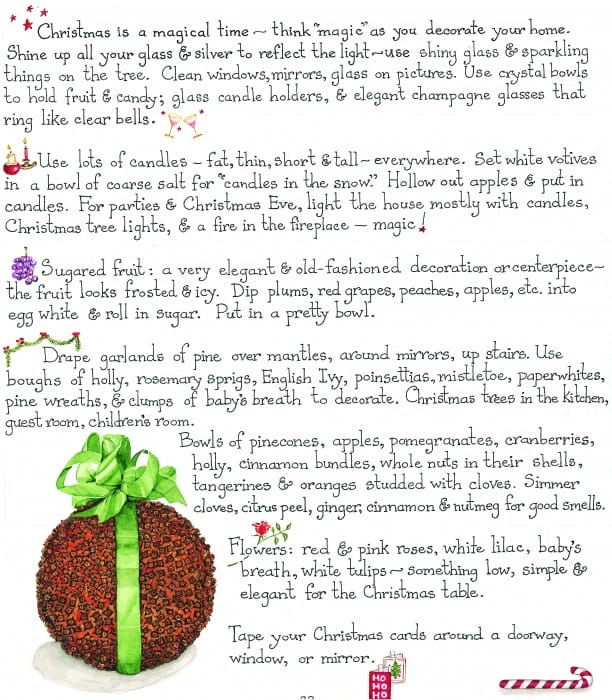 I hope you found that helpful!!  My girlfriend Sarah wrote last night and gave me a link to a website that has lots of ideas for decorating I thought you'd like to look at.  I also love decorating with books.  Old books bring old Christmases into the house.  This year our house will celebrate its 162nd Christmas!  Since back before these books were brand new.
See the little one on the top of the stack above? ← Here it is close up. Published in 1938, a charming story of Christmas-gone-by, complete with line-drawings by Lois Lenski.
In case you like to decorate with books too, I thought this would be a wonderful one to add to your collection, or maybe you'd like to start a collection! They're darling on guest-room dresser tops; look wonderful in guest bathrooms; nice on the coffee table, and sweet to read to children. ♥
If you'd like to have this book, just leave a comment, share your Christmas doings with the Girlfriends or just say Hello, and you'll be entered in our drawing!  In a few days, I'll ask the magic random chooser to do its thing and draw one of your names and this little book will zip off, in fairy manner, with love from me to you.  Here's one of the darling little line drawings in the book . . .
And I haven't forgotten, not all the girlfriends celebrate Christmas!  We are lucky enough to welcome friends here from all over the country, all over the world — there will be more drawings this month, that don't have Christmas written all over them — but this little book called my name . . . if you don't celebrate Christmas, you may know someone who does, this would be a wonderful little gift!  Happy Holidays to everyone! ♥  I wob you.