There is almost nothing that says mom and home, safety and love, like a pan of homemade brownies cooling on a rack, filling your house with good smells.

♥ 

Running home to my mom after school, breathlessly opening the door to our house, this smell is what often greeted me.  Brownies are one of those family recipes that inspire loyalty, everyone thinks their way is the best . . . but if your family hasn't hooked up with a brownie recipe worth fighting for, may I suggest them the way my mom made them, chewy, bendy and full of walnuts. Turn on your oven to 325° and I'll show you how she did them.
The best part of this brownie recipe is that the whole thing is made in one pan and then poured into a baking pan.  You don't see that very often.  Most recipes want you to separate an egg and beat the yolk and fold in the beaten white separately.
So here we go . . . if you have my Autumn Book, you can turn to page 107 and prop it up in front of you; otherwise, I'll give you the whole recipe at the bottom of this post.  First thing is to butter an 8″ square baking pan.
Melt 2 oz. of good unsweetened chocolate with 1/3 c. real butter . . .
When they're melted and stirred together, turn off the flame and beat in the egg, sugar, and flour.
Stir in 3/4 c. of chopped walnuts and a tsp. of vanilla.
♥                ♥               ♥
Then do what comes naturally, pour the batter into the pan, spreading it evenly with a spatula, and pop it in the oven.
Pull it out after 30 minutes.  For chewiest results, these brownies should be cooled completely before eating. This is not easy to do.  Then cut them into squares.
Finally, they're ready — you can eat them directly from the pan like many of the normal people do, or put them on a darling cake stand to make your table look beautiful . . . Adding a paper lace doily gives the whole scene that "professional" look!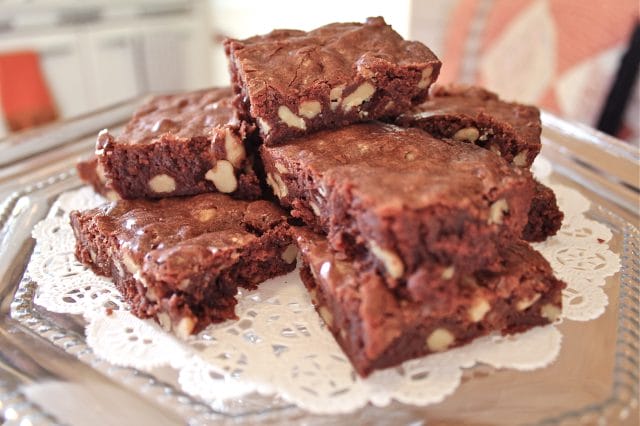 Although at this point do we really care about professional?  No, we do not. ♥
But still, there is always something to be said for cute. ♥
B  R  O  W  N  I  E  S
2 oz. unsweetened chocolate
1/3 c. butter
3/4 c. sugar
1 egg
1/2 c. flour
3/4 c. chopped walnuts
1 tsp. vanilla
Preheat oven 325°.  Butter an 8″ square pan.  Melt chocolate and butter in lg. saucepan.  Stir in rest of ingredients in the order given.  Spread evenly in prepared baking pan.  Bake 30 min.  Cool completely for chewiest results.  Pour the milk.  ♥