I've been wanting to tell you about my girlfriends for a long time . . . I haven't because I was afraid of invading their privacy; not everyone is as blog-crazy as I am!  But, over time, they seem to have gotten used to me with the camera, and, I think they are sort of saying that it's OK now . . . we will see . . . After last night, I just couldn't stand it one more minute without mentioning them!
There is a definite "How we met story" that I have to tell you, because it's really an interesting story, but it's long and, you know, I have to go try on clothes to pack for England!!!  The clock is ticking!  I can't do the story justice right now, so I'm saving it . . . but, as a mere hint of the creativity and heart of these girlfriends . . .  here are the ocean liner ice cubes Jaime made for the birthday party she gave me last night.  It's the tip of the iceberg.  Not even that, it's a little puff of fog that rises above the iceberg.
Here's what she gave us last night . . . the dinner table!!  Jaime has four sons and this is the house she brought them up in. She was a single mom for most of that time, with triplet boys she got the old-fashioned way; and then, two years after the triplets were born, guess what?  She had another boy!  If she did not do one single other thing in life, this was, to me, amazing, the way she handled it, like buttah.  She is a wonderful cook, and started her own catering business here on the island. She is one of the six or seven most romantic people I have ever met.  Roses should be her middle name. You should see her garden.  All the tulips, growing around her front door, are ruffled.
Here was the first course, Jaime's soup; I don't remember the name of it, but I think I figured out, it's corn, lime, lemon grass, cayenne, chicken stock, sour cream . . . a thin gorgeous soup served with a grilled, buttered crouton with crab salad on it (you can barely see on the left)!!  Oh yes!  Dinner was fresh salmon, mashed potatoes, thin little spears of asparagus; she passed a sauce boat filled with buerre blanc!!  Simple, elegant and delicious!
See the rings under those candles on my Chocolate Birthday Cake (When my honey asks for chocolate, he gets chocolate!)?  My girlfriends have a tradition; when it's one of our birthdays, we all get to make a wish.  We put our rings over the candles and when the birthday girl makes her wish, we all do . . . it blesses the cake!  It's been like a bond between us, all these wishes, made together, all these years.  I would like to quit my job and just make soup and bread for them every day! That's how much I love them.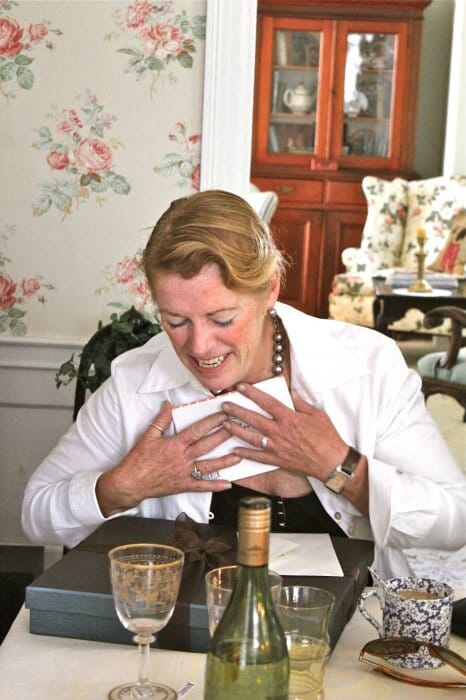 To me, this photo is the essence of Jaime; this is her at my house for her birthday party last fall; we'd given her a photo scrapbook of memories from all of us . . . and she hadn't even opened the box, this reaction was for the card!  What you see right here is what you get. ♥
That's Lowely, third from the right, bending, with the blond hair and glasses; and you can't really see her face, but that's Martha on the left in the red.  Margot is next to Jaime in the black-flowered dress.  Margot is the one who gives the amazing workshops at Kripalu and wrote the book "A Survival Guide for Landlocked Mermaids" (Margot's the one who saved my life when she became my friend and introduced me to the rest of these girls, many years ago). I know I've mentioned them in other posts, so I thought I would show them to you. (You can get a peek at Jaime's Memory Book, because Enikö, the dark haired girlfriend on the far right, made this gorgeous book for Jaime, and has posted it on her Scrapbooking Blog, Enikö's Playhouse.)
What my girlfriends have in common: they all work in their own businesses (Martha's Vineyard is like that; there's no thriving manufacturing community; no McDonnell-Douglas or Apple here; no large employers of any kind; people sort of have to make their own way).  They are caterers, decorators, authors, cake-makers, real estate sales women, speakers, artists (all of them are artists, like you, who make something from
nothing every day — here are Lowely and Martha making crepes at our yard sale!  For no reason, just a pretty day and we were hungry and they are brilliant), and teachers, and they're all amazing cooks. They're believers in life, love, and dreams coming true.  They are also wall-paperers, house painters, scrapbookers,  knitters, gardeners, home-makers, drape-makers, animal-lovers, cute-dressers, smart shoppers, tea loving, life adventuring, music loving, book readers; all the regular things!  Six are moms; two, three counting me, aren't.   Some are in relationships, some are between gigs (we like to say it that way).  They are, as Oprah would say, every woman.  The thing they do, which I think is a hallmark of almost every woman I've ever known, is GIVE • GIVE • GIVE.  Everything they have, time, energy, support, truth, laughter; they know what it means to sacrifice for love; they have all done it.  They are wonderful girlfriends; they are all citizens of their island, and citizens of the world with a concern for making it a better place.  Just, may I say, like YOU! ♥ Celebrating them is just one more way of celebrating the good and honorable, because there is so much of it around us. ♥
Important to say right here: before I found Martha's Vineyard, there was California, and that's home to a whole other set of inspiring wonderful girlfriends that I will love forever, like a mom, equally, because I couldn't live without a single one of them. ♥ Or you. ♥ 
Gotta go, girlfriends . . . For one thing, Joe and I need to go on our walk and work off some of that birthday cake … plus, it's my turn on "Words with Friends" (Smart Phone Scrabble; fun!!), Lowely made her move!  Have a wonderful day!  Start looking for Willard on Tuesday! ♥
Margot and me last night (yes, every once in a while Joe manages to wrestle the camera out of my hands). My birthday was wonderful, and I can't thank you all enough for the wonderful wishes bestowed upon me by YOU, girlfriends of the heart. ♥ Thank you!  P.S. A disclaimer, because my dad is going to read this; men are really good too.  🙂