There were so many things we didn't buy when we were in England, I thought you might like to see photos of the ones that got away!  With some nice musica especially for everyone who is finally getting some rain today!  Hooray!
Beautiful things we didn't buy, for a variety of good reasons (like, for instance, they were alive!) . . . but I think you'll agree, taking pictures of them, is the next best thing; and in some cases, the very best thing!
We stopped at pretty much every antique store we saw . . . prices were fairly in line with our prices at home, and varied wildly from store to store just like ours do.  But good deals were findable, just like here.
The stores were full of pretty feminine things . . . I loved the lacy cloth underneath the silver spoons . . .
And some of the items were very hard to leave behind, like this tea set.  Not to mention the tray! But I think we all agree, I have my share of dishes, I had to leave some for the English people!
With all the old "Great Houses" in England, finding gorgeous linens is easy.
I just loved this watercolor, and it was so inexpensive, plus she had a sister ↓
The pair was under $200 for both, but they were huge.  We came close anyway, but our practical side won out.  I have these photos; they're almost as good!
I mean, after all, this is England!  And they know everything there is to know about setting a pretty tea table.
Can you believe I didn't get this?  Me either.  Definitely the one that got away!
I love children's dishes; this precious set was around $50 for all!  A very good deal no matter which side of the pond you're on.  But I didn't buy it!
This either.  Yes, I know… please.  But it was really big.
This photo is a little fuzzy, but this was a store full of romance! I did buy a teapot here, a person could only stand so much . . . I bought it and we hauled it around everywhere we went!  And now I have it, and I'm so glad we did!
Look at the imagination displayed by the owner of this store in the darling village of Lacock.  Hats and vintage clothes, gloves … all with a story to tell.
Plates, ready for hanging.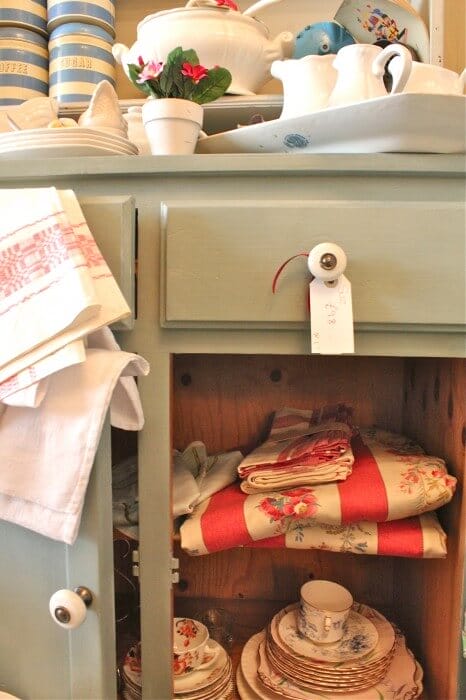 A pretty little display of linens and china.
The rims on the bowls on the left, oh so tempting.
Shelves and shelves of antique books everywhere you go, precious old garden books, children's books, wildflower books!
I could just imagine setting a tea table with this!  Inspiring enough to make you go bake a cake!
I loved the jug (better known in America as "pitcher"); it was WONDERFUL; it had a gorgeous shape.  But it was really big.  Joe loved it too; perfect for a dinner party in the garden, water, iced tea, lemonade.  We didn't think we could get it home alive.  I know you're wondering, but what did you buy? I promise to show you; I have to keep some secrets for the Diary, don't I?
Looking at all the gorgeous old furniture, we realized what we really needed was to move there!
And we definitely looked!  Through the windows at the real estate office.  It costs nothing to look!  Pretty wonderful huh?  Around $800,000 on one acre. Another one that got away.
Jams like this were everywhere we went; we bought some, and ate it with our morning crumpets, but we didn't bring any home.  Look at all the special kinds of marmalade we found in a little store, late one day, on our way back "home" from a day of sightseeing — this store was in a darling little town on the South coast called Alfriston.
XOXOXOXOXOXO
Here we are, coming into town … really too late for almost everything, most stores had closed by then, which makes Alfriston "the town that got away."  It was so charming, as you can see, but we never got back there.  That's how it is in England, so many wonderful places to see.  No matter how much time you have, it's really not long enough.  Next time.  But I thought I better show you in case you want to put Alfriston on your list of places to visit!
The main reason we went to this town was to go to their famous Much Ado Books we'd heard about, but we were too late, it was closed . . . the Village Store was open . . . lets go in!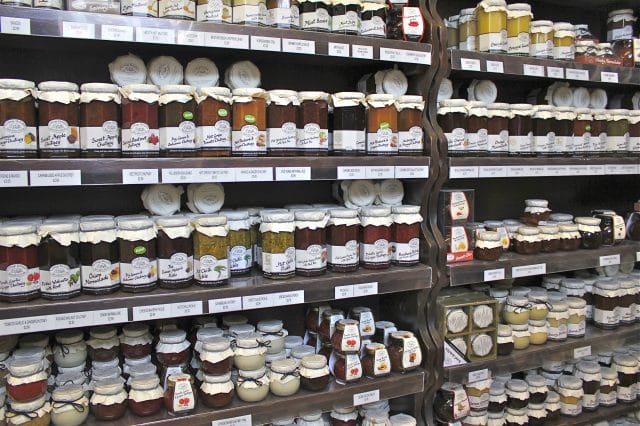 They had two aisles of this!!!  It was almost unbearable.  I wanted it all, to start my own jam cupboard!
The whole town was darling.  All hand made.
Aha!  We said.  There's our pub!  Pear Cider here we come!
Or maybe this pub?  Decisions, decisions.
There's the First Alfriston National, the perfect size for a bank!
If you like this little town and want to know more, just click here!
So that's the town that got away.  We will return!
 You can probably tell, but I love blogging and doing show-and-tell so much; I could make a full time job out of it!!!  It's such a creative fun thing to do!  Only it isn't a job, it's my hobby, and I really have to go to work now Girlfriends!  Guess what?  I wrote a new Willard!  We are finally getting back to normal around here!  Willard will start going out to your email boxes next Tuesday morning — it goes all day Tuesday and Wednesday… if you don't have yours by Thursday morning, leave me a comment and I'll see what I can do to remedy that!
By the way, I have to tell you, Jack LOVED doing the last post!  He almost bust his kitty buttons!  Thank you all for welcoming him into the fray so warmly!  I was proud of his little self.  We loved getting to know your pets too . . . lots of back and forth in animal world; the comments were great! ♥
So that's it for today, bye for now from my shy little Girl Kitty . . .  Have a great day! XOXO