R A B B I T   R A B B I T, and there really is only one song . . .
It was almost hard to go to bed the last night of August in 2012, it was such a beautiful night!  The harbor was gorgeous!  And the moon!  Wasn't it wonderful?   And girls, we did it!  All our prayers and wishes turned the moon the most beautiful color of pink!!!
Here's how it looked from the beach on Martha's Vineyard over Vineyard Haven Harbor . . . I don't think this photo begins to do it justice . . .
It streaked the sky pinky violet . . . Boat traffic was coming and going . . . halyards on the sailboats were clink-clinking against masts, waves lapped at the shore . . . there were lots of other people on the beach with us, doing what we were, making quiet wishes on the moon.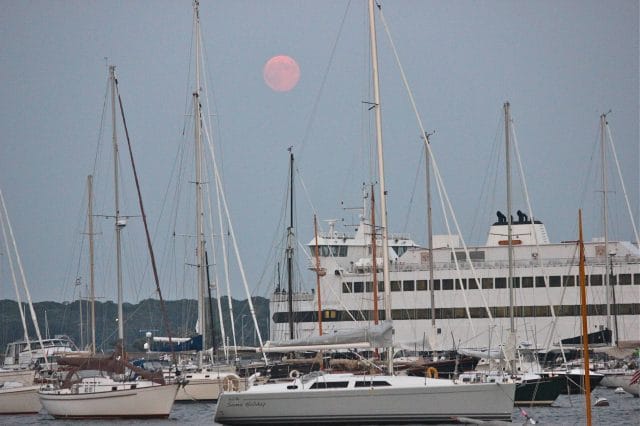 The ferry blew its loud horn and pulled away from the shore; what a beautiful night for a boat ride under the moon!  I couldn't help but notice the sky is pretty close to the
color I want for my kitchen!  (come back when you are done, and click on that for a good laugh!) We couldn't go home after that; much too gorgeous out for closing ourselves indoors; so we went for dinner to an outdoor restaurant, and then, through the magic of texting, we met our dear friends from California who, while we were at dinner, were putting in an offer on a house in our neighborhood!  The four of us walked over to Mad Martha's for ice cream (peppermint candy with chocolate fudge!!!), and then up the dark street, where we stood under tangled tree limbs, on a corner across from the house they are dreaming about, eating our ice cream in the dappled light from porches and the full moon, glimpsing a simple, painted-white, wood fireplace with a mantle at the end of a dark hall through the screen door; we talked conspiratorially in hushed voices about how to fix the picket fence, and where they'll plant trees and roses, and how much we are going to love them living up the street from us!!!  Now isn't that just about a perfect evening of doing nothing?  Loved it!
And this morning, when I got up, the moon was still there, waiting for me, peeking in through the curtains; I scooped up Jack's furry little self and we stood at the window looking at it . . . I turned my calendar page to September, and thought, extremely  joyfully . . . because I like it better than anything . . .
 Hooray!  Isn't it exciting!  Now Joe and I are off for our woods walk . . . early-early, this morning, while the month, and the world are still brand new.  Have a wonderful day Girls, may all your dreams come true. Rabbit Rabbit XOXO