✔ Write Book. Check!  Provide MUSICA. ✔ Check!
Not going to check celebrate off my list ever — but my cup runneth over this week.
XOXOXOXOXO
This is how I feel inside.  Giddy.  Grateful, relieved, joyous, and I have to say, I feel proud.  And you know what else?
It's my birthday on Friday!  And it's Gladys Taber's birthday too!  Makes me so happy to share my birthday with her!
I can't believe, only a year ago today, we were plotting our course across the sea . . .
Here we were, off to England! Remember?  Looking through the photos this morning gave me that same little quiver of thrill I felt when we were doing this!  I had to look at all the little videos again too.  Here we were, on our way, with lots of blank diary pages to fill in, and no real idea what was going to happen.
And now, all the pages are filled in with stories and watercolors and I just finished writing the flaps for the dust jacket for our book, the diary of our journey!  And that's it.  A Fine Romance is done girlfriends!  Eleven months later, our book is done!  And the truth is, as you know (this book is proof positive) that nothing happens unless first we dream.  And if we do, we can do anything.  And now I have an all new To Do List.  The first thing on it:  Show the girlfriends what Jack has been up to!  So let's put a big ✔ mark next to that one too.
Hi Jackieboy . . .
Here's the little darling.  Yesterday.  Such a beautiful day, springtime on Martha's Vineyard, I thought I would give him a front row seat to the great outdoors.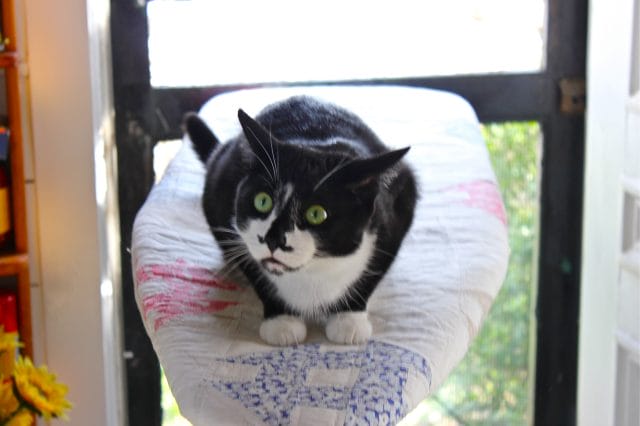 I opened the door in the pantry and moved the ironing board in front of it, which he loved and spent almost all day lounging there.
He didn't lounge the entire time.  He started looking around seemed interested in this new viewpoint.  What's up THERE?  It looks interesting up there. I'm going up!
One leap and there he was.  No, I'm fine — I don't care that the door is only two inches thick,  I was born to do this.  It's my special talent.  Calm down little mama.  Mmmmm, smells wonderful on the top of the door.  Purrrrrrrr.
Here too … this plate!  Marvelous!  And my sense of balance is outstanding!  Look Ma, no hands!
Up up and away!  Ha-ha, you can't reach me!  I wish you would quit calling and making those kissing noises to try to get me to come down, I like it here, leave me alone.  You are not the boss of me. (that's what he thinks!)
OK, happy now?  This is where I, the human, took back over —  I put my camera down and reached up on my tip toes and got his legs and mooshed him off the door.  I didn't want him to jump — if the ironing board collapsed he'd scare us both!   I have to say, he  
lets me hold him and he wiggles and I pet him all over and roll him around, he's so soft, and he lets me hug him and sometimes he even cuddles back and we are cheek to cheek and he gets kissed about a thousand times.  There's a window he loves to look out that he can't reach, he knows I will hold him up to look out, he jumps into my arms in front of that window.  I adore this kitty with all the fiber of my being.  I'm a goner.  He's never getting outside!  It would be like sending my heart outside to play! ♥
 We still throw and play with his ponytail bands every day, which could never be enough for him.  He just loves it.  So there you go, show the girls what Jack's been up to. ✔  Check!  (It's a red letter day, getting so much done! 🙂 )
Jack can't go out, but I sure can.  Yesterday was an amazing sunny cool spring day, and suddenly, I had no book to write!  I hung our forsythia wreath on the front door, then Joe and I went over and got Martha and we all walked past the picket fences and the old white New England houses, under the budding trees down to Main Street where went out to lunch to Moxie for the first time in months!  Yum, pulled-pork tacos and we didn't even have to make them or do the dishes!   Afterward, we wandered through Bunch of Grapes, our bookstore, and then across the street to Nochi (you would love it there); we bought soap for Joe and earrings for me and Martha bought cute new glasses (round!).  Doesn't that sound like the perfect day?  It was.  So, Play.  Badda Boom. ✔ Check!
When we got home I worked on the Peter Rabbit Room, put clean sheets on the bed and made perfect hospital corners, fluffed the pillows, opened the windows and let fresh air blow through whistling "good bye winter," because tomorrow my darling friend Elizabeth is coming from California.  Today I fill her room with cuttings of forsythia from the garden.  Get Peter Rabbit Room ready. ✔ Check!  Tra la!
Before we went to lunch yesterday, I went and had the yearly check of my birthday suit by my dermatologist … making sure all my freckles are still behaving themselves.  Got a clean bill of health, for which Lunch was my reward, and another ✔ mark on the list: Freckle Check.  Done!
I hope you all put this on your To-Do-List — it's so easy. I am queen of the human chickens when it comes to medical stuff, and this is really one of the easiest things to do to make sure your bikini years aren't catching up with you.
Ahhh girlfriends, those were the days!
 ♥  ♥  ♥
 It's my party and I can cry if I want to!
 No, I am definitely not crying.  Happy is what I am.  And lucky.  There's so much more on my list of to-do's which I will be happy to share with you soon.  House stuff, book stuff, diet stuff, cooking stuff, garden stuff, and at the top of the list is write a new WILLARD.  I love my to do list, there're so many good things on it!  Until then, I will leave you with something that makes absolutely no sense . . .
I had to do it, because this girl is just so cute, so adorable and was such a nice part of my childhood … my mother loved her, so she introduced her to me when I was little.  I've given you this one before, but some songs deserve airings in each season and this is one of them . . . You go Shirley (in Rebecca of Sunnybrook Farm.  If you haven't seen it, you should, and show it to all the little people in your life — it might work for them as it has for me and give them a lifetime of happiness — I know not every day is sunshine and roses . . . but even in the worst of times, when the world seems out of control, I slip in this DVD and everything feels better)♥.
And so dearest darlings, time for us to head out on our walk.  Lovely to see you here!  And Blog ✔ Check!  Bye for now! xoxoxo