Warning, I'm about to spill the beans on Downton Abbey Season 5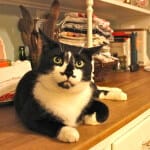 Episode 7 . . . if you haven't seen it yet, this is your fair warning alert. MUSICA! (Don't worry you non-watchers, for better or for worse, soon we'll be back to our regularly scheduled programing); next week is the last episode of Downton Abbey until January 2016. I'm sure you can hear the sobbing all the way from here.
First off, have I told you how much I love Downton Abbey?
Some of my favorite things this week (how do you choose) were Daisy's gorgeous wedding cakes with the delicate pink roses . . .
  …the array of sparkly tiaras, filigree head pieces and . . .
   . . . most especially, the amazing hats . . . (nasty bigot "Susan", poorly named bad mother on the left, we could do without.  Put the hat and the outfit in a box, mail it to me, and then go.)
Loved all the hats except this one . . . give the poor albino rooster back his feathers.  This hat would be so distracting to talk to. 
Despite that one indiscretion, Edith looked prettier and happier than I've ever seen her . . .  Yay for her and Marigold!
I loved all the wonderful scenes of rapport between Carson and Mrs. Hughes, like this little exchange . . .
Carson: I'm not prejudiced, Mrs. Hughes, you can accuse me of many things but not that.
Mrs. Hughes: How about lack of self-knowledge?
Remember last year when they were at the beach? So cute. I have never stopped hoping these two will get together. Take her hand you crazy loon!
No one ever wears the same thing twice, every scene comes with new clothes; I loved both of these outfits . . . each one perfect for the person wearing it.
RoseGold!
Isobel sparkles! That glittery strap and the beads on the dress, her hair comb, earrings, cocktail glass . . .
I welled up with tears twice during this episode. Once when Daisy said she was giving her notice ~ tears popped into my eyes, Oh nooooo, I cried to the TV, Joe looking at me like I just came in wearing a chicken suit; I think I was more upset than Mrs. Patmore. 
and the other teary moment is when Daisy changed her mind and told us she was staying. HOORAY! What a roller coaster ride! I love Daisy's spirit:"Life is full of possibilities." I
never want her to go anywhere except if she becomes Cake Maker to the Queen. Mrs. Patmore could marry Daisy's ex-father-in-law, they could all move to the farm, and use their own fresh organic eggs and butter for those cakes, and live happily ever after.
Maybe Cora would loan them some of her gorgeous pots and pans.
If being called Donk means you become a person as sweet as Robert was in this episode, then call me Donk. (Well, no, just call him Donk.) He accepted Marigold as his granddaughter with hardly a blink of his aristocratic eye and he figured it out all by himself!
He told Cora he'll keep the secret ~ not that there are very many people left who don't already know . . . I think maybe Mary will be the last on her block to know (or care) ~ I assume she will have something horrible to say . . .  
Robert was so good to apologize to Cora for not trusting her during the Bricker incident. And selling that painting, not only to get the money to build his lovely village, but because every time he looks at the painting he's reminded how terribly he behaved!  You just want to give him another medal!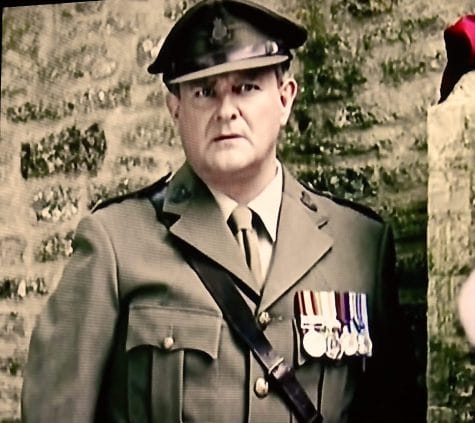 What a hero!  The way he surprised Mrs. Patmore, all on his own to make a special memorial to her nephew, Archie, was such a dear thing to do.
He made her so happy ~ he didn't have to do that.  But he did. Endearing himself to the entire town, I'm sure.  His open-mindedness, in a time of not-so-much, about Rose's new in-laws, the look on Cora's face, how proud of him she is . . . and  getting down on the floor to play games with his grandchildren.♥ He's leaving behind the thankless and isolating job of being a Patriarch with a capitol P and becoming a person.
And Tom, equally wonderful. Caring for both Edith and Mary and both of them showing they adore him too.
(More like a brother it seems, too bad.)I know Mary has issues ~ joking that if she murders her sister Edith, it will be Tom's fault for leaving, is just her way of saying I love you.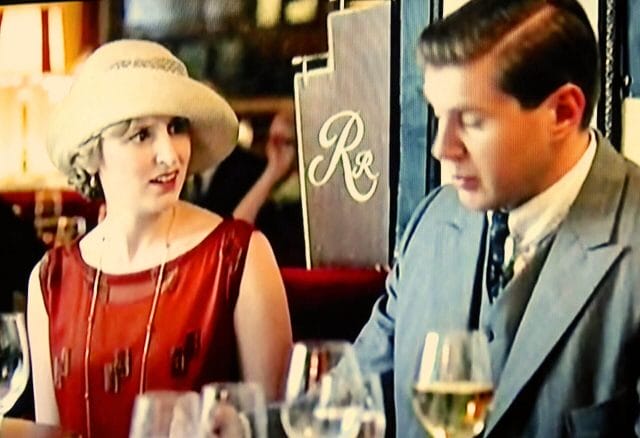 Tom encourages Edith about her writing.  Everyone relies on Tom ~ especially to help keep Downton afloat. He won't let them down. (Or he wouldn't, I'm sure, if he was real.)
And now a couple of last thoughts . . . Even when Barrow is "nice," it's a nice so dark and devious, you can't trust it, and to finish his good deed by saying just "Tell Uncle Thomas?" Yikes.  I don't think so.
Is anyone else having second thoughts about Prince Kuragin who seems to only have one redeeming quality, which is his often repeated desire to ravage
Violet for the rest of their lives? He is going to need something else if he wants a "yes" from our queen, (i.e.  Does he read poetry out loud? Is he good at Whist? Is he funny? Can he tell jokes? Play the piano?  Make bread? Anything?) Especially since he's still married and has no job. Those are two big strikes already.  
 Last but not least, taking Anna to jail is senseless and wrong. If she pushed him, she pushed him. Leave them alone, and let's go get that guest house.
Loved the walk back to the Abbey, hearing what everyone thinks.  But I've been thinking they should plant bushes around the house.  It's so stark and cold.  A tree or maybe some roses growing over the windows?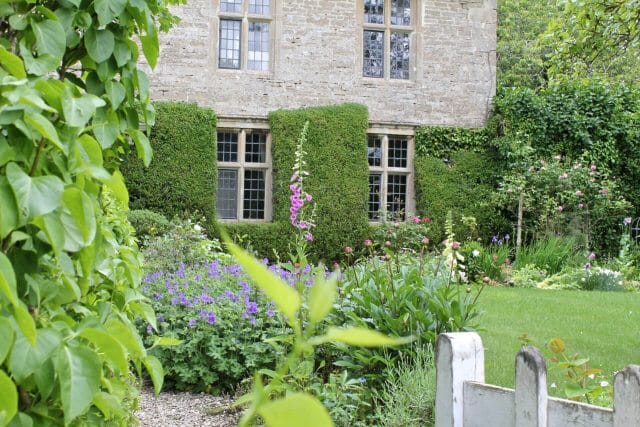 Something a little fluffy to soften those walls and spires.
So, what'd you think? Any new revelations?
The other thing for a complete Sunday Night wrap-up, did you see Lady GaGa sing a medley of songs from the Sound of Music at the Oscar's? If not, get a tissue and then go HERE. Watch the way it ends . . .
Here's what else is going on around here…
In Suenton Abbey . . . My dining room floor . . . call the butler!
OK, yeah, call the plumber . . .
They think they've found the leak ; this is a whole new point of interest for Jack and Girl Kitty.
We're still buried in snow . . . but Joe took me for an airing and we stopped at the flower shop . . . it smelled like spring in there!
A gerbera daisy looks out at the bird feeders . . .
the perfect pick me up for the kitchen table . . . peach carnations and alstroemeria.
And I get up every morning and work on the new book all day ~ it's almost all I think about. I couldn't be happier.  Hope all is well with you!  Salmon for dinner, with spinach and green beans.  Lost six lbs.  On purpose.  Must come out of this winter with something! (Or actually, without so much!)  XOXO