How can so much happen in so short a time? But first, we go ommmmm, we take a deep breath and we make tea. Then we turn on our MUSICA ~ Did I mention that I'm going to tell you the story of where the "MUSICA" came from in the new book? I think you will like it almost as much as the MUSICA.♥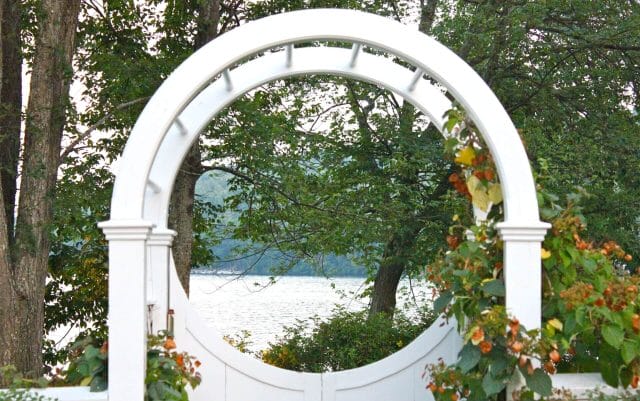 Now that we are all kicked back and relaxed, do you remember this gorgeous spot?  Isn't this the most magical view in the world?  I can hear the lake lapping at the shore and smell the pine trees from here.
Have you figured it out where we are?  Yes!  You are so smart! It's Meredith, New Hampshire, in 2013, where we went for one of our very first book signings for A FINE ROMANCE.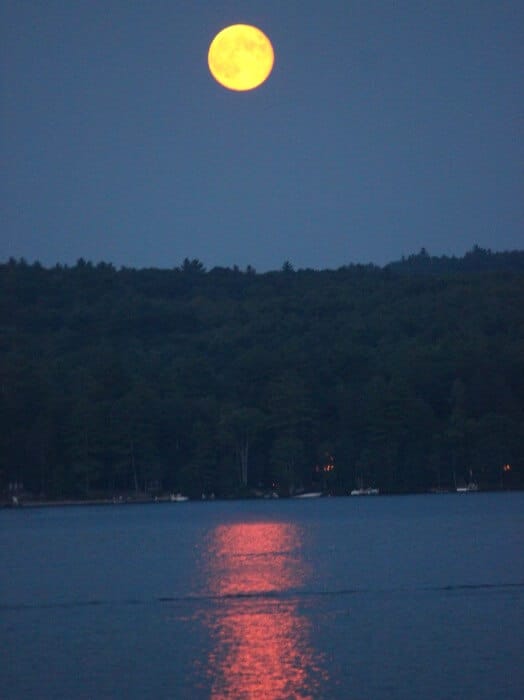 And I was taking these pictures from the deck of our room at the most wonderful hotel called Mill Falls at the Lake . . . LOOK at that moon!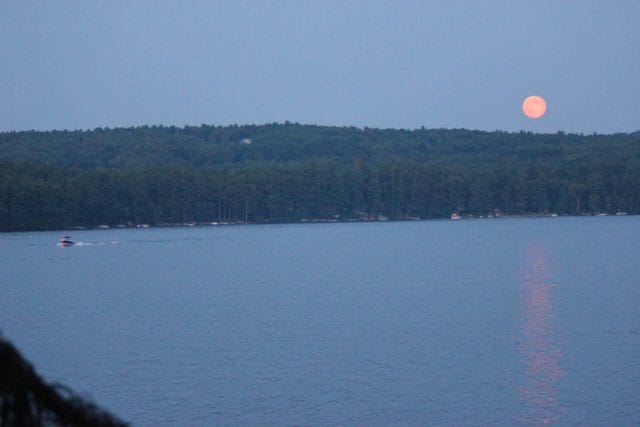 And that was how it looked over Lake Winnipesaukee . . . Wasn't it amazing?  One of my best moons ever! Well, we're going back! To the same hotel, to the same bookstore.
The wonderful Innisfree Bookshop called and invited us (and all of you) and THE FAIRY TALE GIRL for our first planned book signing together! New Hampshire in October? Be still my heart!!!
I hope you can make it. ♥ I hope I'm giving those of you who live nearby enough time to plan a
little getaway. I made name tags for us again so we can recognize each other. The book signing is Saturday, October 3, from 11 to 1 p.m. and I'm sure it will be very festive!  Please come! Put it on your calendar! It's very pretty there!  Innisfree Bookshop is in the Mill Falls Marketplace. Just CLICK here  to print out your name tag . . .
Here are some of my favorite people, wearing their name tags from A FINE ROMANCE … that's Sheri on the left, her daughter Maddie and our friend Bonnie (both of whom came to help last time when all the books came in), and Kellee on the right.  They're standing in the garden of my California Studio ~ I know many of you have spoken to Sheri or Kellee on the phone, so this is what they look like!
By the time we get to New Hampshire the hills and woods of New England will look like this! Even after all these years, I still can't quite believe the colors are real! We're not going to do
a lot of signings this year, we're going to save ourselves for a cross-country tour next May after Martha's Vineyard, Isle of Dreams makes its debut.  We're going to stay home and enjoy fall and Christmas on the Island this year and cook and paint wonderful things for my second new book! I promise to take lots of pictures in New Hampshire so if you're too far away, you won't have to miss a thing . . . we're also heading up to Lake Champlain, a place I've never been, for an actual vacation!!!  Unheard of around here!  We are so ready!  I'll tell you all about it, we don't go until the end of the month.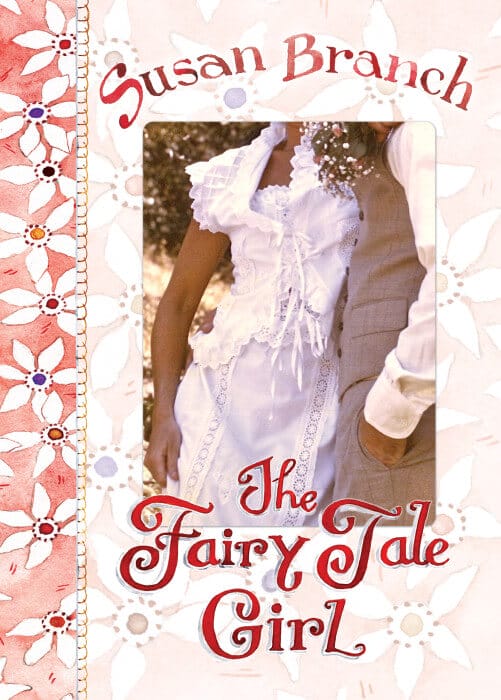 I couldn't think of going anywhere until that book gets here. If I see a UPS truck, my heart falls into my feet.  But so far, we are still waiting. Kellee and Sheri are on pins and needles too, the studio is all ready to get a whole lotta books!   IN THE MEANTIME ~ I had a party and promised to show you, so here we go! We'll just have to take our minds off that UPS truck !
While I chopped, squeezed, measured and sautéed, the sun shimmered through the wisteria onto the wall, which I just LOVE.  Pretty darn fairy-like if you ask me!
I have a thing about that kind of light . . .
The way it lands sort of willy nilly, and puts those lacy shadows on the wall, I just have to take pictures of it. It's such a moment in time.
Even in the laundry room . . . 
Another moment in time.  I adore dappled things, even these big blotches of light through the trees.  We decided to have cocktails and bites of cheese and pickles and smoked fish and olives and gin and tonics with crushed ice and lime wedges in the Adirondack chairs while the sun slowly slipped out of the sky  . . . it was just cool enough for a little shawl, and when it got dark, we had this to look at . . .
All lit up and so pretty. . . But we decided to be comfy and totally bug free, and eat indoors . . .

Dish Playtime!  This night I wanted everything to be light and airy, end of summerish with just a TOUCH of fall… 
And Jack, my little shadow, totally agreed with me!  Just a touch of fall, he meowed
while I got out the silverware. Most of my silverware came to me over the years .  .  . a little from my grandmother and lots was collected from flea markets like Brimfield in MA, and from antique stores all across the country . . . it's very mix and match, but very romantic too. 
See summer?  See fall?
But of course, you can't get people to look at your table settings UNLESS you include food!
I made spicy Mango salad, with red peppers, chopped mint and cilantro, lime juice and sesame oil (from p.82 of the Girlfriend book).  Joe made a brilliant saddle of lamb with rosemary and garlic that was melt-in-your-mouth juicy and delicious.
I also made basil ice cream, to serve with wonderful summer tomatoes that were salted and peppered and drizzled with olive oil and left to sit for a few hours.  Then I put a spoonful of tomatoes with juice in a small dessert bowl, 
. . . a scoop of basil ice cream on top, then a drizzle of balsamic reduction, and voila! Tastebud heaven.  This is the dessert that reminds us that a tomato is a fruit. It's a different kind of dessert but easy and fun. I thought we might reprint Heart of the Home next year and add a few new recipes like this one. 
I made our favorite bean salad too, with sage and little bits of cauliflower for crunch. I also made a quinoa salad with fresh ginger and currants, green onions, water chestnuts and roasted
peanuts. All was served with hot crusty raisin rolls and butter. My goal was to make everything ahead and I did and I was so glad I did!  I got to spend the entire time outside talking with every one . . . it was so easy!
It was wonderful, dinner for eight, and all my favorite MUSICA was playing. . .
All very simpatico and charming, catching up with good friends. Made me think . . .
A little credit where credit is due. I wrote this in my Autumn book in 2004 ~ it was in being printed when she passed away.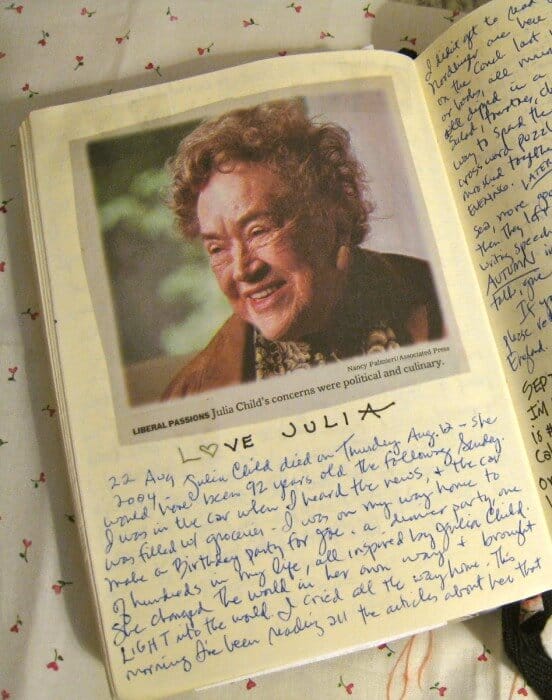 I really didn't mean to get into Julia today, but there is hardly a dinner party I have where I don't say a little thank you to her for her inspiration. ♥ It's like she reached out of the dark when I was around 22, took me by the shoulders and said, WAKE UP! I've loved her ever since.
And look what was watching over us during dinner!  The MOON! Or was that Julia?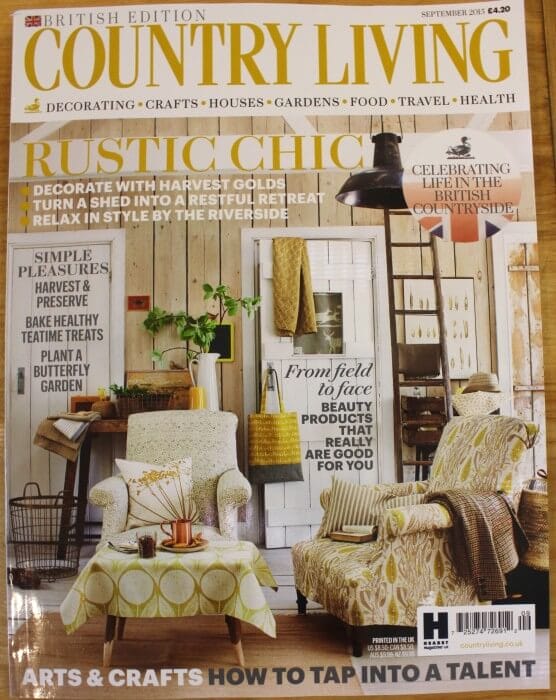 And so now, it's cocktail time somewhere, right here, it's now, and this is my little excitement for today, my new British Country Living just arrived, so that's where I'm going . . .  Hope you're remembering to give yourself a little treat, because I know you and you deserve it! ♥
Rabbit Rabbit Girlfriends, Happy September
YOU!