MUSICA Rabbit Rabbit 2016
to 2015
We had a lovely Christmas . . .quiet and filled with all the gentle reminders of what Christmas is supposed to be. Food, friends, family and
But now it's time to . . .
Turn your calendar over and
Because, for the New Year and always . . .
HERE'S TO US . . .
I love having you here . . .
Time for
I remember last year around this time . . . out my front studio window, it looked like this!
And here, from the kitchen window . . . it was birdland!
and the wonderful world of Cardinals.
Beatrix Potter people were warm and toasty on the kitchen window ledge . . . despite the blizzard . . .
And it was so Beautiful! Every morning I would jump up to peek out this window in our bedroom to see what the morning would be.
Pristine and white, I could never be thankful enough.
Deep dark and delicious
Magical Fairyland
And even though we have no snow now . . . it is still very beautiful, and getting colder every day. Today, in fact, is a three sweater day. . . that's what I am wearing right now. I took this picture yesterday while we were out walking  . . . I'm looking into a rain puddle with the leaves at the bottom and the woods and the sky in the reflection. Is this not gorgeous?
In this one you can see where the puddle ends
And here, where the woods begin . . .
Overhead fly the swans . . . so I painted this one for my new book . . .
And out at the end, the waves come on shore and it smells fresh and wintery and like a garden of composting leaves . . . and way back you can see the ferry crossing . . .
Sunday! Be still my heart . . . 
Our last season . . .I will love every moment . . .
Downton will make our winter very cozy, Downton, the kitties, Joe Hall Guardian Angel Extraordinaire, and me, with a book project and my paintbrush. It will be a nice winter. MAS MUSICA
Just about to start putting away the old year . . . dreaming of the new one coming and all the good things I hope will happen . . .
The table is cleared . . .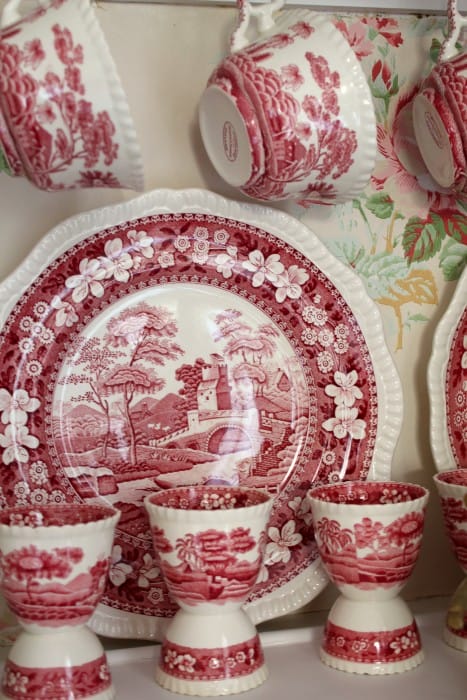 Christmas dishes are all put away . . .
My Days Book is next to my bed with all the lovely empty pages inside and the future yet to be known . . .
And me?
You know where I am. Every day I add more pages to the new book, Martha's Vineyard: Isle of Dreams ~ finished pages. My goal is to have it done by, at the latest, Valentine's Day . . . not printed, but off to the printer by then. I thought you might like to see a few new bits I've painted for it recently . . .There's a little story behind each watercolor, but I'm saving them as a surprise for you.♥ 
Yes, there is singing in this book!

And Kitties!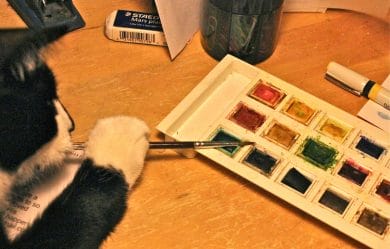 And Jack, who is constantly with me, proudly helps, thank goodness, I could never do this alone.
You remember the little cottage I bought when I first came to the island? It was called Holly Oak.
Well, in this new book (which should be coming out right around April), we go inside the house, I want to show you around, it'll only take a minute, as you can see, it's not very big, but it has a really cute stove . . . I'll show you both with watercolor and with lots of photos, before and after photos too. I think you are going to love this book.
It's totally tied with heartstrings. And this is too . . . wishing you all the very best . . .
Happy New Year! Thank you for another wonderful year of connection, of knowing we are not alone. I've loved every second of it . . . XOXO