Good Morning Girlfriends Forever! Welcome! Here's your MUSICA gift selection of the day. Then we're off to visit my ordinary extraordinary life. 💖
We finally got our first snow!!!
Big flakes, drifting down, our flying Valentines made a day of it! After a few hours, it all melted away in the rain, but this morning, I woke to the always-comforting sound of the town snowplow outside . . . dawn is breaking now and all the roofs outside my window have been frosted in marzipan. Looks just the New England I dreamed about growing up!
Welcome, once more, to Smallville, my home sweet home, where the normal is reeeely normal and daily joy is in appreciating all the little things in life. But before we go there, to that ordinary extraordinary place, let's do what you came to see, first! Let's draw the winning names for the Giveaway! Ohhhhh Vanna???? Come, darling. (👣Pitterpat of little feet, clickity-clack of high heels, she's coming!)
You remember, she'll be drawing three winning names for three ordinary extraordinary items! So, let's make the Girlfriend's Book number one . . .
Vanna just dove off the side of my desk into a huge glass vat, her pink-leotard-clad legs scissor-kicking to the bottom, a swirling pink vortex of shimmering body-suit, toes pointed in her lime-green
satin ballet slippers, her yellow swim cap covered with white daisies . . . little bits of paper with names on them, like the fortunes in fortune cookies, fluttering through the air, all around me, like confetti. And here she is . . . leaping out of the vat, streaming paper bits, and in her hand, manicured in iridescent pink, three names . . . . The winners! One by one she hands them to me . . . So here we go, number one, for the Book, which I will love to personalize for you . . . the winner is . . .
KATHY, who didn't leave a last name but who has Dkvce in her email address and a daughter who paints plates! The book is for YOU!

For Gift Number 2, A forever message of love . . . .
The winner is . . . . Debi Reece, the "adventurous, delighted, and contented" Debi Reese that has 1713 in her email address! Yay for you!

And for our Third Winner, Valentine Love, this time in cup form!!!
The winner is BECKY HEBERT, who's a "new girl on the block," but "catching up quickly!"
C O N G R A T U L A T I O N S   T O  Y O U  A L L !
You'll be receiving an email from me soon, and soon after that your gifts will be winging their way to you! Thank you for partaking, and thank you all for being here and lending your luv-lee voices to this blog of kindred spirits!

So back to the ordinary extraordinary . . .  this is what Joe opened his eyes to on Valentine's morning. Surprise! We had a lovely day . . . did our regular things, worked most of the day, then he we hopped into the Fine Romance van and he took me out for what he calls "an airing." 💞 "Get your coat! You've been inside too long! I'm taking you for an airing!" 💞
We drove up-island playing our Musica to the fish market in Menemsha ~
We were hankering for a Valentine's Lobster dinner at home . . . and lobsters were on sale! Perfect timing!
So that's exactly what we did, made ourselves a little feast . . . which was not only delicious and wonderful, it also fit perfectly into the "Feed the Soul" program I have going on right now. I said to myself as I often do in February, what do I need? And self said, happiness. So I said, that's a kind of food, right? And self said, yes it is. Feed me. So I did.
Last post I was lightening our life on the outside, this post, I'm doing it on the inside, and it's working out so well, I decided to take you with me! Yup. Winter won't last forever! And when it's over and the daffodils begin bloom, I want a brand new me. So while I'm working away on our calendars for 2020, I'm also focused on watching what I eat and being conscious of feeding my soul.
I noticed my brain was feeling a little dry and I was having wild cravings, for salty, sugary, and crunchy foods. I was also taking on the shape of this rodent. Then I read those are really bright-light symptoms of a system out of balance … So what more perfect time to do something about it. Winter! This is why I love this time of year. Gives me time to get lots of work done, and also pay quiet, consistent attention to what makes me healthy. 🍇
So, I went onto the Internet looking for balance, and after a bit of study, (I wasn't interested in fad diets, I wanted good old-fashioned HEALTH, so I looked at mostly reputable science-based sites like WebMD and healthline.com) and changed my diet. I got rid of the usual suspects, white flour and sugar (which included alcohol too because I was committed and there's sugar in there) ~ I got a bit more careful with fats and oils, and fed myself in a way proven to juice-up brain power, and promote better sleep. Slowly but surely (it's been a month now), with nutritional superfoods like oatmeal, blueberries, and apples, nuts and cinnamon, all antioxidant, all anti-inflammatory, I began to feel better. And then I began to feel A LOT better.  I began to feel really happy when I went to bed at night!
After the first few days, I didn't miss sugar a bit ~ the cravings I'd had for basically years, stopped, no longings for snacks between meals! A miracle! All because of what I've been feeding myself. 🥕 Shall I show you? Okay! 
It's what you would think of course, all common sense like the salad above, perfectly wonderful crunch provided by fresh organic vegetables and detoxifying greens, with beets, avocados, red peppers, red onion, tomatoes, a pressed garlic clove, a splash of olive oil, a drizzle of lime juice.

 Dinner might be my favorite Stuffed Sweet Potato recipe with bean sprouts and chopped nuts! It's spicy, and spicy foods raise endorphins!
Or these Shirataki noodles called Pasta Zero, made by Nasoya from vegetable root, with 20 calories in a cup! Throw in some cooked mushrooms, chopped ginger, and bright vegetables, some torn up chicken-thigh meat, pour over hot rich homemade chicken stock . . . voila! Din-din! Or, have the noodles with a fresh tomato sauce and broccoli. Perfectly delicious and satisfying.

Wild salmon, pure brain food, rich in juicy omega-3s, and because of our good local fish market we're able to have it a lot. Delicious dopamine! Other anti-inflammatory foods include broccoli, beets, avocado, and green tea . . . and many More HERE. Because, guess what? Even low levels of inflammation (all kinds of things cause it including food additives from packaged foods) can make you fat and you might not even know you have it! Is there a spare tire above your waist? Me, too! Hello Inflammation.  Hate to see you eat and run but here's your hat and donut.
Because I'm in charge around here. And since variety is the spice of life, another wildly healthy breakfast: nutritious cage-free hen eggs, with steamed spinach and broccoli and a piece of bacon for spice. After this I am not hungry until lunch! I do not stare into the fridge anymore as is usual for person who works at home! Seriously! What a relief!
Avocado is famous for health benefits, I combine avocado with juicy pink grapefruit, a few roasted pine nuts, a handful of greens  … it's practically dessert!
I brought this chicken stew to my art table . . .  I'm trying to eat, at least partly, grass-fed meats and poultry raised without hormones or grains, because you are what you eat!  You can see by these platefuls of food, I'm not really on a diet, I'm just eating well. Not living to eat, but eating to live. Power girl.💪
White Bean Soup! My favorite! Perfect for a cold day! Beans ~ fiber-rich super-food for the brain!
I'm not eating the same food every day. But it's all whole relatively plain food, a clump of healthy this, a clump of healthy that. I want to know what's in it, so I'm staying away from prepared and packaged food. And despite the salt you see on this asparagus, I've now cut way back on that too. Not adding any. Giving myself a break to see how it goes. I am my own science project.
Antioxidant rich Sweet Potatoes with seeds and I don't miss salt because I added a little shake of red pepper flakes. Yum! Eat the skin!
If you are a crunch person, seeds and nuts will give you everything you need in the most healthy way! I made my own seed mix ~ I bought a small amount of every kind we had in the bulk food section of our supermarket, from flax seeds to pumpkin seeds, to sesame, sunflower, chia, mustard and hemp seeds. I mixed them all together and I pretty much put them on everything. This is why you should eat seeds ~ they stimulate endorphins and serotonins, which are most important decorations on your happiness tree!
Piles of roasted veggies make a wonderful dinner all by themselves. Scatter them with nuts and seeds, and have them as a bed for a piece of salmon, toss them with greens or noodles, or drizzle them with balsamic or pomegranate molasses (just boil down vinegar or juice).
I made my own "trail mix," too. Because I don't care for those little unrecognizable pieces of colorful "fruit" in the store bought stuff. I only want the good stuff! So we went to Trader Joe's and got all kinds of our favorite nuts, both dry roasted and raw ~ almonds, pistachios, walnuts, cashews, pecans, and macadamia nuts.  I chopped the big ones, mixed them with my seed mixture, and stirred them all up with a bit of olive oil and some raisins.
And they're wonderful on my oatmeal.  MASS MUSICA? OUI!
This time it's not as much about losing weight per say, as it is about eating healthy, relieving my body of the burden that extra weight puts on joints and organs, and bringing my joy levels up to top Perk on my own personal Perk Scale.
My snacks are celery (celery is soooooo good for you!) and carrots dipped in lemon hummus ~ or, celery dipped in cashew butter (with nothing in it but cashews) ~ and plantain chips with guacamole ~ Joe even makes fried potatoes sometimes! I'm not hungry! I drink luv-lee Earl Grey tea, also Celestial Seasonings Green Tea, and camomile before bed. …  I'm trying to eat my bigger meals during the day, and have a lighter meal in the evening, and guess what? I lost ten lbs! That's why I had to tell you.💞 
The other day I got an inspirational note from one of our Girlfriends on the blog ~ you may have seen it in the comment section, someone by the name of Naomi who wrote, "Can I request a blog topic? For all the girlfriends? I am 35

years old next month and I am struggling to determine if I should keep trying to hold onto my princess beauty (and weight) or lean into a queenly phase of life? Vanity, vanity, yes! Society talks about getting fit, ditching sugar and wheat, etc. Where's the balance? I need to know, from one girlfriend to another. What should I expect as I age and what should I really be focusing on and what is futile and should just be given up??? So perplexing!"
Perfect timing! Naomi? I LOVED your question! 👏 So, from one girlfriend to another, what to expect as you age? Is never giving up. Society does not matter, but you do. 💞
You don't have to be perfect. Nobody ever is! But trying is a really good thing. Try to give your body what it needs for energy and joy! Because that's what feeds every dream you have. And at only thirty-four, you ain't seen nothin' yet! 💞Read labels because the entire food-world would LOVE to get us addicted to the foods they make! We're so lucky to live in a time there's so much science! I told Joe this morning, as long as I'm alive, I want to be alive! ⚡️And it's not just food . . . even a little exercise changes your metabolism, a tiny bit of weight lifting keeps your bones strong . . . and here's a few more suggestions, because it's not just feeding your body, it's feeding your soul too, and for that, it's never more true . . .
Find a little spot in the morning sun to eat your healthy breakfast . . . it helps us winter-worn people set our inner clocks for a better nights sleep, and how you sleep affects so much of your life. You can feel the serotonin boost in your brain, which is one of the wonderful things that keeps us calm and focused! 
Even if it's the only narrow slot of light in the room, poke your face right into the middle and soak it up . . . it doesn't have to be in the kitchen, any little beam will do. ☀️
Jack and I make a shadow behind us in the dawn light . . . I have lots more to tell you about all this health stuff . . . but I'm saving the other half of this "blogus healthius" for my next postius!
Also famously excellent for your health, playing with your petty pet. When I put milk in my first cup of tea in the morning, I put a tiny dot onto the counter for Jack to lap up. That way we're "fixing breakfast" together. Ommmmm.
Jack has become a kitty-masseuse. When I'm on the floor doing my stretches and my hands are busy so I can't grab him, he knows it. He'll rub against me from leg to head, jumping to rub my face, making me laugh, stop, and grab. He's my healthy procrastination partner, time sucker-upper, house-mate, and all-'round blessing from heaven. That little string was blowing through the crack in the door from a heater vent on the other side. Rapt attention! Fascinating!
I'm almost done with the new calendars! I have only one month left to do on the yearly wall-calendar, all the rest of them are DONE! I'll finish the other one after I'm done writing you. And I have a very fun new type of wall-calendar to show you for 2020, in addition to the regular one, I'm so excited! Here's the cover . . . it's called . . .
Oh yeah. It's going to be on the BBC website too! It's the first time I've done a photo calendar! A Year in the English Countryside will be twelve months of photographs (mixed with watercolors of course) of all the charming British
eccentricities Joe and I saw traveling through the amazing countryside. From cottage gardens to sheep meadows and pubs, it's all there . . . I know you will love it. Which is why, for the first time, I'm putting this calendar up for Presale. I fear, because it's also the first time I've done a calendar like this, the publisher will print very few of them; that's the way they often do. Like with the cups, I want to make sure that any of you who wants one gets one. So up for Presale it goes so I can place my order with the publisher asap. And FYI, yes, we'll still have the same calendars as always, the watercolored wall calendar, the large desk blotter, the purse-sized calendar, and the mini calendar ~ everything should be here in July.
Here's the back cover . . . you can read more about it and Pre-order yours right HERE.
I also wanted to let you know that if you ever have a yearning to read years of past WILLARDS (including the last one if you didn't get it!), you can find them all HERE (or in the right-hand column of the Blog). 💞
And, one more new thing to tell you before I go . . .  back by popular demand, our 100% wool hooked pillows and rugs!
This is just a sample, there are lots more, all "signed" with a heart and my initials, SB.
I have this one in my studio . . . cupcakes! Not a calorie in any of them! (And I do believe we still carry the cupcake embroidery/applique kits for those dishtowels too!)
And this one is called Island Farm, has a dancing sheep, apple trees, giant flowers, and a red farm house, and matches the second pillow above. They're all on the website now, rugs are 2′ x 3′, perfect size for an entry or in front of the kitchen sink. All available HERE.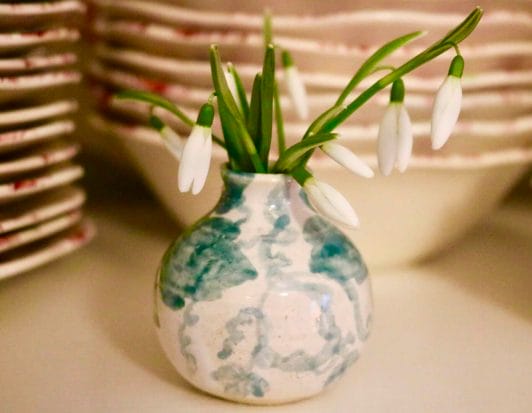 Joe just came in with this little bouquet of snowdrops from the back garden! It's happening! A miracle in the snow! Hope personified! And one more thing darling Girlfriends, before I go, if you want to know where our Blog title came from today, "Ordinary Extraordinary," then you should make it a point to see the wonderful movie called About Time, written and directed by the same genius person, Richard Curtis, who also wrote and directed Love Actually. I'm watching it right now (watching and/or listening to). It's probably the 5th time I've seen it. I have liked it better every time. Now I cry from the very start. It's so sweet and touching and teaches us all how to see better, our ordinary extraordinary lives. Bring the Kleenex. You will need it. 💞 Love you Girlfriends. Until next time! 💋