It's a whole blog of normalcy today . . . the lovely joyous days of early spring where, pretty much, the only thing going on is . . .  Guess what??? Oh yeah, they're here! English Bone China! Rabbit-Rabbit. MUSICA 😘
They came in today! And they're already going out, thanks to Kellee and Sheri! Only days to go now until these are in the hot little hands of all of you who've been showing such fortitude and patience! And in plenty of time for Mother's Day! 💞 
If you've forgotten what your cup looks like and you'd like to see the handle and what's on the other side, go HERE. And while I'm at it, I have another update:
I almost don't know what to say to all the rest of you waiting for your
. . . little vases, the butter dishes, the Go. Be. Love ornament, the small glass, this little pin tray, and more . . .
I want you to know I've been calling them, I badgered them, I had a fit. I was the proverbial squeaky wheel. Because these things were supposed to be in your hands weeks ago. And I was just told, yesterday, they're on
the way. So I kept thinking they will get here, and they keep not getting here. I told the manufacturer that we were going to have to cancel this order. And he PROMISED me, that we will have them THIS MONTH. At this moment, I BELIEVE him. I believe they will be here. He said the middle of May. I say the end of May because it's hard to believe THAT much. For sure, the INSTANT they arrive, they will go right out. I beg your pardon from the bottom of my heart. My hope is that you forgot if you ordered or not, so when your package shows up, it will be the most wonderful surprise! Sorry sorry sorry.
 I promised in the last blog that I would tell you what was in this delicious salad I had not once, but twice, at The Trellis in Colonial Williamsburg. As you can see, it's a composed salad, made up of little piles of yum, beet hummus, crispy fried kale, Asian quinoa, pickled onions, goat cheese, and roasted sliced almonds. I added shrimp, but you really don't need it for this flavor extravaganza where every bite bursts like a sparkler in your mouth.
He's a photo I took of the actual dish at the actual restaurant. So the goat cheese was easy, I just bought the creamiest I could find at the market and broke it up into bite-size bits. I also found pre-made beet hummus at the market too (although the restaurant hummus was much darker, maybe next time I'll buy hummus and blend in more beets or make my own). I toasted the almonds on a cookie sheet at 300º until pale brown. The Pickled Onions were easy: Thinly slice two large red onions and put them in a glass heat-proof bowl. Bring this mixture to boil: 1 c. water, 1/2 c. distilled white vinegar, 1/2 c. cider vinegar, 2 Tbsp. sugar, 2 tsp. minced ginger, 1 tsp. salt, dash of red pepper flakes. Pour boiling mixture over onions, mash them down so they're all covered, cool, then chill.  (You'll have some leftover, they keep for 2 weeks, delicious with everything, and good for you too!)
 Quinoa was easy too. To serve six, Bring 3 c. water to boil in med. saucepan. Add 2 c. quinoa, bring back to boil, reduce to simmer, cover and steam 10 minutes, till tender. Strain. Pour into a bowl, and stir in 4 1/2 Tbsp. rice vinegar, 1 1/2 Tbsp. sesame oil, 1 1/2 tsp. soy sauce, zest and juice from 2 juicy limes, 3 Tbsp. minced fresh ginger, 1/4 tsp. salt, and 5 minced green onions . . . or, because they were growing in my garden, a handful of minced chives. Serve at room temp.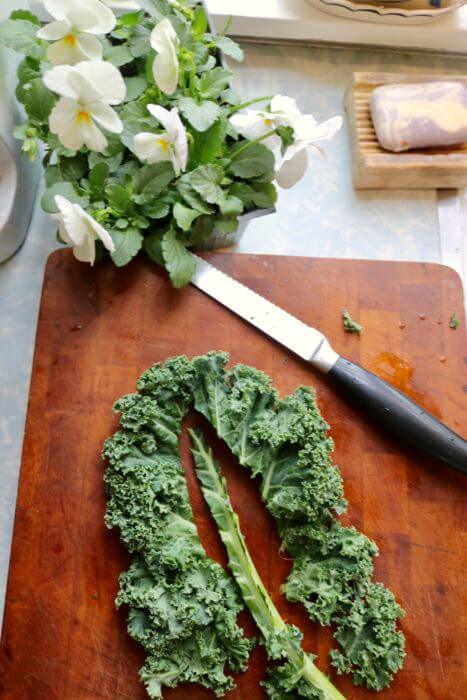 I accidentally figured out a new highly useful trick with kale! I made the Fried Kale Chips twice, because I'd never done it before and I wanted to make sure they would get crisp and STAY crisp. So first off, you wash a large bunch of  kale (you need more than you think you do because it cooks down to nothing), remove the stems like in the photo (good for compost!), then tear the leaves in bite-sized pieces. Here's the tricky part, because  kale needs to be massaged to make it tender, which can be a real pain, AND it needs to be dry when you put it in the oven, which takes a long time if you air dry it ~ do this:
In batches, wrap handfuls of wet kale in a dishtowel, roll it up tight as you can, and then twist the heck out of it, back and forth, mash it, get someone to twist it with you . . . so you are doing two things, you are massaging it AND you're drying it. Tricky, eh? 👍 As each batch of kale is finished, put it into a large bowl.
When it's all done, drizzle about a Tbsp. of olive oil over the kale, a little goes a long way and you don't want it dripping. Put your hands in the bowl and toss well and make sure there's oil on every piece, massaging as you go (but you don't have
to do much of that). Depending on how much kale you have, you may need a bit more oil.  Do NOT salt or pepper it. Lay it on dry cookie sheets making sure none of the pieces touch each other. Can't touch. Put it in a 300º oven for 25 minutes. Remove and cool completely. I made this a few days before my party and left the kale out on the counter all night to see what would happen, and it was JUST as crisp the next day. So after it cools, keep it in an airtight jar or cookie tin. Another thing I do now, because kale is so good for you, and I want us to eat it more often. I do all these steps up to and including the olive oil, then I put the kale into a bag into the fridge, so anytime we want kale with our dinner, we can bring it out and it's clean, tender, oiled, and ready for steaming, frying, or salad-making.
To serve, you want a fairly large serving of quinoa in the center, then arrange the goat cheese, kale chips, pickled onions, and beet hummus around it, sprinkle with almonds and serve! Healthy healthy healthy. You're welcome!
So yes, I'm still eating in my new healthier way, losing weight verrrrry slowly. But hey, these three months were going to go by anyway. ⬆️ This is salmon, spinach & tomato salad, avocado, and Brussel sprouts. As you can see, I'm NEVER hungry, but now there are 20 pounds of butter off me! 
The only thing I actually cut out was sugar and white flour (sometimes I have a slice of seedy whole grain toast, and I did have Polenta Cake with whipped cream and strawberries
when I invited my girlfriends to lunch. Oh yeah!). I'm determined in a way I haven't been before. I don't care how long it takes.  I just FEEL like being my old self and staying that way. This photo above is actually spaghetti! I love spaghetti! It's made with shirataki noodles, which are great and have almost zero calories in them but are high in fiber, and no flour. We take good organic jarred spaghetti sauce and add sautéed onions, garlic, and basil, and we cook it down to thicken it and make it really flavorful. We serve it with Parmesan, sometimes we chop a little spinach into it.  
I'm not in it for weight loss per say, I'm in it for health. I'm in it for the clothes. I can't tell you the joy as one after another of my old beloved clothes I've never been
able to force myself to give away, begins to fit again after years. I squeal with each button that slides through the hole. But anyway, I just wanted to show you a few of my sample meals, this one above is green beans and spinach, with seeds, and two free-range omega-3 scrambled eggs. I have it for breakfast, but sometimes I have it for dinner, and if you do that, you basically go to bed happy and skinny. This is NOT to make any of my darling girlfriends feel guilty. I would feel horrible to think that I have. Thin or fat, we all come with a pre-ordained body type, I have faced the fact that I will NEVER have a waist ~ we deal with what we have the best we can. Everyone should be free to be themselves in the exact way they choose. BE WHO YOU ARE. You are adorable and very much loved.💞
More normalcy at least in this house, I want you to know I've been working hard on ENCHANTED every day and loving every second of it. I go to bed dreaming about it, remembering.
But we've been having fun too! For one thing, we've visited every nursery on the Island! Because they're a little bit of heaven! And then we go out to lunch to restaurants beginning to open up again, and we take my manuscript for Joe to read, and I bring my book!
I wander around our garden every day with my camera and smell the green things growing and the fresh salt air up from the harbor.
I think our spring is early! It's all happening at once, but it's hard to complain!
It melts the heart. Thaws it out to be more exact, after winter!
Pear trees, weeping cherries, azalea, forsythia . . .
 The great thing about living in a place with extreme winter, as many of you know, is the extreme jump-for-JOY feeling you get every spring. You open your windows on specially good days, and blow out all the old wintery air with new freshness.  You haul your sweaters to the attic. You get out your pink things, your baby blue and your linen. It's what makes it worthwhile.
Hello yellow birdie. The critters are doing the exact same thing, singing the praises of spring.
These two were just outside our kitchen windows, I do dishes and see this and dry my hands and grab the camera . . . it feels like a Disney movie, when they're all together, the morning doves, squirrels, cardinals and robins … on the feeders, eating apples, frolicking in the bird bath, while bunnies nibble wild violets in the grass, and the wandering turkeys too . . .
Isn't this cheerful? A taste of springtime whimsey. I've been adding to my tulips this year, buying them at the nurseries already in bloom so I can see the colors and know they are true.
🎶 It's a beautiful day in the neighborhood . . .🎵
I don't know the names of many tulips, but these romantic pink ones are called Angelique.
You've probably seen it, but just in cases, the Marvelous Mrs Maisel is SO WONDERFUL. We just finished Season One. We're late getting on the bandwagon. Joe and I snuggle in at night to watch and laugh out loud ~ it's just so good. I think it might be only available on Amazon . . . but HERE'S a real fast recap of the first season.
There's no violence, but plenty of "sailor talk" as they call it . . . this is supposed to be the 1950s and I never heard sailor talk like this, but they sure have it here. It's worth it because it's a visual treat, they GO TO PARIS! They vacation in the 1950s Catskills! They wear the greatest clothes! The coats! The hats! The characters! Susie! Mrs Maisel's dad! I love them all and Joe loves them as much as me. So there you go, something fun to dip into. For all you Gilmore Girls Fans, this show was created by the same people.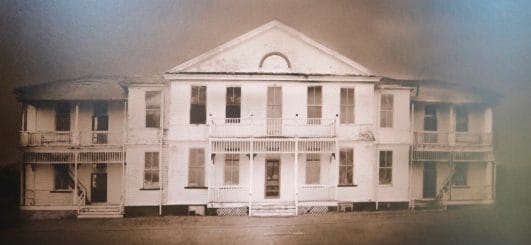 More normalcy . . . this beautiful old building sits on top of a hill overlooking Vineyard Haven Harbor and was recently renovated and our long-awaited Martha's Vineyard Museum was born. So of course we had to go see it.
This is part of the view as you walk through the door.
I hope you can see it if you come to the island. It has a little display about one of  my favorite people, Nancy Luce. (Note her necklaces and her handmade collar, look at her belt, she dressed for this photo no matter how mournful the expression. SHE had this photo taken, before it was easy to do!) I wrote her story in a previous post, if you'd like to read about her eccentric, artistic, but very lonely life. A person who made more something out of more nothing than almost anyone. She was true to her amazing self and has not been forgotten.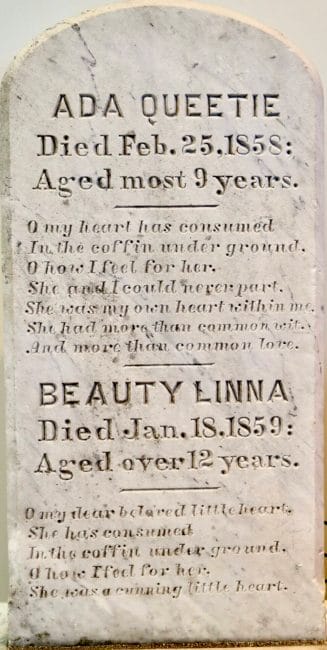 I had read about and seen pictures of the gravestones Nancy had especially made for her beloved chickens, but I never saw them in person. There they were at the new museum!
Here's another one. In April, Joe and I attended a concert that honored Nancy Luce, performed for the first time by our Community Chorus at the Whaling Church in Edgartown. 
Several of my friends are in the chorus and were on stage singing their hearts out ~ we all ended up in tears, that's how lovely it was. While they were singing, I could picture Nancy coming through the door, in a church that was here when she was alive, in a place she used to ride to on her horse when she was young, seeing the honoring of her life in this way, and no doubt,  being beside herself with happiness. I hope the Chorus performs it again this summer. The composer who wrote the piece said he was taking it to Europe. Life is so amazing.
Here's something else rather amazing. Note: BBC!  Note: bottom right corner! Yes! BBC Shop is now selling A Fine Romance on line and in their catalog! This thrills me to my soul ~ my little book! I'm now one step closer to my ultimate goal, the National Trust shops in England! Which will likely never happen, but hey, why not, this is BBC and I never thought that would happen either!
 Plus they are going to carry the new British Corgi Cup (just being shipped out from our Studio now as we speak) AND the 2020 Year in the English Countryside Calendar! The other wonderful thing, they mail order to Canada! Probably a lot less expensively than we can!
 Speaking of blessed. Guess what, my old kitty, Girl Kitty, who went to heaven in 2016, Jack and I think she is haunting us. 💞 We do!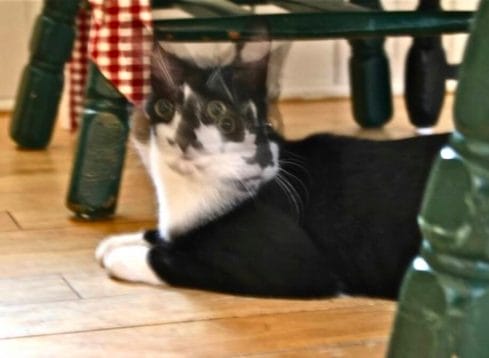 Often when I'm working and it's quiet in my studio, I've heard what sounds like a kitty jumping off the bed in the guest room above me ~ eyes to ceiling, then to Jack, asleep on my art table, and I think, no. But then, early yesterday morning when it was still dark, Jack and I were in the kitchen making tea and suddenly we heard the very distinct sound of kitty feet coming down the back stairs. No question about it, we looked at each other, then at the staircase waiting for Girl to appear, because what else could it be? But, she didn't. Jack got up, walked to the staircase, and looked up. Then I did too. We stood there looking together, but there was nothing. And we both heard it!
This makes me happy because this little girl was a dream come true. Haunt away, Girl Kitty! Also nice, because Jack can't chase her around and torture her. In fact, it may go the other way! I'll keep you updated!
One more lovely morning shadow photo before I go. I love coming around the corner just as the sun is coming up to see the light streaming in, touching everything in a totally random way. Only for that very moment, and never the same twice.
Oh yes, and this one. The spoon my dad carved for me. This is how he says good morning to me now! I'll take it any way I can!💞
Off I go. Wishing you all the most wonderful month of May! Love Love Love. 💖