Hi Everyone! Happy Autumn! Did you miss me? I definitely missed you! I'm still not sure my blog will work right, but I know you will let me know if you encounter road blocks. Ever since it shut down back in July my IT person has been working on it . . . he has also invited  all our Willard girlfriends to join us here on the blog . . . which I'm hoping will work well too . . . it's all a big experiment! But welcome! We have lots to catch up on! Let's give it the old college try!🧡 Did I forget MUSICA? Oh no I di-ent!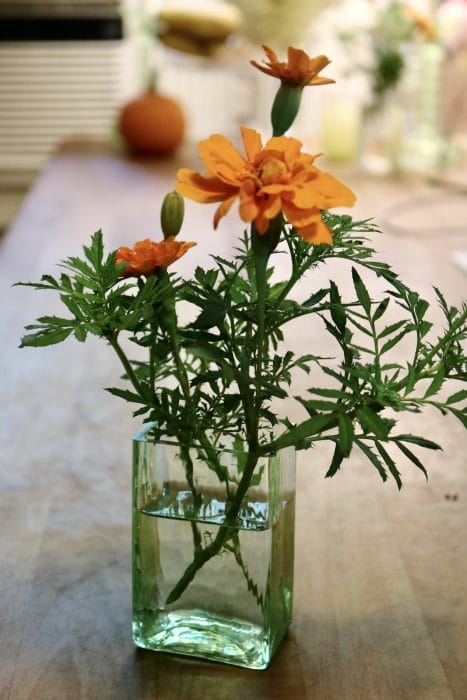 It's getting cold out there on our walk through the windy woods to the sea, crows are flying low, daylight is shrinking, a cozy knitted throw is near my favorite chair, candles are in their
wooden holders. I put out my fall kitchen rugs and dish towels …. there's a pumpkin on the table and flowers in my little vases . . . I especially love marigolds.🧡 I plant them every year just so I can have them this time of year. When you cut a branch like this and put it in water, it will keep going, the buds will bloom as you take off the faded ones … they brighten any corner and bring fall indoors!🍁🍂🍁
I've been doing fall cleaning chores … washing windows, airing quilts, oiling my table and wooden spoons … letting that oil sink in to make the wood more beautiful.
Getting ready for a cozy winter . . .🧡
I use mineral oil, the food-safe kind they have at the drug store. I brush it on with a pastry brush. The top three spoons are finished, I let the oil sink in for a few days … and I'm getting ready to do the bottom ones … isn't the color difference amazing?
 So, what's new? Been a very long time . . . well, my newest news is that a couple of days ago I was wandering around the Internet, looking at house plans and ideas for decorating, and that's when I discovered a fabulous new trend they are calling GrannyChic" or "Cottagecore" ~ and so, being of the granny age and curious, I thought, "What is THAT?" … and I discovered . . . you should hold on to something . . . this . . .
Look familiar? Believe it or not, this is Granny Chic. It's a thing!! "Like your grandma, but hip," one blogger wrote. 🤣
This is it too, looks like my girlfriend's (who actually IS a granny) kitchen! It's described as "a back to nature philosophy
of simple old-house-living with pre-worn furniture, vintage books, delicate china, wallpaper, toile, flower gardens🌸, baked cakes, cups of tea you drink curled up in front of a fire with a kitty, learning to knit and embroider, feeding birds, arranging flowers, and listening to old music. "It's a world like your grandma's house where life is more whimsical and magical in an imagined past full of good things." How about that my friends? Everything we LOVE!💞
"It's baking fresh bread, listening to the radio, wearing a floral apron, and "simple closed-toe clogs." One blogger said it could "dethrone Hygge!!!" Don't you LOVE it?!! They even mention Laura Ashley! I am so HAPPY. We are IN again! I thought we were going to spend eternity in heartless minimalist-ville, but apparently, it's OVER! Think of all those beautiful old "dated" kitchens HGTV ripped out! They're going to have to put them all back! And the fireplaces they painted over!!! Eeeek!
Hygge, Cottagecore, GrannyChic, GrandmaCore Aesthetic, Grandmillinnial Style, whatever you choose to call it (they even have FarmCore and FaerieCore), antique stores are going to LOVE it! And now maybe they will want all that great stuff we've collected! And think of
all the lovely hours spent wandering through antique stores ahead for the people who never heard of this before! They're going to have so much FUN! Just no better way to have an original house than finding fanciful one-of-a-kind things at yard sales and second-hand stores. What's next? CraftCore? Handwritten letters? Dinner parties? Anything can happen! It's just an all-time win-win-win for the creative heart because HOME brings inner joy ~ it's an especially big win for the Doily Mentality!😁
There are books and magazines for the "new" style and there's fashion too, elegant simple things like this they are calling the "new Modesty."🧡
And also, they are wearing 1970s granny dresses, cotton, long to the floor, with puffed sleeves. Even in Paris!
And when they put up pics of CottageCore houses, they look like this!!!🏠
And this … someone must have taken a trip to the English Countryside. So basically, you can count me in. Hippest of the hip … pure granny chic ~ should never go away again! Old is history, family, beauty.
I can't tell you how much I love being hip and happenin' again!😂
The chic-est of the chic!💋
What do you think. . . too granny? I'm sure SOME understand about the smell of freshly ironed clothes, don't you think?
Anyway, I've been lighting candles and making chicken stock . . . 'tis the season . . . Couldn't love it more. Let's see, what else … So much happened over the summer . . . I can't begin to tell you everything in one post ~ but here's a little taste . . .
It was a beauty. The Island was packed this summer. A little scary in the Covid way, we had relatively high numbers … but we didn't interact with many tourists, so we had our little safe pods of friends ~ it was the kids working in restaurants that took the brunt of the contagion . . . I can't WAIT till this thing is over! I know it will be. These things always go away sooner or later, and we have way more ways to fight back than we used to.👏
We walked almost every day, our woods are still mostly green …  we're having a nice long fall this year 🍁 . . . these days we always have air pods in our ears when we walk, one in Joe's, one in mine, sharing books as we hurry through the woods to the sea … I have Audible Books on my phone …
I'm one of the very few people in the world that had never read Wind in the Willows … Joe wanted me to hear it, he read it as a child, I don't know how it got away from me! So we listened together … what a wonderful story. The description of each of their homes! Pure charm! I started looking deep into the woods wondering about all the life going on in there that we never see!
We read and loved Hamnet and the Pursuit of Love (have you seen the new Pursuit of Love movie? SO wonderful!!! Staring Lily James from Downton Abbey! Written by Nancy Mitford, the eldest of the famous (or infamous) Mitford Girls) ~ It's on Amazon Prime. I hope you have it! The costumes/clothes are darling.
Right now we're reading A Gentleman in Moscow. I can't even BEGIN to tell you how much we love this book! We're only about ¾ through it … I PRAY it holds true and doesn't veer off into some sort of kidnap murder torture story, because so far it's PERFECT. The Count! Adorable! (Please let him stay adorable and don't let anything happen to him or anyone he loves!🙏) And please don't tell me how it ends! The writing in this one is amazing. So good one would like to somehow examine the brain of Amor Towles to figure out HOW he THINKS of the things he does! We're constantly repeating some of his word choices to each other and shaking our heads!
We took pictures of the Harvest Moon . . .
And counted stars over our house . . .
And had outdoor birthday picnics with our friends . . .
And dinner parties on their porches.
And at our house too . . .
We fed them the big beautiful tomatoes we grew in the garden!
Our dahlia garden grew strong and tall, and we learned so much! For one thing, next time we need to plant them earlier! May rather than June! It was torture waiting for the first ones to flower!🤣
They're still going strong . . . we're told they will last until first frost. 👏
We filled the house with them!
I go out to cut flowers or pick leaves of lettuce and Jack begs Joe to pick him up and hold him at the screen so he can watch me!
I planted two patches of lettuce for the fall season, and we've been eating amazing salads ever since! I always forget to do this, but not this year ~ I think it's even more rewarding than doing it in spring! Lettuce likes colder weather too!
I designed and turned in the calendar covers for 2023! (Nice example of CottageCore if I do say so myself ~ kissing birds says it all!💞)
We had planned to go to my Studio in California by train for a family reunion (and a Kellee reunion💞) and stay the whole month of September but at the last moment we canceled … very disappointing but it just didn't feel safe and we didn't want to take a chance on bringing everyone together and have it turn into a Covid-cluster. Not worth it when we're talking about our beloveds. We're going to try again in November when we hope things are better. Instead, we drove ourselves onto the ferry, and went camping on Lake Sebago in Maine!
Camping in this cozy cabin, Granny Chic Style!
Having dinner among the pines, with wood-smoke spicing the air . . . can you smell it? 
We even had a porch with rocking chairs and a fireplace. It was heaven. And our first official get-away in 2 years!
We visited roadside stands 🎃, did Christmas shopping, ate lobster next to Camden harbor🦞, and visited a wonderful DAHLIA GARDEN… and we arrived home just in time for the rising of the Harvest Moon.🌕
When we got back, I waited in line and got my booster. I had Pfizer, Joe got Moderna so he is still waiting for the big okay. I feel a little bit like Superwoman now…💞
That's enough of summer because it's already October, and I'm sure you're wondering where your cups are! I know you know Covid has thrown the shipping world into a tizzy … but no, thank goodness, your cups are not sitting on a ship in Long Beach Harbor! They were picked up in England at the manufacturer on August 12 and put on a slow boat that came in on the east coast … and our most recent news (2 days ago) is they were on a train heading for California, a very good sign, and Joe is GUESSING they should arrive at the Studio by October 15th. For sure, they are on their way, and the minute we get our hands on them they will be in the mail to you!! I'm so sorry they're late!
BUT, in the meantime, very good news, the puzzles have finally arrived and are all stacked up in the Studio ready for the the cozy season! Hopefully we won't run out this time because from what I can see, shopping is going to be a bit iffy this year. Backup jams, candies, and cookies are going on my list!
 And the Calendars are Here! Much later than usual, but perfect timing for 2022!
And the new printing of Autumn got here in the NICK of time! I'm so excited to revisit some of my favorite recipes …
And the second printing of Home for Christmas just arrived too.👏 
Okay, a few more things, first off, ARE YOU EXCITED ABOUT GOING TO ENGLAND AGAIN? Sailing past the Statue of Liberty on the Queen Mary 2 together? And our Picnic? If I was a person who said squeee, I would say squeeee! I think about it constantly!🚢 And if by chance you don't know what I'm talking about, go back a couple of posts, scroll to bottom of each of them (I always put the ship news at the bottom of the posts for easy finding) and find out how to join us aboard the shipleaving NY Harbor for Southampton, England on May 1, 2022.🇺🇸🇬🇧
 Also, another VERY interesting PBS special that I think you'll like is Citizen Hearst … the story of William Randolph Hearst, 1863-1951. Chock full of old photographs and videos, his life takes up a huge time-period of American history ~ so you get all that too! Really interesting.
I'm doing a Zoom party for a group with the perfect name of Enchanted Book Club on December 4th. There is room for 400 of my dearest girlfriends, so if you're interested, it's first come, first serve, and free. It's at 3 pm EST, 2 pm in Chicago, noon California Time, and 8 pm in England and I'd LOVE to see you there! Register HERE. (Addendum: Best news! We already have 450 of you signed up for the Zoom! 👏 but The Enchanted Book Club upgraded their Zoom account so we have room for 1000 now! 💞Yay!)
Well, off I go for now! Hope you are doing well . . . If everything goes okay today with this blog, I'll be back soon with MORE! One way or another I'll let you know! Write and say Hi! ❌⭕️❌⭕️