Now, I've been saving this to tell you about . . .
Much more constructive to think about your health in terms of what you can do to make it better, which brings it all back to home sweet home . . . our favorite place.♥ I found something I've been wanting to share with you!  My new favorite thing!  And you'll see why.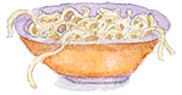 This is me making noodles out of zucchini!!!!!!  YES!  It's true. I am making noodles out of zucchini!
Take a look at these, in a matter of moments, the easiest thing in the world ~ delicious squiggly noodles, just like pasta, only better, less fattening, healthier, and really just as good, only better! (One small caviot: I've been reading about GMO foods, zucchini is one of the biggies they have really fooled around with ~ only use organic zucchini when you make your noodles.)

This little machine uses no electricity!!!  Another reason to love it.  It's easy to clean and easy to use. You just cut off the end of a zucchini to make it flat, pop it into the pusher, crank the handle and out they come from the other side.
You can put any sauce on them, make Linguini and Clam Sauce if you want, or even the simplest thing: heat a little olive oil in a frying pan, add some garlic, maybe some mushrooms, perhaps carrots or a little broccoli slaw, and saute everything until soft . . . add the "pasta zucchini," cook until al dente, pour onto your plate, sprinkle over salt, pepper and Parmesan, and voila!  You can add them to soup too!
Here I toasted up the potatoes before I put in the zucchini ~
Besides zucchini you can make vegetable noodles out of potatoes (like those above), carrots (get the largest you can find), beets, onions, sweet potatoes, apples, eggplant, cucumber, radishes, cabbage, and butternut squash.  FUN!  It comes with three blades, in three sizes!!!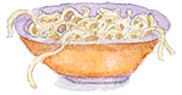 Here I am tossing the potatoes in the pan with some shallots . .  .  Use another blade, make them slightly thicker and you have curly fries!  I mean, it's truly the best thing in the world.  With all due respect to all the other best things in the world.