And now, here's the recipe for the cake I wrote about in Willard, an old-fashioned lemon-filled sponge cake, soft as a baby's hiney, perfect for spring birthdays, and gorgeous as a Mother's Day Tea Cake.
And since I made this cake for Easter, I thought I'd show you just how easy it is to put together.  Making this roll is much easier than you might think if you haven't done it before.
So set your oven for 375° and here we go . . .
Butter a 10″ x 15″ cookie sheet that has a rim (jelly roll pan), then lay down a piece of waxed paper (allowing it to go over edge), smooth it into the corners and into the butter, and then butter the paper too.
Put the yolks of three eggs in one bowl and the whites in another.

Beat egg yolks a little bit then add a cup of sugar and . . .
Beat them until they're thick and lemon colored . . .
Sift a cup of flour together with salt and baking powder . . . (don't worry I'll give measurements at the end)…
And stir it in to your batter along with six tablespoons of hot water . . .
Beat the egg whites until stiff and glossy.
While you're doing that take a peek outside . . . oh, my, what a DAY!
And LOOK!!!  I begin calling for Joe . . . we have robins by the herds, we have gaggles of cardinals, whole families ~ (not that I will ever take them for granted), but see that bird on the right?  We never see that bird.  ever.  Got out the bird book where we find out it usually likes woods and thickets.  This is our driveway . . . he is a "rose-breasted grosbeak."
We ooh and aaah over him for a few minutes . . . He must have spring fever, coming over for some dessert seeds.
OK, that was nice, but back to "work" ~ folding in the egg whites . . .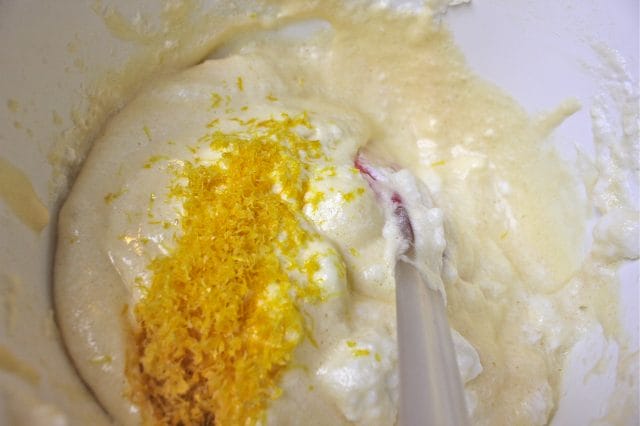 And then the zest of one lemon . . . Now spread the batter evenly on your well-buttered cookie sheet and put into oven for 12 to 15 minutes.
While it's baking, lay out a clean dishtowel and sift over a sprinkling of powdered sugar.
When the cake is done, and wafting fresh cake fragrance to the neighborhood, bring it out of the oven and use the edges of the waxed paper to turn it out onto your powdered-sugar covered cloth . . .
Voila!  While still hot, carefully peel off the paper.  Then take a pair of sharp scissors and cut off the crispy edges of the cake all the way around . . .
You can eat those crispy edges immediately, but from experience, if you eat them all now, you'll have nothing to dip in the lemon filling you're about to make. Just sayin' . . .
Now, using the dishtowel begin to roll up the cake.  It's fairly malleable while it's hot so you can make a nice roll, just pull out the towel as you go . . .
Once it's all rolled, just leave it there and let it cool while you make the filling.  Essentially it's in training now to be a roll.
LEMON FILLING:  In the top part of a double boiler, put two whole eggs, a cup of sugar, the grated rind of two lemons . . .
The fresh juice of two lemons and two tablespoons of melted butter.
Pour the juice into the double boiler through a fine sieve if your lemons are like mine and filled with seeds.  Stir over simmering water for fifteen minutes until the filling is thick. Cool slightly. (Más MUSICA Girlfriends?)
Then it's time to unroll your cake; carefully peel it open until it's flat ~ it goes very easily . . .
Pour over the lemon filling and spread it almost to the edges, but leave it thick in the middle. (Don't forget to save a little bit of filling to dip your cake clippings in if you have any left.)
Roll the cake back up, not TOO tightly, because you want the lemon filling to stay inside.  I roll and lift the cake a bit as I go so as to keep the lemon from squeezing out the sides. Move the cake to an oval serving plate.
Sift over a little more powdered sugar ~ the cake is beautiful, but I decide it needs a little Easter decoration . . . so I run outside to pick some of my pretty yellow (non-toxic) forsythia flowers . . . any excuse to go outside is a good thing.
And voila!  Like little butterflies.  Your cake would be just as pretty with wild violets, pansies, johnny jump-ups, or roses . . 
Here's the recipe Girlfriends!
CAKE:
3 eggs, separated in two lg. bowls
1 c. sugar
6 Tbsp. hot water
1 c. sifted unbleached flour
1 tsp. baking powder
1/4 tsp. salt
grated rind of one lemon (zest)
sifted powdered sugar
Preheat oven to 375°.  Butter a 10″ x 15″ cookie sheet or jelly roll pan, one with a rim.  Line it with waxed paper leaving some to hang over edges (an inch is fine). Set pan aside.  Separate eggs into two large bowls.  Beat egg yolks, add sugar and beat until thick and lemon-colored.  Stir in hot water and dry ingredients.  Beat egg whites with electric beater until stiff; gently fold into egg batter.  Fold in grated rind.  Pour batter into prepared pan, spreading evenly.  Bake 12-15 min.
Immediately turn finished cake onto clean dishtowel lightly covered with sifted powdered
sugar. Carefully peel off waxed paper.  With sharp scissors, cut off the crisp edges of the cake.  Using the cloth, roll up cake pulling out cloth as you go.  Leave it covered and rolled, set it aside to cool while you make the filling.
FILLING
2 whole eggs
1 c. sugar
2 Tbsp. butter, melted
zest and juice of 2 lemons (strained if necessary, no seeds please)
Put all ingredients into top part of double boiler.  Beat well and stir til thick, approx. 15-20 min.  Cool slightly.
FINISH
Unroll the cake, spread on the filling, and roll back up.  Cool completely.  Transfer to serving dish.  Sift over a tiny bit more powdered sugar.  Add flowers if you like, edible and unsprayed, violets, pansies, roses, johnny jump ups. Here's a list of edible flowers.
XOXO