If your house is really a mess and a stranger comes to the door, greet her with, "who could have done this? We have no enemies."
♥ Phyllis Diller
H A P P Y   S U N D A Y !
One of my best friends and her husband are coming to stay for a week. We pick them up at the boat on Wednesday!
When I'm working hard on a book, like I am now, I try to stay focused; which means our house suffers from drop-it-and-leave-it syndrome. We drop it, then we leave it.  Nothing like company coming for inspiration to get things picked up and organized!
So today I take the day off to "play house." I started out right by making pancakes.  I don't make them very often; but they were delicious, in butter and maple syrup! With cold slices of juicy cantaloupe! And then we got busy… Joe went outside to clean the fountain, and I started working on the kitchen.
I took the yellow wine glasses off the high shelf and put them in the dishwasher.  They don't get used often enough and have tiny little dead bugs in them. Very nice. They had to be washed.
Then I noticed the sugar spoon, it looked so tarnished; it made me remember, just the other day, a girlfriend told me about this method she has of cleaning silver that she says definitely works, and gave me her recipe for it.
I'd heard of doing it like this before, but I never really thought it would work, so I never tried it.
But all my silverware looked so bad; what did I have to lose? What if it really works?  Way better than polishing every piece, one at a time.  On a summer day. Which I wasn't going to do anyway. Then I thought, Maybe the girlfriends would like to see this scientific experiment; I could blog it!  So out came the camera and, here we are.
I did what my friend suggested: I lined the sink with aluminum foil, the bottom and up on all sides.
Then into the sink, I poured a half-cup of ordinary table salt and a half-cup of baking soda; filled the sink with hot water, and dropped in the silverware.
You can see, if you look close, that I also dropped my wand in there.  Even though the wand is brass and not silver, I thought I'd give it a try. Joe came in, peered into the sink, and said, "what's that?"  "It's my wand," I said.  He looked at me, rolled eyes, and said, "Why didn't you just wave it over the silverware and forget all this?"  He is very funny.  He makes me think of that quote by E.M. Forster where he says, "Logic? Good gracious!  What rubbish!"  🙂
So, how did it work? It worked pretty good!   I left it in the water for about a half hour.  Here are the before and after photos:  "Before" is on the left, and "after" is on the right.  There's definitely a big difference. I think you get more of a polish when you do it by hand; however, for speed-cleaning, and getting so many pieces done at once, this is my new, go-to way to do it.  Then I polished my wand the old-fashioned way.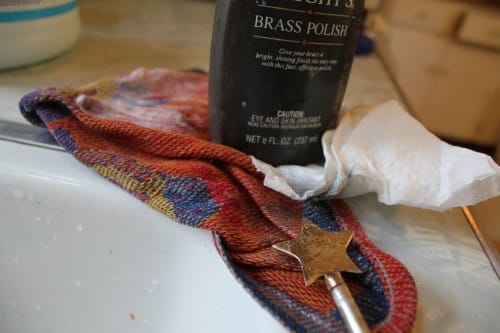 Time out: I just turned on some music and this song came on, thought you might like to listen while you read . . .
But you don't have to! (It's Frank ♥)
http://www.youtube.com/watch?v=C6ZAb8IuvDQ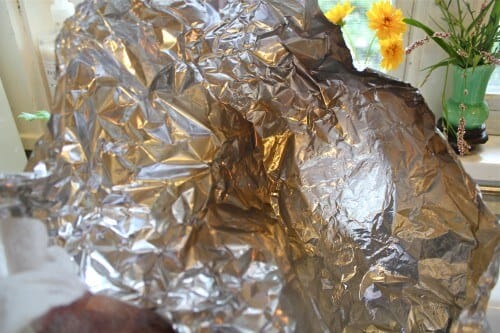 But here's the real magic…I went to clean up, and look at this…the tarnish is all over the aluminum foil. Some sort of transference has occurred. Must have been the wand!
So OK, that was the silverware; next, up to the bedroom.  I can't put our friends in the Peter Rabbit room, because these people bring half their house with them. ♥ Since we bring half our house with us when we travel, we understand perfectly.  They need the front bedroom, it's bigger, at the top of the front stairs; it's the one I would have loved being twelve-years-old in.   Has two windows that look out over the front street, and one that looks out on the garden.  I love it in a snow storm when the flakes are whirling around in the sky, leaves are off the trees and you can see all the way up the street.  But I digress  . . . first I wanted to iron a clean dresser scarf.
Then I realized we're out of iced tea, so I started some.
Joe was out weeding the garden, I took him my other favorite summer drink, sparkling seltzer water with a splash of lemonade in it.  Over a ton of ice.  With straws.  Because he deserved it!
♣  ♣  ♣
Now upstairs, to the bedroom, to fluff it up, put it in order.
I could spend hours in here; it's a perfect room for dreaming.  I put a pillow in the chair, hung the quilts, straightened the heart rocks on the window sill…. I put out a copy of two books I love, one is Consider Poor I (a biography of Nancy Luce, which I tell all about in the next Willard that goes out starting Tuesday), and the other is A Short Guide to a Happy Life by Anna Quindlen.   Both of these books you could pick up, start anywhere, and be happy you did. ♥
I put clean sheets on the bed; tucked them in with neat nurse's corners, put a clean cover on the comforter.   I have a thing I do with sheets . . . I put a one-inch fold across the bottom of the top sheet, the entire width of the bed, so when my friends put their feet in, there's plenty of room for their toes. ♥ One of the only Girl Scout meetings I really remember in detail was the one where our leader taught us how to put on a pillowcase without using our teeth. Why do I remember that?  I guess because it was a homemaking tip and I couldn't wait to grow up and have a house of my own.  So I glommed on to pillowcase 101.
O Bed! O Bed! O delicious Bed!  That heaven on earth for the weary head.  ♥ Thomas Hood
I found this seashell in a California antique store and couldn't resist it.  So homemade.  I think you could do this with any quote if you used a permanent ink marking pen to write it on the shell with.  And look what a charming little thing it turns out to be.  ♥
Then I put plate hangers onto these old fish plates, to hang over the dresser. I love dishes so much, I don't just put them in the kitchen; I put them everywhere, even in the bathroom!  These are hand-painted Limoges.
I put my favorite Laura Ashley hat on the bed post.  And then I gave this room the Good Housekeeping Seal of Approval…
With this old magazine to sit near the chair.  And that was it, pretty much ship-shape and ready to go.  I still have a little bit to do, I need to cut flowers from the garden for the  pitcher on the dresser top.  But that will do for now; it's iced tea time.
Now in a cottage built of lilacs and laughter, I know the meaning of the words, "ever after". . .
Hope you're having a wonderful day! ♥ xoxo me