I go on and on about how beautiful New England is and how much I love Martha's Vineyard.  You know it's stolen my heart, hook line and sinker, and I can't help it. But there are many wonderful things about California, where I was born, and I thought I should wax a little bit poetic about it. Especially since I'll be going there in September and want everyone to still love me. ♥
Here I come. . .
Going up the Pacific coast, along the wide sweep of coastline outside of Morro Bay (half way between LA and San Francisco), where the land slopes down to the sea and the road follows close to the water . . . I roll down the windows, feel the wind, turn up the music, and sing along to my favorite Highway-One song (try to stay in your seat now, you're driving!) →  http://www.youtube.com/watch?v=9_5_AD9wXuY
Can you feel the wind?  Note how gently the road curves. I know, it's like meditation, instant relaxation, but please, try and stay in your lane. ♥ About twenty minutes along this road, going north is a small town called Kokomo . . . oops, I mean Cambria, a town I know many of you have visited, where there is an English Tea Room.
This is where we go for delicious lunch, then we go antiquing at one of the great shops around the corner. BTW, everyone who's familiar with the area would want me to tell you not to miss the shop called Birds Of a Feather.  And for a beautiful ocean view, Moonstone Beach Bar and Grill in Cambria is wonderful. Lean back in your chair, feel the sunshine and balmy air, and watch the ocean some February afternoon. ♥
But what I really miss is our house out there, especially our next door neighbors . . .
I found out that llamas are a lot like camels in the realm of spitting; I had to get to know them slowly; you don't just go running up to them.  They will move their lower jaw in a way that signifies they will be spitting soon, and at all costs, this should be avoided.  I have seen them do it to each other, and it is not nice. Now that they know me, they don't spit; they just want me to pop a pineapple guava (or forty) into their mouths; the guavas grow along the fence, but they have eaten every single leaf, branch and fruit within reach.  Now they need me.  It's so nice to feel wanted.
This is my favorite tree at our house.  Whenever I want an orange I can just go outside my door, and there they are, peel it, eat it juicy in the sun.  This is true for limes, lemons, tangerines and grapefruit!  Not to mention avocadoes and artichokes.  They don't call it the land of fruit and honey for nothing.
Isn't this wild?  No matter how hard I try, I cannot make my Vineyard roses do this.  The dry heat of California is rose heaven. They love the breeze off the ocean, just enough of it to freshen their air.  This is what I cut in just one day.  They do this all the time; even bloom in the winter. We have to force them to go dormant by physically stripping off their leaves!  Otherwise they just keep going.
This is my California picket-fence garden.  You can garden year-round in this part of California; it's why the locals always look so happy!  Nearby San Luis Obispo was mentioned by Oprah as the happiest city in America!  This is one reason why.
Sweet peas will bloom from March or April through August!  More than you can ever handle! Bouquets you can bury your face in.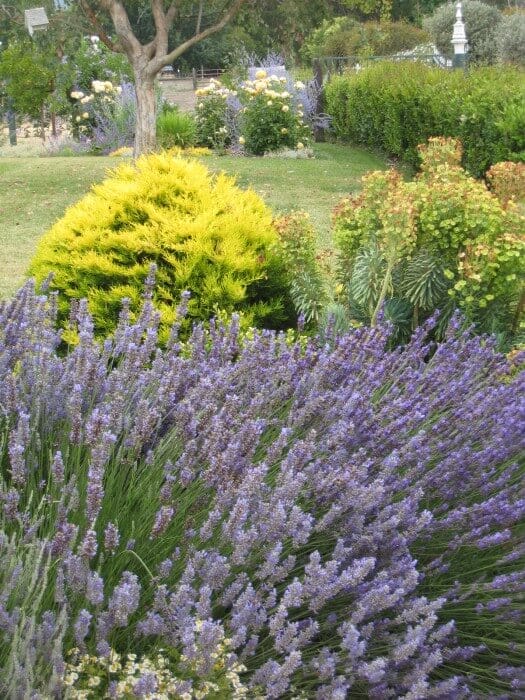 Lavender grows like a weed.  In the best possible sense of the word.  See the yellow roses back there?  They grow and bloom year round; they are "Julia Child" roses and smell even better than they look. ♥
And this, can you stand it?  Jasmine grows over every doorway; you breathe in fragrance with every breath. You go to sleep with it just outside the window.
And the sunsets are beautiful too!
So we go watch it from one of the restaurants that dot the coast around Pismo Beach…this is the view from our table.  We see whales and (real) dolphins here and watch pelicans fly over. We bring the Sunday paper, and sit for hours in the morning.  Once we came with my family for lunch, and we stayed for dinner!  There's another restaurant we love to go to, just above Malibu, called Paradise Cove, where you can sit with your feet in the sand and have lunch served to you.  Have you been there?  Surfer pictures all over the walls.  There's a lot to be said for California. ♥
And that's just for starters . . . that doesn't even begin to cover the smell of the pine in the mountains and the giant Sequoia trees, where if you step out of view of any landmarks, you walk on a miles-deep, perfectly silent, cushion of pine, and could be lost in about one minute.  Or what it's like to travel over the Golden Gate Bridge, over the bay spotted with tiny white sailboats with flags flying, from a swinging contraption that only one word can describe: impossible.  Or the winding ride through Big Sur, on the edge of the world, where you truly think you can see all the way to Hawaii; or late nights, listening to the owls hoot, and coyotes howl;  or flinging oneself into the arms of old friends and family. ♥
On our way out to California, we are stopping in St. Paul, Minnesota for a very special event called The Creative Connection.  (You can read about it by clicking on COMING SOON/EVENTS in the column on the right towards the top of this page. I hope some of
you can come!)  I'm sure we will fall in love with Minnesota.  We seem to fall in love with every place we go. Last March, Joe and I were sitting at a table at a wonderful sidewalk cafe in the Los Feliz area of Los Angeles; the food was so good; he looked up at me and said, "Let's live here!" ♥
The moon belongs to everyone, the best things in life are free  . . .