Quilts and flowers belong together, don't you think? It's another place where nature and womankind meet. ♣  In the great and ongoing project of organizing my photos, I realized how many I've taken of little vases!  So I thought maybe you'd enjoy a day of flowers, girlfriends . . . This bud's for you! ♥
I look for vases pretty much the same places I look for old quilts.   Little ones like this one can be tucked into small spots, bathroom window sills, bedside tables, or cupboard shelves — this turquoise one is on the sideboard in our dining room.  A little vase doesn't require an armful of flowers.  Just a couple of blooms from the garden and voila!  I've done something to make the day better!
This guy lives on the shelf over my kitchen sink.  At night he cavorts with the Beatrix Potter people. ♥
We dug a hole in the backyard to plant a new dogwood tree this spring, and found this bottle in it!  Joe brought it in to me.  I was so happy.  Hello, I said in vase language (which I speak fluently), Welcome back.
Off they go to the bathroom, next to my reading chair, and Joe's-side-of-the- bed . . .
This is the best spot on earth for a human to put her nose. ♥
Was making a tray for tea, needed little spot o' color in the middle . . . it's just a plain old glass jar with something that grows wild over on the side of the barn.  A place for everything and everything in its place. ♥
Made this rose bouquet for the coffee table.  There's mint in it.  So when someone smells a rose, they get a double whammy. Even innocent flower-lovers are my victims. ♥
My stove has a shelf.  It's my ever-changing seasonal stove-top scene that this little bouquet is the centerpiece of.
This bird vase is one of a pair I rescued years ago at an estate sale, hiding on a top shelf in the dark corner of a pantry.  My eye caught the white gleam, and I went, oh yes, come on down.  Now they welcome guests at almost every dinner party we have.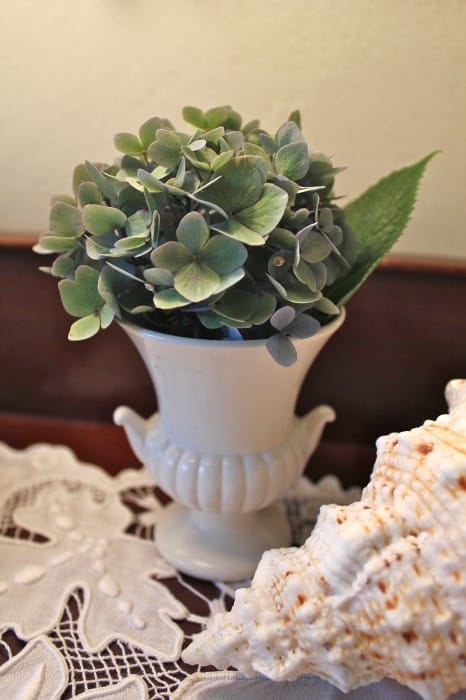 This mini Grecian urn does duty year-round.  For $3, this little vase has given more joy than any expensive fancy cut glass vase could ever do. ♥ 
Old creamers and sugar bowls make wonderful little vases too. ♥  Would you like to see my vase cupboard?  It's right next to the kitchen sink; I knew when I grew up I would have a vase cupboard.  None of these little vessels were expensive, but all of them have some personality trait that drew me in, like the yellow fish on the top shelf…he's silly and he looks very good in the guest bathroom.
 I've been stalking vases since I was in my early twenties, which means I've had plenty of time to pull this together.  Was I supposed to look at the tiny one on the bottom shelf with the duck on it and say,
oh no, stay where you are, I have enough now?  No.  I rescue them, give them a good scrubbing, and make them feel useful again.  I'm a green recycler of all old things. This just goes to show what a dedicated hunter-gatherer can do in her spare time. ♥  Like in the quote below, I am "glad to the wood."
 We felt that all things were like us people, down to the small animals like the mouse, and things like wood.  The wood is glad to the person who is using it, and the person is glad to the wood for being there to be used.   ♥ Native American brilliant person, Joe Friday.
 Have a wonderful day, girlfriends!  xoxo, your pal for life, Anna Susanna Dana (someday I'll tell you the entire name that goes with it…when we know each other better :-))