By the light, of the silvery moon, I want to spoon, to my honey I'll croon loves tune  . . .
Last night . . . we walked up from the harbor with this half-moon shining down on us the whole way.  We couldn't see it when we got to the darkest part of the street, but when we came out from under the trees and into our driveway, it was there, waiting for us, suspended over the barn.  This is our harvest moon, on it's way . . . growing (waxing), until the twelfth, when it will be full and pop up like an enormous orange pumpkin right at the end of our street.
It provided just enough light to brighten the white things; the picket fence and the japanese anemones seemed to be lit from inside. It was a beautiful evening; the air was filled with the sound of crickets.
Inside I kicked off my flip flops, and from our kitchen window I could see the moon bouncing off the trim of the yellow house out back of us; I walked out the side porch, barefoot, and across the cool dry grass to take this photo . . . even though it's in the shade, the birch tree had a little coating of moonlight too. . .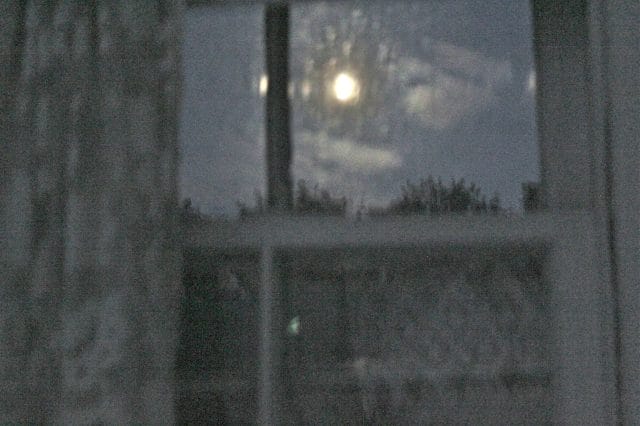 Later, that moon followed us right up the stairs.
The change of season from summer to fall has always been my favorite time of year…it's stirs me to the core when church bells ring from across the street, and the white steeple peeks through the branches of our maple tree; or when I go clamming with Joe, standing knee-deep in the shimmering pond, the tide beginning to come in, swirling around our legs; fair weather clouds streaming by the white-trimmed cottages along the shore.  Or when the breeze carrying that first little autumn chill through the trees, like it did this morning, sweeps across the dirt road where we walk.  I love to stretch out on a blanket on the lawn and look up through crossed branches; just lie there, listening to the wind and the birds, hoping my kitty will deign to lie down with me.  There's every reason to be excited and looking forward to the future…every day is more beautiful than the one before.
But a few years back, right in the midst of all this wonderfulness, I discovered something about seasonal rhythms; mine had gotten a little off, was not quite right, but I never put two and two together. It was my girlfriend Margot who figured it out for me.
She stopped over unannounced to have tea one golden September afternoon a few years ago.  I was, at the time of her knock, just up from a nap and scraping up the last crisp brown bits from a frying pan where I'd cooked left-over mashed potatoes into a big pancake (brown and crusty on the outside, soft and melty inside with a river of butter).
Even though it was pushing 4 pm, I was still in my jammies but had covered the fact, somewhat, with a navy blue sweatshirt that said TOO MEAN TO MARRY on it; my hair was stuck to the side of my head.  As I shuffled to the sink, slippers scuffing the wood floor, to fill the tea kettle, Margot surveyed the scene and asked, because she is my dear friend, "How're you feeling?"  I said, "I don't know, kind of miserable for some reason…just no energy. I don't feel like doing anything."
Thank God for girlfriends! "You know what?" she said,  "I don't even have to look at the calendar … I already know the days are getting shorter just by looking at you . . .  you did this last September, remember? You got all depressed the minute the days start getting shorter —  I think you have S.A.D."
"What?" I protested, "That sad-people disease? I don't have that. No way. I have the happy gene."
Then I burst into tears.
She hugged me, and gently started reminding me of the clues, about how I was still wearing my jammies for instance, and it was four in the afternoon; how I didn't feel like going anywhere; that I was almost licking the potato pancake pan (apparently consumption of large quantities of starch, butter, and chocolate is a symptom); and how I had lamented to her that if I ran away, as I would like to, the big drawback would be that I would have to take "me" with me. She was unflinching, "And honey, what about those two-hour naps?"
Thank goodness for Margot, my best friend forever!  If it wasn't for her, I would have gone obliviously through life, letting depression cloud up my favorite season and half the year, assuring myself there was nothing wrong, thinking it was just the prospect of winter that was bothering me.
That conversation took place some years back, I had all the symptoms of seasonal affective disorder, but just didn't know it.  Now I have a light box, which I keep on my art table, and flip on about 5 am, when the days start getting shorter.  If you wait until you're already in the throes of it, it's too late, you need to start in September.  I also found out that taking Vitamin D helps a lot.  Now, with that, plus this light box and our walk every morning, I feel great.
I just paint, or work on the computer while it's on, it works even if it's pointed at the back of my head!  All the normal happiness and love of the seasons returned, I am SAD free, the happy gene reigns supreme.  And, I found out I could still stay in my jammies all day if I want to, and sometimes I really do, and eat potato pancakes (in moderation) and not be sad! Hooray!
Just thought I would mention it because this morning when I turned on my light it occurred to me that there could be others suffering with this  (even 4 to 5% of children are said to have it!) — it's not like anyone is going to die of it, but who really needs it?  Do you (or someone you love) have sort of a little nagging despair in the back of your mind?  Worried about summer being over?  Thinking about running away?  Not dressing? Eating entire boxes of cookies?  Can't get the energy to enjoy life the way you want?  You might want to try a light box.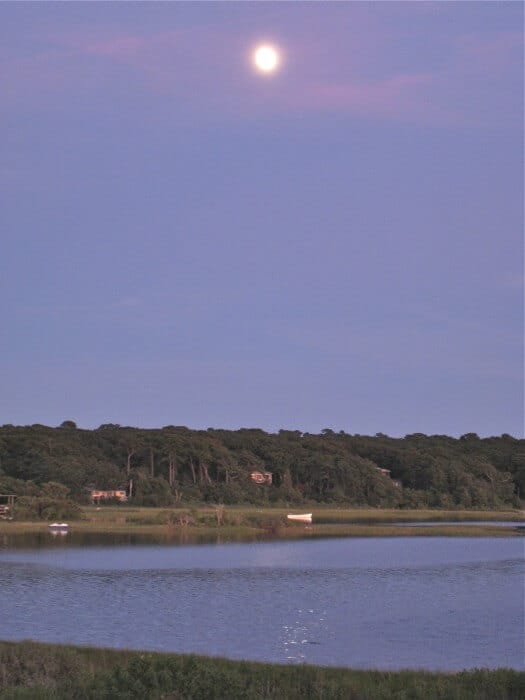 So you can feel the joy and dance by the light of the moon all winter long. ♥