I'm going to tell you all about the Creative Connection Event we're attending . . . But I know what you really want to see…you want to see a Butter Burger from Culver's! It's clear to me now, we geographically-challenged people on the right and left coasts have been unfairly denied and excluded from a particular kind of deliciousness . . . I never even heard of Culver's before. Now I know, from the locals, this is THE PLACE!!!
A better burger than any I've ever had.  Hate to say, better than the old Bob's Big Boys, better than In and Out Burger! Don't know if it's the "cooked to order," or the butter-toasted bun, or the Midwest-raised beef, or the Wisconsin cheddar cheese; but probably the combination of everything. To sum up, if you can, get in the car . . . and find yourself a Culver's.  If you come up through Wisconsin and Minnesota, you're in for even more of a treat . . . because you can drive through the beautiful countryside where all those fresh Butter Burger ingredients come from.  This looks like a painting!  And it's just out the car window!
Miles of this beauty  . . .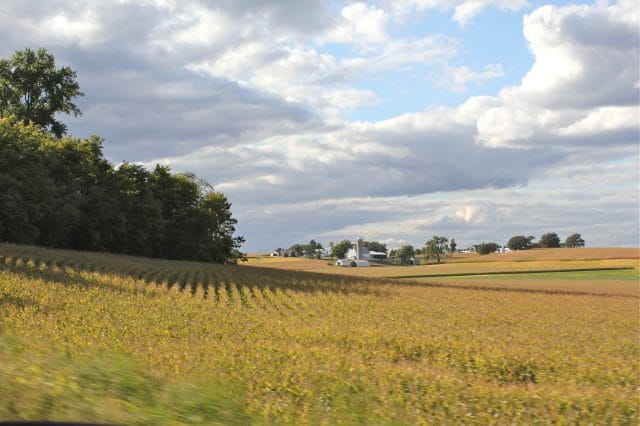 With huge Midwest clouds, and cornstalks turning yellow in the getting-cooler-by the-second sunshine.
I love barns!  One of the things I'd love to do someday is travel around the country and take pictures of barns.
And when there were no barns, there was the Mississippi River, next to us most of the time.  And suddenly, we were there, in St. Paul, and
Finding our hotel . . .
The Creative Connection Event has been amazing.  They've taken such good care of us . . . here's the "goodie bag" they gave to everyone who came, filled with ideas and inspiration from some of the most creative people around.
It started yesterday (Thursday), and will be over tomorrow…so I'm trying to remember everything and take it all in.  The first thing they asked all 700 of us to do was to form two huge lines in the ballroom, for an hour of "speed dating," where we'd meet someone, tell about where we're from and what we do, exchange business cards; then the lines would move and we'd each get a new person. I met crafters, quilters, artists, computer wizards, writers, authors, social media queens, divas, moms, and designers. That's me (in the green) — and that's Joe, behind the camera.  He was in his element. So many girls, so little time! ♥
All day long there were hands-on workshops and demonstrations on subjects ranging from How-to-Blog classes, to Art Journaling, Mary Jane (Butters) Bread Making, How to Make Homemade Jam, Practical Business Advice by Megan Auman, Launch Your Farm Dream, Food Photography, Count Your Blessings Necklace Making, the Home is Here Textile Banner with Charlotte Lyons . . . I could go on all day.  The Keynote Luncheon (everyone back to the ball room!) featured Becky Higgins (who I know from years back at Creating Keepsakes Magazine).  Here is the beautiful lunch they served us, pure unadulterated Girl Food.  We were encouraged to "eat dessert first!"
After still more workshops, Dinner provided inspiration with stories from  Cristina Ferrare and Holly Becker from Decor 8.  I was so happy to meet Leigh Standley, the original Curly Girl who's cards I know you've all seen — she was seated at our table, lives in Boston, so she's a neighbor, and a doll.
This morning (back at the hotel), we had room service (my all time favorite thing about anything having to do with travel). I ate my grapefruit along with the new AUTUMN Magazine by Matthew Mead, still another gift from The Creative Connection.  (They knocked on the door while I was writing this and dropped off still another goodie bag!!!!)
This little garden is the view outside our hotel room window . . . pretty little thing isn't it?  I'd love to go walk in it!  Hard to believe it will be deep in snow in a very short time.
Today I'm doing a video interview for DIY DISH  — it will air on their website in November and if it's any good, I'll be sure to let you know when. If it's awful, forget about it, I won't be telling. 🙂
 Tonight, authors in the group will be signing their books, and those of us who are in the August issue of Where Women Create Magazine will be signing that also, meeting fans, talking to everyone.  And tomorrow is the day I join five other "Entrepreneurial Women" on a panel for the Keynote Breakfast where we will be discussing the different paths we've taken to where we are now and what we learned along the way … plus lots of Q and A from the audience.
And that's about it for today!  Better get out of my jammies!  Soon we'll be on the road again! Hard to believe that Creative Connection will be in the rear view mirror by Sunday, but happy to know that Butter Burgers will be on the horizon!
♥     ♥     ♥