♫     Sparks fly from their fingertips . . .    ♪
By the third day of The Creative Connection, you could feel the energy in the room almost like electricity! At first it was like a just-baked Christmas cookie, then, as the hours passed, came the frosting, then sparkly colored sugar and candies on top, gathering more sparks and shine each day, as everyone got to know each other, experienced work shops together, and became friends.  This was the last morning, the Keynote Breakfast, "Women Entrepreneurs," and if you can see aallll the way to the front, through that aura of shimmer and shine, on the stage, the lucky person on the far right is me!
Friday night there was an autograph party Maybe twenty-five authors were signing their books, or calendars, the Where Women Create Magazine, the new Where Women Cook Book (which we'll have on our website in a few days).  It was like a huge meet and greet; where we got to talk to everyone, all these creative women who traveled from all over the country for this event and spread their light wherever they went.  If you ever want to be in a place where everyone is just plain nice all the time, this is it! ♥
I have to show you these two darling girls, the DIY DISH Twins, Kris and Kim. We did an interview for their show, which will air in November….I'll let you know when. Yes, they are from Utah, and no, they are not Osmonds!  But they light up the room with those smiles. ♥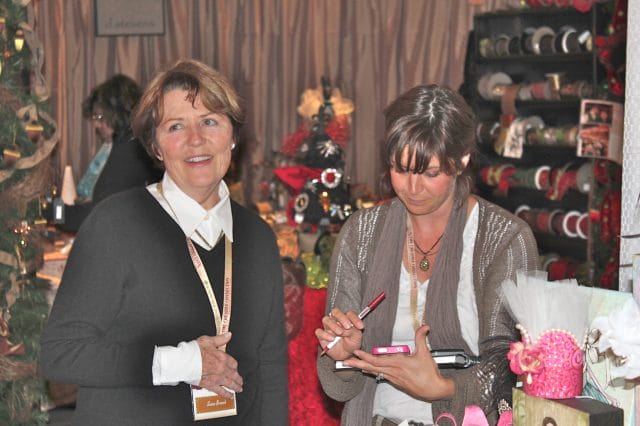 We took over 200 photos!  So many cute ones of strangers you won't know!  But these, at least, give you a taste of what it was like.  Here I am, shopping in the Marketplace at "The Paper Crown Company" talking to Emily.  "Marketplace" was booth after booth, filled with handmade original things, all for sale.
I had to get one of Emily's handmade hats for my sister's birthday which we're going out to California to celebrate.  Wait until you see what I found for you (patience is a virtue, surprises are good)!
I have enough of these to wallpaper a small bathroom. Can't wait to go to these websites.
Of course we had to get out and walk around the city a bit more; we leave this morning, driving slowly back to Chicago, getting on the train again, heading to the Southwest.  I have to say, without a whining voice at all, in a cheery little voice, I miss my kitchen!
St. Paul is right on the Mississippi River, and Minneapolis is on the other side.  That's a paddle boat down there on the left side.
As much as we love to use the spy cam, it was impossible at the actual Event as our cover was completely blown…there was no sneaking up on anyone, they could see us coming from a mile away!  But we took this from our hotel room window (with the spy cam ultra lens), a wedding happening in front of the building across the street.  Just a little more magic!          ♣     ♣    ♣
So this is probably it for this year's Creative Connection Event (unless you have questions…Love to answer them for you best I can, when I get to a normal place to write again.  So many wonderful memories to take home with us.  So much love was spread around; this was one of my favorite things, when Melanie brought her "almost six" year old daughter Emily to meet me, with roses, yellow and pink arranged in a cute mug, and these little hearts, that are now tucked into my journal as a remembrance of an amazing weekend that went by too fast! ♥
When I saw these Lucky earrings in a booth at Marketplace, of course I had to get them.  They're made from bottle caps!  And that's just how I feel this morning, Lucky!
Off we go girlfriends, packing the car on this cool crisp morning and heading back down south, taking advice to go toward Columbus.  And for you?  A new Willard starts going out on Tuesday morning!  New surprises, new recipe, new treats to help celebrate the season!  Have a wonderful day! ♥