We drove up to the Remnants of the Past Vintage Show yesterday morning — I promised I would give you a little tour.  So here we go . . .  First, of course, we have to get up there — ready?  Hop in the car, let's go!
Just driving up that long beautiful curving road to the event center, my heart was beating faster. I was so excited for Judy, my girlfriend who put this all together.  It takes a lot of courage to show your dreams to people, and here she was, doing just that in a very big way.  I never doubted her for a moment!  Up ahead I could see the service trucks, parking attendants, and people beginning to gather; it was so well organized!  We were blessed with the perfect Central Coast, California day!
Beautiful San Luis Obispo; this is the view from our parking space!  We're at the base of Madonna Mountain; as we climb out of the car, the smell of warm sun on new mown hay hits us, smell that?  And when we turn around, we see this . . .
. . . the event center of the Madonna Inn where the show took place.  Before yesterday, Judy's vintage show has always been in a wonderful hundred-year-old barn in the middle of an orange grove in Nipomo. She never wanted to leave it, but so many people came last year, she had no choice but to go looking for a bigger place.  This was the first year in this new setting . . .  we all wondered how it would work. Will it be as fun and intimate as it was in the old barn?  My heart is thumping for her. . . she worked so hard to make this happen!
But look, besides the gorgeous drive up, and the beautiful morning, old trucks, hay bales, and pumpkins set the tone for casual country event — darling from the first moment.
How could it be anything else with that face in charge?  This is Judy!  Her show is a family affair; we had hugs with her husband Steve outside, interrupting him in the middle of directing everything; her handsome son Ryan is in charge of ticket sales, her beautiful daughter Devon was there to help too. Judy also makes sure all her local antiquing girlfriends are included — they all have booths at the show!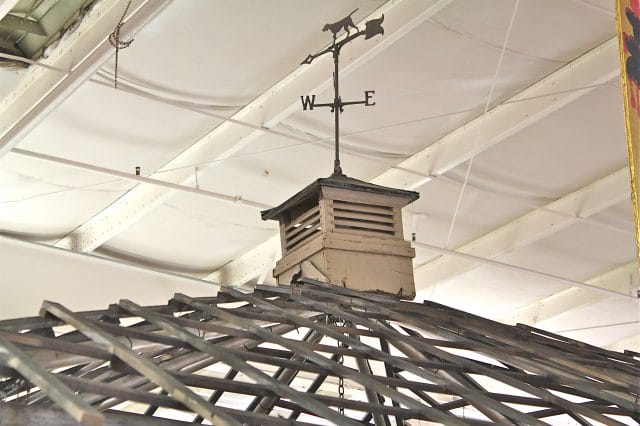 And what booths!  Besides our local dealers, the vendors at the show came from all over the country and they went all-out decorating their booths; this is a roof over the first one we saw as we came in the door, complete with cupola and weather vane.
And this is what was under that roof!  Everything is for sale!  It's so exciting, it's scary!  How is a person supposed to choose?
Everything, one of a kind. I love that little hand-painted "E" pumpkin.
Whatever you love to collect was here, and much more.  It was the perfect place to learn about decorating too, because things were set up in such a creative way.  There was gorgeous silver . . .
. . . And beautiful French linens.
Very fun, handmade, one of a kind jewelry — Judy chooses her vendors based on the quality and charm of what they do!  Her show was voted Number One Vintage show in the country in the August issue of Romantic Homes Magazine this year!
There were vintage suitcases, beautiful baskets, antique dolls . . .
Old dishes and painted hutches . . . Judy had a UPS booth there, ready to ship to anywhere!
Aisles of fun and lots of happy people; the creative spaces all in different styles, everything reflecting the passion and love of each vendor; it's like a home magazine come alive and everything purchasable!
I don't even know what this is, but I love it!  I hope you are feeling like you are there!  But in case you're not . . . try this:
Not everyone could come all this way, and if you couldn't, think of all the money you saved!!  Hooray!  So today, maybe you're feeling inspired by all this — take some of that savings and go spend some of it at your local flea market!  Think: here come the holidays, there's no more economical or fun way to find original special gifts than at an antique store!
One of the most popular booths was this one, pumpkins in the hay . . . all with messages . . .
The line for Carol's (Willow Farm) Poetic Pumpkins was long, because they were so charming….I don't know how anyone was able to choose just one!
Today, from noon to 2 pm I get to sit at a table just inside the front door of Judy's show and sign books and calendars, while all the darling people who are coming to say hello wait in line and visit with each other! ♥  This is when I wish I could leave a clone to do the signing and go get in line with everyone else because that's where the most fun always is!  I hear the girlfriends talking and laughing and exchanging email addresses and I get jealous!  But I do get to meet everyone, one at a time, and I love that.  I know lots of you are coming — I can't wait to see you!  Hope you have a wonderful time at the show!   (Gotta go iron my pants now!) And to everyone else, hope you feel like you were there.  Judy has her next Remnants of the Past show in June 2012, so there's another chance!  Happy Sunday!!!  I'll show you more next posting! ♥